California Girl Kicks 30-Yard Field Goal, Wins Chick-Fil-A for a Year, Gives Prize to Opposing Coach Battling Cancer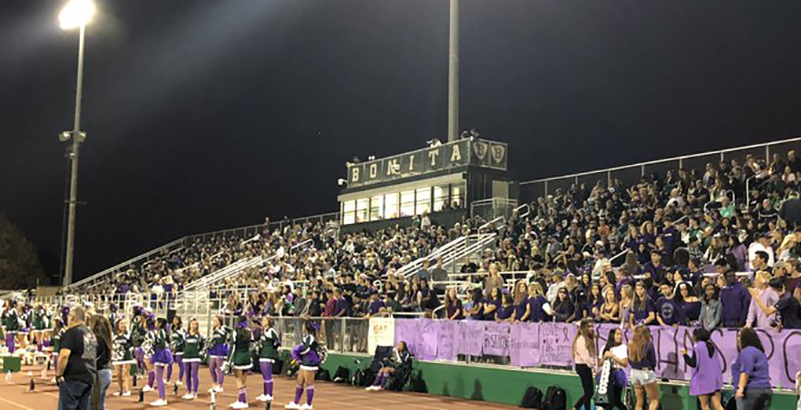 This article is one in a series at The 74 that profiles the heroes, victories, success stories and random acts of kindness found at schools all across America. Read more of our recent inspiring profiles at The74Million.org/series/inspiring.
Pull up to bonita @7 vs Glendora #johnstrong pic.twitter.com/VKn3gSDXnW

— Aalias Williams (@kingadub1) October 3, 2019

When he was diagnosed with pancreatic cancer, the football team he coaches visited the hospital. So, when he was released a week later, John Langilotti returned the favor.
Langilotti, the assistant football coach for Bonita High School in California, showed up to a Friday night game only to find the fans, the players and the cheerleaders all sporting a bit of purple, a symbol of the fight against pancreatic cancer.
What was even more surprising, though, was that the opposing team and fans from Glendora High School also joined in the effort.
"Being in the press box and looking across the field and seeing them all in purple and seeing our last name — 'We love you, Coach Langilotti' — that was very, very heartfelt," he told NBC Los Angeles.
Everyone knew about Langilotti's unexpected diagnosis after a sportswriter at the San Gabriel Valley Tribune devoted much of his column to it and noted that a GoFundMe page had been set up to help the Langilotti family with expenses.
"Life isn't about who scores the most points; it's about these moments when you're forced to have perspective, a real eternal perspective about what's significant and how you should live your life," Bonita head coach Steve Bogan told reporter Fred Robledo. "… We'll play on Friday doing everything we can to win a football game, but the real battle is with John, and he's where our hearts and minds will be and where it should be as he fights this. He's not alone; we're all there for him."
Friday's game arrived and, as if the signs and emotional support were not moving enough, what happened at halftime made a local event go viral.
Chick-Fil-A had sponsored a contest in which one student from each school would get to try to kick a 30-yard field goal. The winner would get free Chick-Fil-A for a year.
Tiffany Gomez, a junior, was chosen to represent Glendora High.
"I was super nervous," Gomez told NBC Los Angeles. "I thought I was going to be the only one to not make it."
Not quite. Gomez, who plays soccer, stood at the 30-yard line and sent the ball sailing straight through the uprights.
But rather than keep the prize, Gomez went over to the press box and gave it to Coach Langilotti.
"My grandma has cancer, too, and so I know how it affects the whole family, not just himself," Gomez told NBC. "So, I thought he could use it more than I would."
Amid the outpouring, Langilotti, a former Division I college football player at Tennessee, had remained cool — until then.
"For a young lady like her to come out and want to provide this generosity for a family in need just brought tears to my eyes, and I was ever so grateful," he said.
Get stories like these delivered straight to your inbox. Sign up for The 74 Newsletter