CA High School Creates Gift for Blind Senior: a One-of-a-Kind Braille Yearbook She Can Read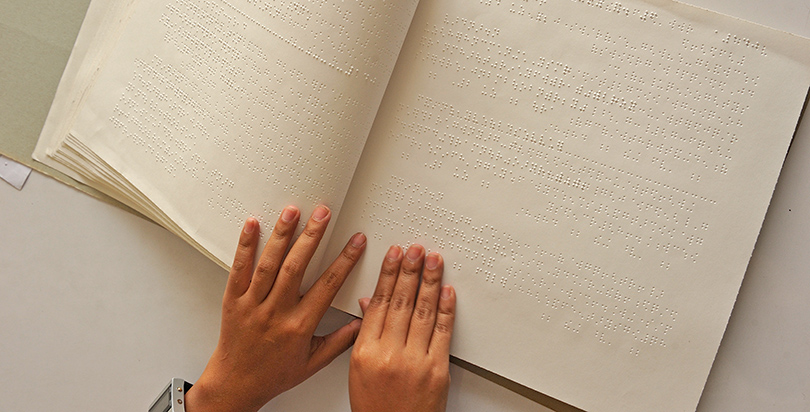 This article is one in a series at The 74 that profiles the heroes, victories, success stories and random acts of kindness to be found at schools all across America. Read more of our recent inspiring profiles at The74million.org/series/inspiring.
Every year, Maycie Vorreiter bought her high school's yearbook and asked her friends to sign it. She could never read it herself, though, having been born blind, so her assistant or her twin brother had to read it to her.
"I've ordered a yearbook every year, basically just to be included in the whole end-of-year yearbook signature stuff," the California teen told The Press Democrat.
So when Windsor High School's yearbook club surprised her with a Braille yearbook, Vorreiter was thrilled that she could read her senior yearbook all on her own.
"When I got it, I was just so amazed and excited," Vorreiter said. "I couldn't wait to see how it was all done. I didn't know what it would be like."
---
Braille yearbook printed at Windsor High School might be the first ever. https://t.co/FQwE3sJ3r9 pic.twitter.com/NyUAT2eSGQ

— Christi Warren (@SeaWarren) November 7, 2016
---
What it's like is four volumes, each one three inches thick and printed on 8.5-by-11-inch paper. It's also very expensive. The yearbook cost $4,000, an expense split between the school and yearbook publisher Walsworth.
Spearheaded by yearbook editor-in-chief Charlie Sparacio, the project was something the school and the publisher had never attempted before. The idea came after the yearbook club won $500 at a summer yearbook camp: The club was looking for a creative way to spend the money, and the idea of a Braille yearbook for Vorreiter was born.
When Sparacio contacted Walsworth, the company had never heard of a yearbook being printed in Braille. That's largely because of the cost, Sharon Sacks, superintendent at the California School for the Blind, told The Press Democrat.
"I've never heard of a school doing that," Sacks told the paper. "Even we do a print one. In the past, we've done an audiotape of what's in the yearbook, but we've never done a Braille version."
---
Embossing the TSbVI Braille yearbook with the Index Basic D's. pic.twitter.com/TjRuZVvC8M

— Susan Mattson (@suemmattson) May 28, 2015
---
A Google search revealed that at least one school, the Texas School for the Blind and Visually Impaired, has printed Braille yearbooks. But that is a rare instance, and even advocates for the blind had never heard of the idea before.
"That's a pretty cool, inclusive gesture," George Abbott, a representative for the American Foundation for the Blind, told The Press Democrat. "It's unique. It's ambitious."
For her part, Vorreiter may be the first high school student to receive a Braille yearbook, but she hopes she won't be the last. "It was one of those really awesome moments that I would want to relive again," she told the paper. "My hope is that in the future, if there are other visually impaired students that go through high school, they get a yearbook for their senior year, too."
Get stories like these delivered straight to your inbox. Sign up for The 74 Newsletter