EDlection 2016 is The Seventy Four's ongoing coverage of education news, debates and votes in the lead up to the 2016 presidential election.
We tune in to each presidential debate, hoping that the candidates will eventually talk about education — that at some point, between the personal attacks and blustering about smaller taxes and bigger walls, we'll eventually come around to solid policy proposals about things like pre-k access, grade school standards, achievement gaps and graduation rates.
But despite all the polls we've seen showing education as a key issue to swing-state voters, and all the substantive proposals we've heard from top candidates who have sat down for extensive one-on-one video interviews with Editor-In-Chief Campbell Brown to talk about their K-12 platforms, debate moderators continue to seemingly forget the topic — and the candidates don't seems eager to broach it themselves.
As a result, K-12 education has been all but absent from the debates — and the campaign trail.
But don't take our word for it. We downloaded and reviewed every single debate transcript, searching for every mention of schools, every utterance about education and taking note of the other terms that earned more air time.
And we think you'll be every bit as surprised as we were, about what got bigger play at the debates than the education of America's next generation:
1
"Reagan" vs "Education"
Maybe interest in education will trickle-down? Even though President Ronald Reagan left office more than 25 years ago, candidates have invoked his name 42 times in debates. "Education,"
a top issue for many voters
? Only 27 mentions.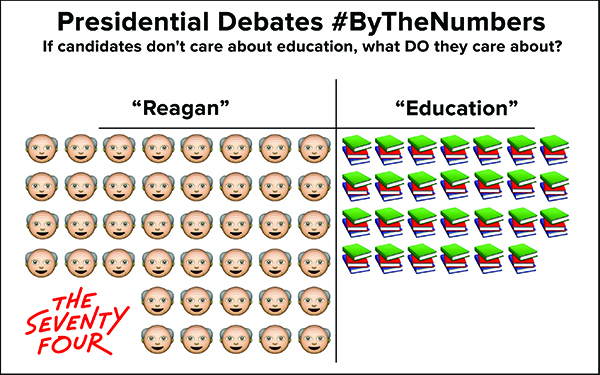 2
"Obamacare" vs "DOE"
Republican and Democratic contenders talked at length about fixing "Obamacare," but didn't leave much time to discuss problems with the "Department of Education (DOE)". DOE only got 4 mentions, but Obamacare had 47.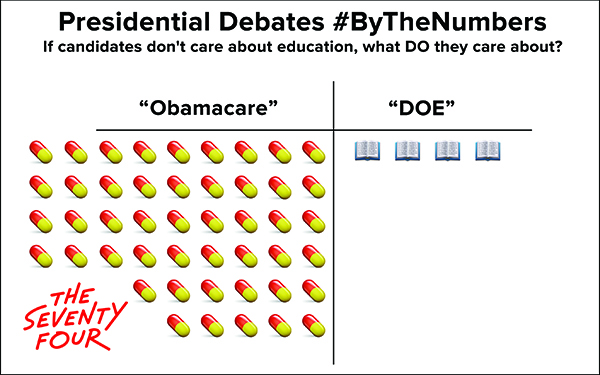 3
"Build a wall" vs "Common Core"
Will kids know which states border Mexico if we don't fix K-12? It's a salient question, given that the phrase "build a wall" was said 12 times in debates, while "Common Core" got 9 mentions.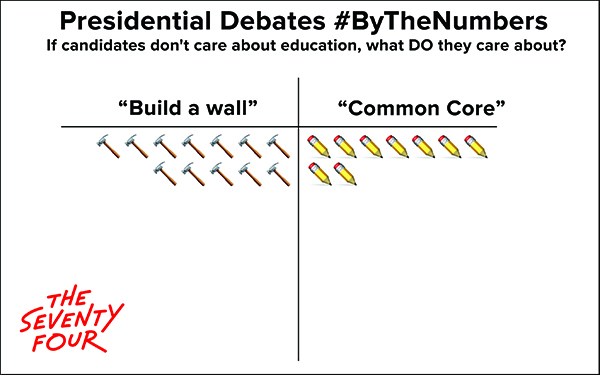 4
"Climate Change" vs "K-12"
Research shows that both "climate change" and "K-12" education are challenges that need to be explored, as both could pose threats to our future without an open dialogue. GOP and Democratic candidates may not have seen it the same way. K-12 was snubbed in all 6 debates, while climate change was surfaced 27 times.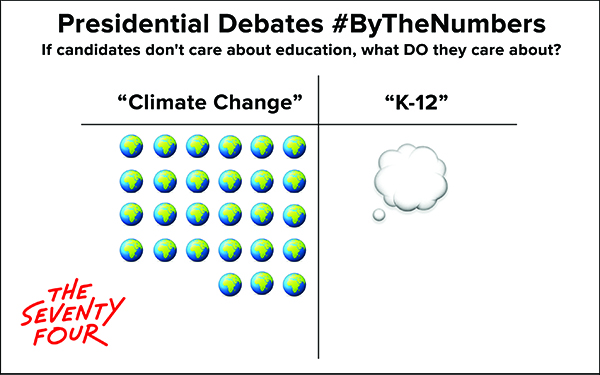 5
"Taxes" vs "Common Core"
Dollars and sense? "Taxes" were easily one of the most popular debate topics, called out 150 times. "Common Core" standards, what some say are integral to helping kids learn math, didn't get the same amount of love though, only getting called out 9 times.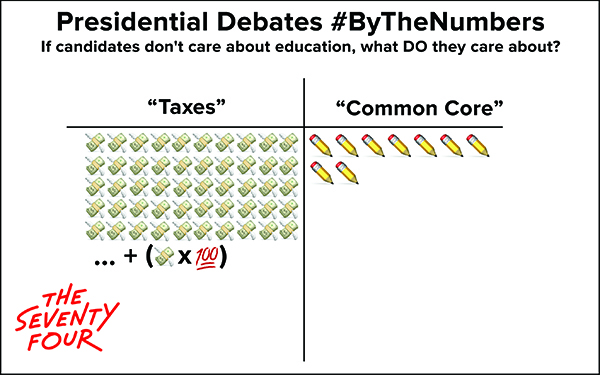 6
"Immigration" vs "Education"
K-12 wasn't mentioned at all in the debates, but it's clear that "education" also took a backseat to issues like "immigration". The topic of education was only broached 27 times, versus 48 references to immigration.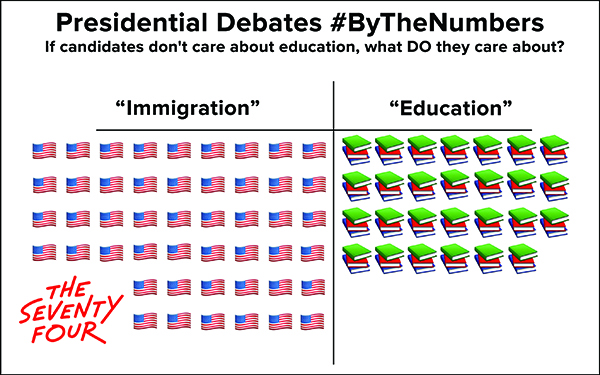 7
"Hillary" vs "college"
While talk about "college" – in the context of it as a social issue – did get some airtime in the debates, candidates showed slightly more attention to "Hillary Clinton" and emails related to an attack in Benghazi. Why was one candidate the focus instead of our children's future? Your guess is as good as ours. Hillary was said 78 times. College, 61 times.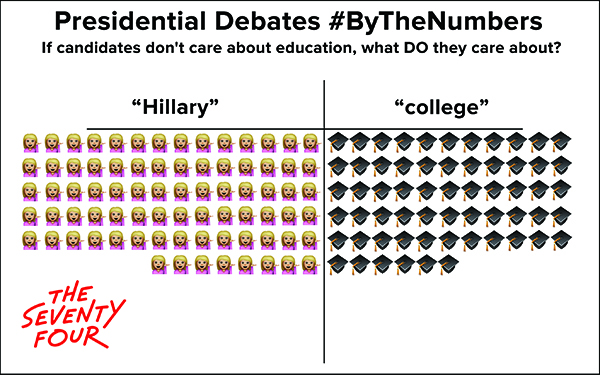 8
Dems say "college" vs GOPs say "college"
While "college" definitely got a bit of discussion, Democratic debaters clearly took more interest in the issue. The blue state politicians brought up college 46 times, GOP candidates only cited it 15 times. Now that's higher ed.