Bus Driver Shortage in Rural Arkansas District Strands Kids, Angers Parents
Sheridan superintendent pledges new recruitment effort, better text alert system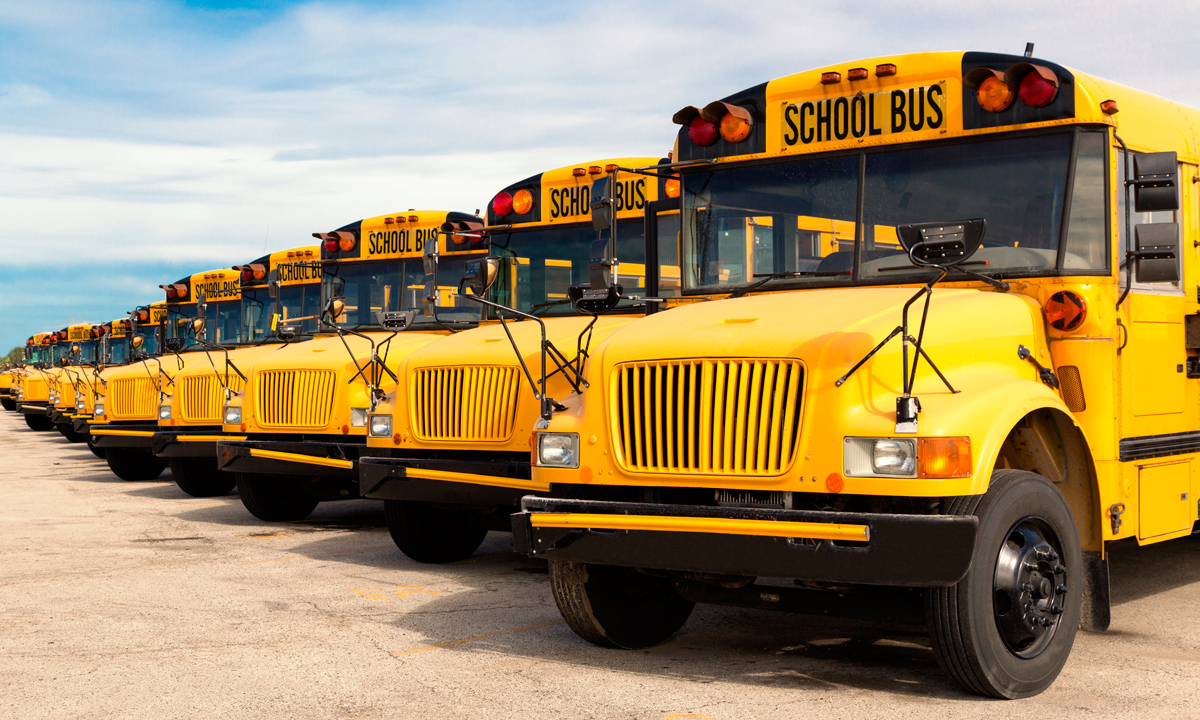 Support The 74's year-end campaign. Make a tax-exempt donation now.
Nicole Haynes is exasperated by excuses from the Sheridan School District.
A parent of two children in the district, Haynes lives in daily uncertainty. She never knows if the school bus her children ride will run on schedule. She sometimes receives an automated text alerting her at the last minute that the bus may be very late in the morning or afternoon. Occasionally no text arrives at all and neither does the bus. Her children may be left standing on the road with no way to get to school. It has happened more times than she can count.
A nurse in Little Rock, Haynes often has to leave work unexpectedly to get her children to make sure they are safe after school. Sheridan, a city of 5,124, is about 35 minutes south of Little Rock. Haynes especially worries about her son who has special needs and shouldn't be left at the bus stop.
"There's no one but my husband and I to get our children," she said. "It's like the school district doesn't care, and they don't want to deal with the problem."
Haynes isn't alone.
Sheridan parents are dismayed with the school board's apparent failure to address bus complaints: late buses, a flawed text alert system, broken-down buses and an ongoing bus driver shortage. Some students don't arrive home until after 6 p.m.
"It's too long of a day for these kids, and some kids are left home alone and missing school," Haynes said.
School district spokesman Andy Mayberry and Superintendent Dr. Karla Neathery say the administration is addressing concerns.
"We understand parents' frustrations and are working diligently to do all we can to address these issues," said Neathery. "School districts across the state and nation are experiencing bus driver shortages which cause delayed buses, and that's no different for us.
"However, we plan to present the district's board of education a plan tonight [May 8, 2023] that we believe may help us recruit additional drivers, and we'll continue to utilize various methods to reach out to potential new drivers. We also will be working over the summer to migrate to a different method of accessing data for our transportation's text alert system that we hope will alleviate communication issues."
Still, a group of parents and citizens have launched a campaign to collect 50 registered voters' signatures on a petition calling for a special school board meeting to address the transportation and other issues without having to seek approval as an agenda item in a regular school board meeting.
"I am gathering information now on several issues," said Glenn Strong, Sr., a grandparent. "Hopefully we can hit them the first of June."
Parents and citizens can sign up to address the board at regular monthly meetings only on agenda items. A person wouldn't be allowed to speak, say, about a bus issue unless they submitted a written request to be on the agenda seven days in advance.
"The written request must be sufficiently descriptive to enable the Superintendent and Board President to fully understand and evaluate its appropriateness to be an agenda item. Such requests may be accepted, rejected, or referred back to the individual for further clarification," the board manual states.
An examination of all Sheridan School Board agendas on the school's website for the 2022-23 school year shows the topic of buses has not been listed on any of them.
Members of the seven-member school board did not respond to questions for this story.
"They want you to stay quiet," said Haynes, who has called the school numerous times about her children's bus. "Just sweep it all under the rug. A lot of people are scared to speak."
Bus drivers are. No driver was willing to talk on the record for this story for fear of retaliation by the school's administration.
Widespread shortages
In 2021-22, many school districts throughout Arkansas faced a bus driver shortage because of the pandemic. Shortages still exist in some districts but aren't as severe as two years ago. For example, in the Cleveland County School District, as in other small districts, the superintendent drives a bus when necessary.
Sheridan's bus situation appears particularly critical because problems existed long before covid, according to documents obtained through the state Freedom of Information Act. Parents fear the transportation system of "YJ (Yellowjacket) Nation" — as it's often called — is now failing on all fronts.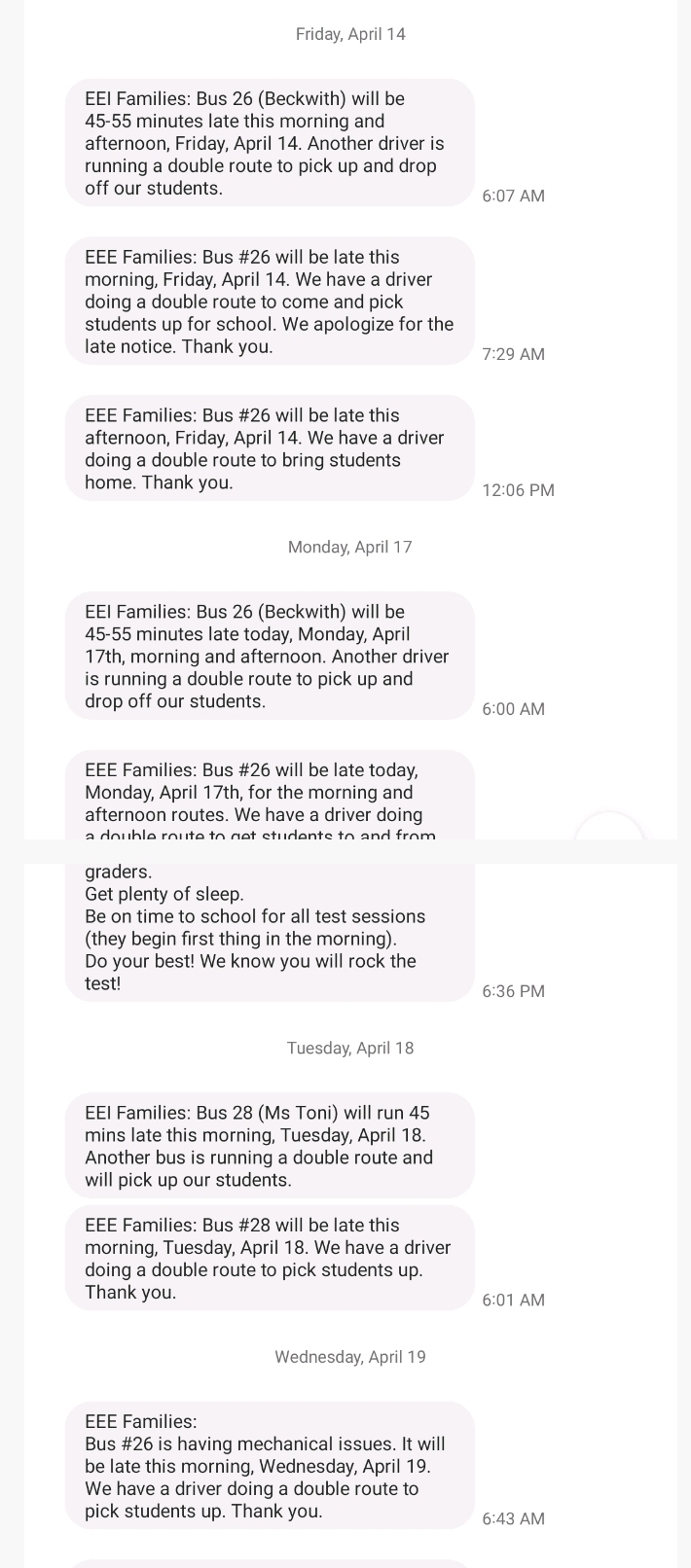 Christina Hoffman, another parent who has been vocal about the district's problems, provided text messages that show the uncertainty parents face daily if they depend on buses.
One recent text from the district said: "Bus #4 will not run morning or afternoon the rest of this week. We are sorry for this inconvenience. Thank you for your patience during this driver shortage. If you know of anyone that is willing to come drive a bus, please send them our way. Please help spread the word to those that may not have signed up in the Transportation Department for texts about their bus."
"The texts are every day, just about," Hoffman said. "The administration gets hit hard once a month [at board meetings], people get out their complaints and buses get back on track. Then it goes right back to the way it was."
Low pay, unruly students and run-down buses are a few reasons drivers don't want the job. Students tell their parents that holes in bus ceilings are patched with duct tape and bus parts have flown off while traveling, Haynes and Hoffman said.
Most of the district's 56 buses were purchased in the last 10 years. The oldest buses, bought in 2000, are used as spares.
The responsibility of driving students on winding two-lane country roads adds more stress for drivers, compounded by occasionally driving double routes. Overcrowded buses are another concern.
In turn, parents blame the drivers, bashing them publicly on social media. Drivers said they are doing all they can in a tough situation. One driver who did not want to be identified said the job is "thankless."
Recruitment problems
Since 2019, more than 30 Sheridan district bus drivers have resigned or retired, according to district documents obtained in mid-April.
In March, two bus drivers and the bus transportation coordinator resigned effective at the end of the school year. At the start of this school year, the district had 27 drivers under contract for 34 routes.
The district covers parts of two counties — Grant and Saline — including the Saline county community of East End, 18 miles from Little Rock. District buses cover 622 square miles twice a day and transport 1,800+ students, according to a Feb. 22, 2023, post on the district's Facebook page.
Other communities in the district are Hensley, Redfield, Center Grove, Grapevine, Leola and Prattsville, among others.
Documents show email chains, dating from 2016 to 2023, discussing ways to hire, and retain, more drivers.
In a 2021 email, Dennis Emerson, director of administrative services for the Sheridan district, wrote to the Bryant Public Schools director of transportation, asking for "some creative ways to recruit bus drivers."
Competition is now stiffer than ever for drivers, who need a commercial license (CDL) and must pass myriad tests and background checks. In Sheridan, drivers also have to pay for their own Arkansas State Police, FBI and Department of Human Services child maltreatment background checks, which cost $49.75.
CDL drivers can make more money working for private companies than the public education system. But Mayberry said the district isn't competing with those types of jobs.
"The position of school bus driver is intended to be part-time, typically working three to four hours per day during the school year, so we're not really competing with businesses that employ full-time drivers," Mayberry told the Arkansas Advocate in an email.
"Traditionally, most school bus drivers live in the district or close by. We will continue to market the position internally to both classified and certified staff as well as target audiences including those who may seek a retirement income or want to supplement income from another job. There are a number of other benefits that we'll continue to promote, including retirement savings and health insurance that a potential bus driver might not have otherwise. We'll continue to try creative means of marketing the position through social media, videos, etc."
Some school districts — like Pine Bluff, which is under state control with a limited-authority board — have upped the ante to lure bus drivers away from surrounding areas like Sheridan with a starting pay of $23,000 for five hours a day with benefits. The district considers the job full-time.
By comparison, Sheridan's starting bus driver pay is $10,548 for three to 3 1/2 hours a day, including public school health insurance, according to a district Facebook post on Aug. 24, 2022.
"As part of an ongoing process to be competitive, the Sheridan School District monitors and reviews pay scales of surrounding and similar districts to our own," Mayberry told the Advocate. "We plan to make necessary adjustments where needed to stay competitive within the fiscal means of our district."
A new voice
Chris Connelly and his family moved from New York to Sheridan in 2019. He wanted escape from big-city chaos and a calming place with small-town values.
Soon after his move, however, he realized the Sheridan School District had problems, especially in his opinion with leadership. Connelly wanted to make a difference and decided to run for a school board position in 2022. He offered novel ideas for improving schools but lost to hometown favorite and former YellowJacket football player Stan Hancock 36.7% to 63.3%. Both men reside in East End.
Connelly has practical worries about the bus situation, but also an overall concern about the district as it attempts to address the bus crisis before the school year ends
"It's clear there is mismanagement on behalf of the district and the school board," Connelly said.
"Based on the fundamental priority of schools being publicly funded under the Department of Education and their primary function of securing education, logistical challenges should be at the forefront of their priorities.
"Instead, the public has only gotten excuses against the backdrop of the real priorities the board has set forth and they have no problem accomplishing – six-figure salaries for coaches, brand new football fields and the list goes on. They can figure that out but they can't figure out a staffing shortage?"
Arkansas Advocate is part of States Newsroom, a network of news bureaus supported by grants and a coalition of donors as a 501c(3) public charity. Arkansas Advocate maintains editorial independence. Contact Editor Sonny Albarado for questions: info@arkansasadvocate.com. Follow Arkansas Advocate on Facebook and Twitter.
Support The 74's year-end campaign. Make a tax-exempt donation now.