Bultan: The U.S. Needs a Road Map for Addressing the Future of Work. 3 Key Areas Where States and Local Governments Can Take the Lead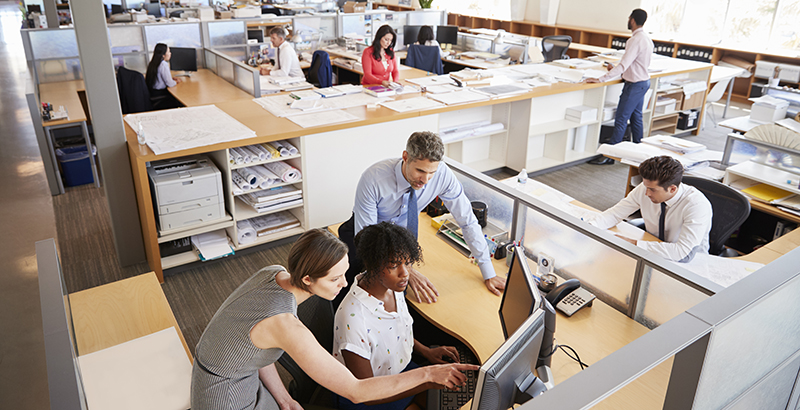 Access to jobs — and the insecurity that comes from a lack of meaningful economic opportunity — continues to shape our national politics. But it has yet to sufficiently shape our nation's policies.
Globalization and new technology are transforming our economy at an accelerating rate, and automation from current technologies could threaten nearly half of all current jobs. The future of work has changed forever, but the fact that our public policies have not kept pace means that many working Americans no longer experience the security associated with employment.
That lack of progress is why our country has an oversupply of low-skilled workers but 10 percent fewer workers trained for middle-skill jobs than the number of those jobs available. It's why, even at a time of historically low unemployment, Americans feel less secure, as the number of stable jobs providing health, retirement, and other benefits declines precipitously. And it's why barriers to entrepreneurship have been part of the reason for two-thirds of all counties having lost businesses since 2005.
These problems require a sense of urgency and commitment to act. The economy has already outgrown our existing systems, structures, and safety nets, and we are leaving too many people behind.
That is the basis of a new report from the NewDEAL Forum's Future of Work Policy Group, which brought together some of the country's most innovative state and local officials, along with some of the nation's foremost experts on these issues, to develop a road map for expanding opportunity in the face of massive economic disruption. It recognizes that much of this work must be done outside of Washington, and that we cannot wait for the federal government to lead the way.
Our group identified three key areas for progress:
1 Improving education and workforce training:
Well-paying, secure careers are accessible only to those who have the knowledge and skills that businesses need, and who can fill roles that aren't easily automated or outsourced. Americans need 21st century skills, but also the resources to retrain, adapt, and innovate continuously to keep pace with the changing world economy.
We recommend that state and local governments provide career pathways that ensure students leave high school with not only a diploma but also college credit and workplace experience in high-demand fields; reduce barriers to four-year and community colleges; expand apprenticeships and credentialing opportunities that don't force workers to forgo income for an extended period; and create tax incentives for employers to invest in training for their employees.
2 Modernizing the social safety net:
Addressing education and training issues is not enough. Fewer jobs offer the level of benefits that was the norm in decades past, whether they are in traditional fields or in the gig economy. New initiatives are required to ensure that employees have access to everything from health care to workers' compensation insurance to retirement savings plans. Challenges to a secure safety net are particularly acute for women, who disproportionately face obstacles ranging from primary responsibility for childrearing to unequal access to training.
We recommend that state and local governments create portable benefits structures that can move with workers between jobs in our dynamic economy; make savings accounts available to all Americans, so they can put money away toward retirement; and ensure that unemployment insurance is available and more practical for job searchers, including nontraditional workers. In addition, proposals for paid family leave and affordable child care options would alleviate some of the unfair obstacles placed on women who are trying to advance their careers.
3 Supporting entrepreneurship and innovation:
Innovation and entrepreneurship are generating an ever-expanding array of products and services, as well as the new jobs that go with them. But that activity is concentrated in too few places, and too many people are affected by barriers to starting and growing a business — like onerous fees and licensing requirements. State and local policymakers must help by providing access to capital and networking opportunities, as well as by reducing regulatory barriers.
We recommend that state and local governments help startups by eliminating onerous fees; encourage small business lending by infusing local lenders with capital; address the challenges facing rural communities through universal broadband and other economic development supports; and reform occupational licensing to reduce obstacles to employment and entrepreneurship.
While not an exhaustive list of policy options, these recommendations (along with the specific examples listed in the appendices of the report) are a road map to a future in which everyone can take advantage of the opportunities of our new economy and no one gets left behind. They are practical and implementable, and they will ensure that the political rhetoric around quality job opportunities is matched by the reality experienced by many Americans.
Debbie Cox Bultan is executive director of the NewDEAL network of 150 rising state and local officials and of the NewDEAL Forum, which identifies and promotes innovative, future-oriented state and local pro-growth progressive policies that can improve the lives of all Americans.
Disclosure: The 74's coverage of the skills gap, the challenges and opportunities of better educating our future workforce, and efforts underway to improve local employment pipelines is underwritten in part by the U.S. Chamber of Commerce Foundation.
Support The 74's year-end campaign. Make a tax-exempt donation now.