Buffett & James: 4 Lessons About Social-Emotional Learning From the Winners of This Year's Teacher Innovation Awards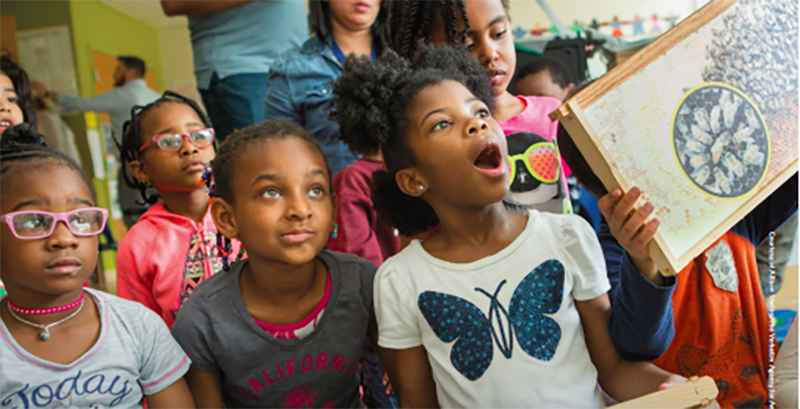 Jarred Amato of Maplewood High School in Nashville is building Project LIT Community, a national, grassroots literacy movement that empowers students as readers and leaders.
Rosalia Burson of Baker Middle School in Tacoma, Washington, is developing a restorative re-entry process for students who have been out of school due to exclusionary discipline.
Baltimore City Public Schools is implementing RISE: Refugee and Immigrant Student Empowerment, a specialized program for immigrant and refugee students.
These are just a few of the 182 social-emotional learning projects funded through the NoVo Foundation's SEL Innovation Fund. Implemented with the support of Rockefeller Philanthropy Advisors and Education First, the fund has awarded $2.3 million to teachers, school districts, and charter school networks over the past three years. The goal is to create space for educators and students to imagine, build, and lead us toward a better future built on love, racial and social justice, equity, and restorative practices. Though we considered all applications, we prioritized projects that specifically worked to serve students from indigenous communities, new arrivals (such as refugees) or immigrants, English learners, and LGBTQI students.
This week, the 2018 Teacher Innovation Award winners will be convening in Albuquerque, New Mexico, to share their projects and connect with a national group of SEL practitioners, experts, and advocates. To mark the occasion, we wanted to share some of our reflections and lessons learned about the state of SEL and where it's headed.
1. SEL is a movement. The number of applications to the fund has increased significantly each year, up to 639 teachers and 391 districts this year. Applicants come from all types of schools and districts — urban, suburban, rural, charter, traditional district, big, small. We're seeing SEL implemented not just as a standalone topic but deeply integrated into all aspects of the school experience. We believe this represents a recognition by educators that their role is to not only prepare students for academic success but also help create a world based on peace, compassion, justice, and love.
Collaboration is foundational to this work taking hold. We have been heartened to see that educators are eager to share their knowledge and work together, and yearly we provide a space for this at our annual SEL in Action convenings. They share their voices by writing blogs about how they're using SEL in their classrooms. They film videos about their progress. They participate in professional learning communities where they share experiences, resources, and recommendations focused on issues like the intersection of SEL and equity. It's clear that SEL is resonating with teachers and their students, and we're honored to support their work.
2. SEL should be universal, but it should look different for different students. There is interest in SEL from communities of all kinds, and there is a consensus that it is a critical piece of student success. But that doesn't mean a single SEL curriculum or program is right for all students. To meet diverse student needs, we should create learning environments that reflect who students are and where they're coming from — and explicitly acknowledge students' racial, ethnic, and other identities. For instance, schools in Anchorage, Alaska, have implemented Project Ki'L, a yearlong program that integrates Alaska Native cultural heritage and SEL to help students achieve academic success.
3. Districts and educators should find ways to partner on SEL. Many teachers have told us they feel isolated and unsupported when bringing SEL to their classrooms. At the same time, many districts have told us they are struggling to get teachers to buy into their efforts to make SEL a priority for every child. This disconnect isn't necessarily surprising — after all, districts are tasked with implementing large-scale change that supports every student in the district, while teachers focus on the unique needs of the students in their classrooms. But stronger alignment that provides room for teacher autonomy while supporting district goals could lead to more effective, sustainable implementation. For instance, the school district in Hammond, Indiana, has worked with teacher Robin Sizemore to provide training for students and educators in yoga and mindfulness techniques to address compassion fatigue — emotional exhaustion that can be caused by teaching.
4. Funders should ensure that marginalized voices are part of the change process. When designing the awards, we made the conscious decision to invest directly in educators and districts, an uncommon approach. While technical assistance providers and other outside organizations play an important role in school-level reforms, funders shouldn't overlook the individuals responsible for making the change. Educators and districts can plan and execute locally based, innovative, and meaningful SEL projects when given the opportunity.
We still have a lot to learn about implementing SEL, but we are proud to support classroom- and district-level innovation. With a sustained focus on meeting the complex needs of students, especially low-income students and students of color, we can work toward an education system that helps create a more caring and balanced world.
Jennifer Buffett is co-president of the NoVo Foundation. Kelly James is a partner at Education First Consulting. You can read more about the foundation's 2017-18 Teacher Innovation Awardees in the downloadable book SEL in Action.
Get stories like these delivered straight to your inbox. Sign up for The 74 Newsletter