Brown v. Board at 65 — Ada Stukes Adderley Still Remembers the Power of Protest: 'Although I Was Young, I Knew That It Was Something Important. I Was Excited and Proud"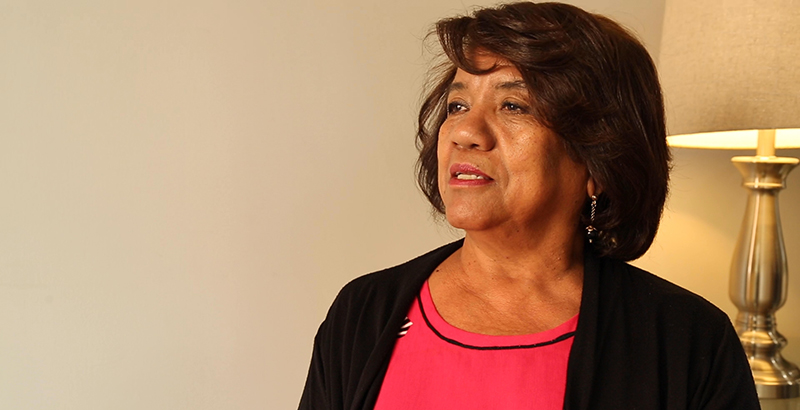 This testimonial is an excerpt from Recovering Untold Stories: An Enduring Legacy of the Brown v. Board of Education Decision, a new book spotlighting the original plaintiffs behind five pivotal school segregation lawsuits later consolidated by the Supreme Court. Read more first-person accounts, watch oral histories, learn more about the cases and download the book at The74Million.org/Brown65
I am the daughter of William "Bo" and Gardenia Stukes and sister of Will Jr., Denia and Louis Stukes, who were all plaintiffs in the Briggs v. Elliott case. My younger brother Gregory and I were not yet of school age, so we were not eligible to sign the petition. Our father was a skilled mechanic who lost his employment because he would not remove his name from the petition.
He wanted the best for us! I was told that he set up a mechanic shop in the backyard of our house, in order to continue to provide for our family. We might still be in South Carolina had my father not died at the age of 31 in a work-related incident. One day while working under a car, the jack gave way and he lost his life instantly. Shortly after his death, we moved to Philadelphia, where our mother's sister and brother-in-law resided. They were instrumental in our successful adjustment to a new life in the north.
One of my earliest memories is getting dressed up because the local Philadelphia newspaper came to photograph and interview our family about our participation in Briggs v. Elliott. Though I was very young and did not really understand what occurred in South Carolina, I knew that it was something important. I was excited and proud.
I was especially proud of my sweet mother. I really respected her. She was a dynamic woman, and throughout our school years in Philadelphia, she was always deeply involved. She was the PTA president, a Brownie leader and a constant school volunteer. She was a compassionate neighbor and friend to all families in our community. She demanded that we do our best, taught us to appreciate the fact that we were able to attend school and encouraged us to be involved in community events.
As I grew older, I realized that our family's participation in Briggs v. Elliott, along with that of other plaintiffs, changed the lives of black students for the better. When I became a wife and mother to my own children, I worked hard to instill the positive influences that were modeled for me. Once my youngest child went to first grade, I went to work for the School District of Philadelphia, serving in various capacities. Two of my four children are professional educators, impacting young lives to this day! My other children actively take on mentoring and teaching roles within their fields, ensuring that those who come after them are encouraged, motivated and developed into the best they can be.
Ada Stukes Adderley is the daughter of William "Bo" and Gardenia Stukes, and sister of Will Stukes Jr., Denia Stukes and Louis Stukes, all of whom were plaintiffs in South Carolina's Briggs v. Elliott case that was later consolidated as part of the Brown v. Board Supreme Court case.
This testimonial is an excerpt from Recovering Untold Stories: An Enduring Legacy of the Brown v. Board of Education Decision, a new book spotlighting the original plaintiffs behind five pivotal school segregation lawsuits later consolidated by the Supreme Court. Read more first-person accounts, watch oral histories, learn more about the cases and download the book at The74Million.org/Brown65
Disclosure: The Walton Family Foundation provides financial support to The 74 and funded The Brown Foundation for Educational Equity, Excellence and Research to produce the new book Recovering Untold Stories: An Enduring Legacy of the Brown v. Board of Education Decision.
Support The 74's year-end campaign. Make a tax-exempt donation now.