'Bright New Leaders': Inside the Ohio Program That's Offering Aspiring Principals Training and Mentorship — and an MBA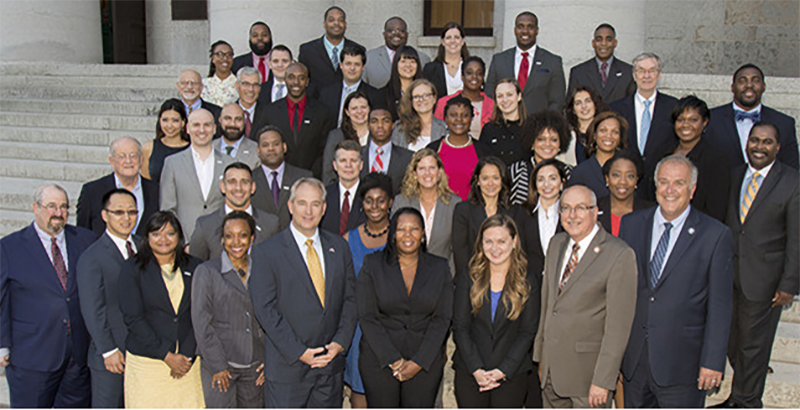 When Jessica Horowitz-Moore graduated from Ohio State University as an education major in 2004, she could not get certified as a teacher until she earned her master's degree. She wasn't ready for more school, so she took a job working with children who had emotional-behavioral problems. A few years later, she did go back to school and became a lawyer.
Her desire to work in education never went away, though, so when a new initiative for midcareer professionals to lead schools came across her email, she decided to apply. Now, Horowitz-Moore is back at school full time — as an elementary school principal.
The email was about Bright New Leaders for Ohio Schools, an initiative that aims to recruit leaders from a range of backgrounds — including law, business, education, and the military — to run high-poverty schools across the state. The idea is that with the right training and support, skilled leaders can turn around struggling schools even if they have not taken the traditional route to the principal's office.
After being selected through a rigorous application process, fellows take business and education courses and complete a year-long internship under a high-performing principal. The fellows finish their internships having earned a master's degree in business administration from Ohio State's Fisher College of Business and an Ohio K-12 administrator certification.
Throughout the internship, fellows meet regularly with a coach who specializes in school leadership and with a business executive mentor. Bright funds the coursework and provides a stipend for living costs during the fellowship.
Once they complete the program, the fellows commit to working for at least three years in a high-poverty school in Ohio, supported by their coaches, business mentors, and Ohio State faculty. Bright also holds regular events to help fellows collaborate and keep in touch with their peers.
To place fellows, Bright staff reached out to district leaders around the state and tried to match school needs with candidate strengths, its president, Tom Maridada, said. All members of the first cohort were hired when they completed the program.
A member of Bright's first graduating class, Horowitz-Moore is now in her second year as principal of Etna Road Elementary School, in Whitehall, Ohio. She said her legal background helps her advocate for her students and prepared her to deal with custody documents and calls to children's services. Horowitz-Moore credits much of her success to working for a year under a successful principal, whom she regularly consults now that she's on her own in a school.
Richard Stoff, who created the program, is the president of the Ohio Business Roundtable. He said he got the idea after reading Failure Is Not an Option, a 2012 report partially sponsored by the roundtable and compiled by Public Agenda, which studied high-performing Ohio schools and attributed their success in part to strong principals.
Stoff summed up the report in just a few words: "It's the leadership, stupid."
"We don't presume to be experts in education … we leave that to the professionals," he said about the roundtable. "But we do know a few things about leadership."
Bright is a public-private partnership that includes Ohio State, the Ohio legislature, the roundtable, and the state Department of Education.
Stoff said it was time to "try something different" in education reform, so he focused on principals, whom he sees as CEOs of their schools, responsible for setting school culture and high standards for students and teachers.
"Running a school is, in fact, running a business. It has all the attributes of running a business," like marketing, human resources, and finance, he said.
Many of the fellows left more lucrative careers to work in schools, said Anthony Rucci, Bright's co–academic director at Ohio State. He called their sense of purpose and enthusiasm "contagious."
Rucci said he has been "very encouraged" by the success the fellows have brought to their schools so far. One has already been promoted to superintendent in his district. Another opened a language immersion charter school and hired another fellow as its principal. Several have already achieved academic gains and decreased suspension rates.
The most unusual part of this program may be the business coursework and mentoring from corporate executives. However, Horowitz-Moore said the training helps her approach problems from different angles. Additionally, the business courses taught her marketing strategies, so she frequently uses social media to share pictures of her students and their successes.
Safelite Group President and CEO Tom Feeney, a mentor in the program, noted that it's normal for corporations and sports teams to look outside themselves for transformational leadership when they want to improve. Schools, he said, can do the same thing with the help of Bright fellows.
"Why other states aren't embracing similar concepts, I don't know," Feeney said.
Principal training programs such as New Leaders and New York City's Leadership Academy offer similar programs, but none has all the components of Bright. Rice University recently shifted a comparable program from its business school to its education department.
The program's first 31 fellows graduated in 2016 and are now serving in district and charter schools around Ohio. The second cohort of 30 fellows is currently in the internship phase and will graduate in the spring, ready to take jobs as school leaders. Bright accepts a new cohort of fellows every other year and is now recruiting for the group that will begin next year.
Horowitz-Moore said she doesn't regret the career change at all.
"It's wonderful work. Seeing the kids — that was the biggest change for me," she said. "I missed working with kids, and being in the building every day and having kids hug you and just [being] so happy having someone to say good morning to them — it just makes my day. My favorite part of the day is being outside in the morning and welcoming the kids here."
Support The 74's year-end campaign. Make a tax-exempt donation now.