Bridging the Urban-Rural Divide Through Education: 3 Governors From Very Different States Say They Face the Same Issues of School Funding, Safety & Dropouts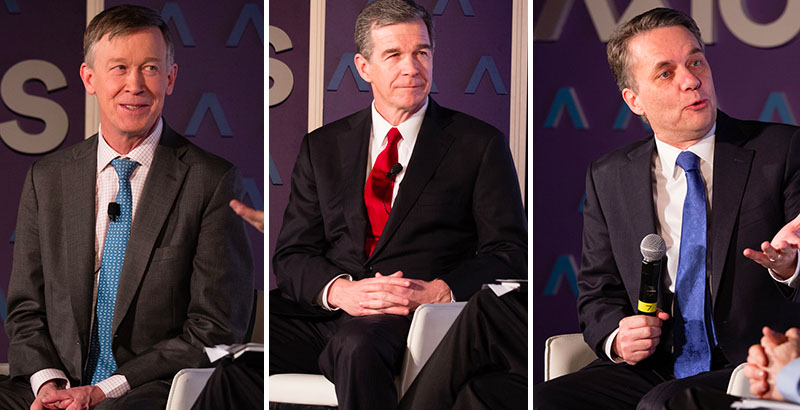 A brewer, a Sunday school teacher, and a plastic surgeon walk into an education forum…
While it may sound like the setup for a bad joke, the description aptly describes the former lives of three governors — John Hickenlooper (D-Colorado), Roy Cooper (D–North Carolina), and Jeff Colyer (R-Kansas) — who graced the stage last Friday at "Raising the Bar: A Conversation on Education in America." The Washington event was moderated by Axios's Mike Allen and presented by The 74 and the Walton Family Foundation.
Allen peppered the governors with questions about what their past jobs taught them about education and how those lessons help them navigate their current roles. While none is a political neophyte, all three manage states with strong divisions: Republican against Democrat, affluent/poor, urban versus rural. These divides call for a common touch on hot-button issues from gun violence to education funding.
Hickenlooper, who has been traveling the country with Republican Gov. John Kasich of Ohio and eyeing a possible 2020 presidential bid, told Allen, "Governors are generally less partisan." It's a mindset often lacking in today's politics, whose slogan, he joked, could be "Anger is the new black." His background as a restaurant manager — and the first brewer to govern a state since Sam Adams was elected in Massachusetts in 1792 — taught him that "there's no margin, nor profit, in having enemies."
"No matter how unreasonable that person is, listen," Hickenlooper said. "There's always a tomorrow."
It's a helpful posture in one of the purplest states in the country. The New Yorker named him "The Middleman" for traversing the strange politics of one of the nation's swingiest of swing states, where pot is legal and taxes cannot be raised without a vote by the people.
The fissures can be seen in fierce inequities in education funding and quality. All three governors have been embroiled in major litigation surrounding school equity — where the fault lines are not only between urban and rural populations, but within cities, as students in depressed urban centers struggle to keep up with their more affluent suburban peers.
One of Cooper's first acts as governor of North Carolina was to weigh in on a 20-year-old case in which the state Supreme Court declared that the state constitution guarantees every child "an opportunity to receive a sound basic education."
In Colorado, Hickenlooper was governor in 2014 when his state's Supreme Court ruled that funding cuts of nearly $1 billion per year since 2010 did not violate the state's constitution. But the problems persist. In his final "State of the State" address in January, the governor said Colorado remains three-quarters of a billion dollars below school funding levels required by the state constitution to keep pace with inflation and enrollment growth. "If we are being really blunt," he said during the address, "it hurts rural Colorado more than the Front Range," referring to the urban stretch along the southern Rocky Mountains.
And in Kansas, Colyer, on the job but a few weeks, faces a school funding battle that began in the 1970s. The state Supreme Court ruled in October that a new funding system wasn't equitable enough.
"I am the 10th governor in a row with litigation hanging over his head," Colyer told The 74. "It's been over 50 years. We've had all kinds of fits and starts over the years."
It's clear he's itching to plow forward. Colyer says he will be keeping "a surgeon's schedule, not a politician's." Translation: Long hours, high engagement. "We have to end our litigation so we can move," he said.
But time may not be on his side. The former lieutenant governor has only until August before he faces a potentially daunting Republican primary for the seat vacated by his predecessor, Sam Brownback, who left to become U.S. ambassador-at-large for international religious freedom.
David Kensinger, who managed Brownback's 2010 campaign, likes Colyer's chances. He told the Kansas City Star that Colyer's background growing up in rural western Kansas and then starting a successful surgery practice in populous Johnson County would give him broad geographic appeal.
"It's a guy who can speak to the concerns of the whole state, urban and rural," Kensinger said.
That's an increasingly necessary trait at a time when President Trump's election has exposed deep chasms — political, cultural, and economic — between rural and urban America. A 2017 Washington Post–Kaiser Family Foundation survey of nearly 1,700 Americans found that nearly 7 in 10 rural residents say they have different values than people who live in big cities, including about 4 in 10 who say their values are "very different." Meanwhile, half of urban residents say their values differ from rural people's, with less than 20 percent of urbanites saying rural values are "very different."
In North Carolina, the chasm is evident in the economic hubs of Charlotte and the Research Triangle, home to Bank of America and Pfizer, and the rest of the state, mostly rural, where industry has departed and the economy remains depressed. Rural areas face huge dropout rates and a gaping skills gap.
"We have growing, thriving urban areas, and rural areas that have been left behind," said Cooper. "We've got more and more of a divide in ability."
For Cooper, a onetime Sunday school teacher whose mom taught public school, education offers a way out. But one obstacle is that many states are cutting individual income taxes and corporate taxes "at the expense of education."
"States cannot print money," he said. "We see some of the aftereffects of this in some of the Midwestern states that have decided to go this route. It is intolerable."
Cooper did not mention Kansas by name, but he may as well have. When Brownback was governor, Kansas offered steep tax cuts for businesses and individuals — but instead of a promised economic boom, the cuts busted the state's budget, causing what The Atlantic called "an explosion of red ink." The politics continue to be tricky for Colyer, who is promising to end the state's education funding quagmire without raising taxes or closing schools.
On the national level, perhaps nowhere is the urban-rural divide more evident than in the polarization over guns, pitting small-town residents for whom hunting is a way of life against urbanites who are increasingly leery of the status quo. The debate rekindled anew when a gunman wielding an AR-15 semi-automatic rifle killed 17 people at Marjory Stoneman Douglas High School in Parkland, Florida.
For Hickenlooper, the shooting marks a potentially important shift, not only in the debate over gun violence but in the way denizens of the two Americas see and understand each other.
"It's a reflection of the continued divide between rural America and urban America," he told Allen. "It's almost a different facet of what Lincoln talked about: 'A house divided against itself shall not long stand.' We've got to fix it."
The urban and suburban elites, he said, can afford to listen better. "Anybody who lives in an urban area and thinks they're not dependent on where their food comes from is crazy," he noted. But even in Colorado, which he acknowledged is "a representation of the Old West," he is beginning to see a softening of once-entrenched positions.
"I think this might well be a tipping point," he said. "People are thinking, 'Maybe assault weapons belong in a shooting range and don't need to be taken home.' "
Support The 74's year-end campaign. Make a tax-exempt donation now.