Brenneman & Lenowitz: Math Can't Wait for School to Reopen — How Teachers Can Empower Parents to Create 'Math Time' for Their Kids at Home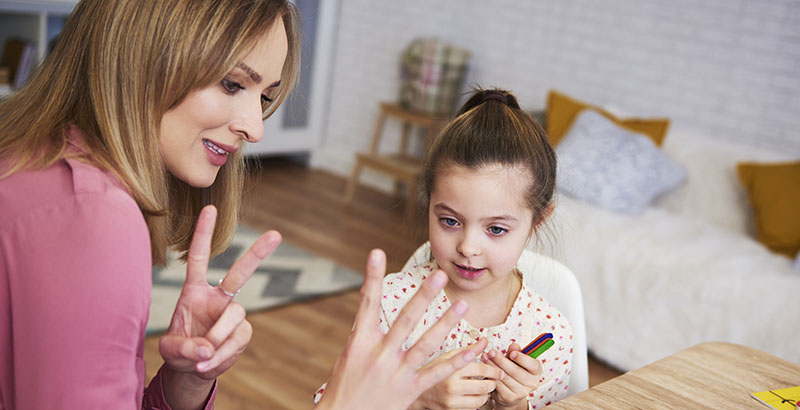 Where did you learn math? Most of us would say, "In school." All too often, families believe that math learning is something that happens only in class and that educators are the sole providers of math education. With schools being closed and social distancing in place across the country in response to COVID-19, this view is more concerning than ever, especially for children who live in under-resourced communities. 
Research shows that entering kindergarten with strong early math skills is the best predictor of eighth-grade performance regardless of race, gender or socioeconomic status. Early math skills predict later academic achievement more than reading abilities or social-emotional development. In fact, longitudinal studies show that children who consistently struggle with math are less likely to receive a high school diploma or attend college. Still, fewer than 1 in 10 preschoolers from families experiencing economic hardship can accurately count 20 objects and recite the numbers 1 to 20.
Exploring and playing with math early — from infancy onward — helps develop children's cognitive, social and emotional skills. With prolonged school shutdowns on the horizon, now is the perfect opportunity to make "math time" as common at home as it is in the classroom.
We recognize that math learning is not top of mind for families juggling so many competing priorities. But the opportunity to engage in early math with children is all around us. So how can educators empower parents, who are a child's first learning partners, to recognize how they already interact mathematically with their children? The key is to make it playful and fun. This is called family math; think games and counting steps, not flash cards. As educators and organizations reach out to families — via email, text, phone calls or social media — to help support their early learners, they can use these tips to foster family math learning opportunities:
Math is all around us
Show families the many ways they already use math daily: while cooking, cleaning and playing, for example. When adults take a "math lens" approach to the world, it not only helps children see math as relevant but also makes it interactive and engaging. Comparing the sizes of toys, measuring ingredients, identifying shapes in the hallway — these activities all build math fluency and make seeing the world mathematically a regular part of a child's life. During this time of social distancing and school closures, these easy ways of incorporating math thinking are even more significant. And with more time spent at home these next few months, families are asking for ideas and resources to support their children's learning. Educators can help them — and strive to do so in families' home languages.
Math is more than numbers
Counting to 20 is important, but math doesn't end there; it's measurement, patterns, spatial relationships and more. These terms and concepts may be daunting and bring to mind adults' own classroom math experiences, so it's helpful for families to show how these concepts naturally occur in children's lives. Volume can be explored during cooking or bath time; patterns, with a deck of cards; division, while passing out and sharing toys; and spatial relationships, with blocks and puzzles. Parents can also access free high-quality early math resources online: Young Mathematicians, Bedtime Math apps, Zeno Math and PBSKids resources are just a few examples. These are especially useful when children cannot go outside to play.
Celebrate effort, and redefine "challenging"
Encourage caregivers to support children's math development by taking a growth mindset approach that highlights effort versus skill. For example, instead of rewarding children for "being great at math," families can celebrate the thinking and persistence a child showed in working on a difficult problem. That way, children see challenge as part of the joy of learning and will be less likely to give up when they struggle. Having a growth mindset is especially important once math challenges accelerate with the introduction of homework and tests.
Math is a language, a form of communication with its own words, symbols and grammar. Just as we are born with the capacity to speak, we are also born with the capacity for math. But, as with any language, the later we begin hearing, seeing and using math, the more challenging it is to become fluent. Starting early is critical.
Caregivers are looking for simple ways to entertain and teach children who are at home rather than at day care or preschool. And just as in "normal" times, a positive relationship with math starts — and continues — at home. Providing families with easy and enjoyable ways to use math concepts early and often in their home (and in their home language) not only leverages adults' inherent strengths as their children's learning partners but also directly addresses children's innate desire to learn. 
The challenge is finding ways to do this that are both effective and empowering for families, especially during this unnerving time. By supporting families when they are at home, educators can create a foundation of early math knowledge that extends far beyond the classroom when schools reopen. 
Math can't wait. 
Kimberly Brenneman is a program officer for education at the Heising-Simons Foundation. Gemma Lenowitz is an associate program officer of the Inspired Minds portfolio at Overdeck Family Foundation. Also contributing to this essay: Margaret Caspe, research consultant to the National Association for Family, School and Community Engagement, and Kelly James, a partner at Education First Consulting, which supports and coordinates the three-year Family Math Roadmap Initiative.
Support The 74's year-end campaign. Make a tax-exempt donation now.