Bradford: Teachers Unions Exploited Ed Reform Split Over DeVos While Never Losing Focus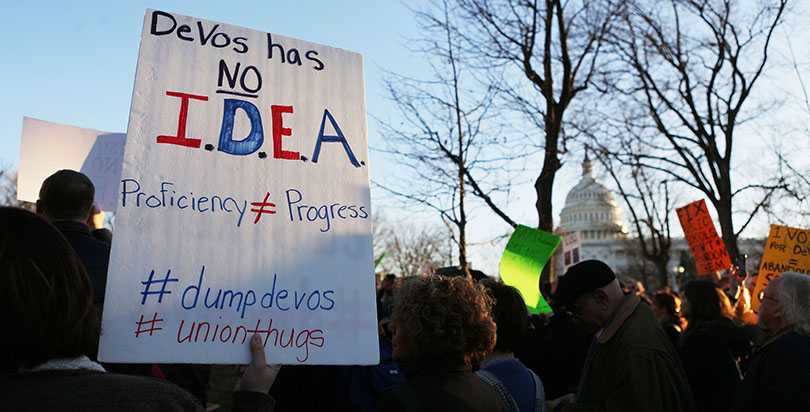 When the history books are written, Education Secretary Betsy DeVos's confirmation fight will be remarkable for many reasons: a true outsider who supports all forms of school choice getting the nomination and a historic tie-breaking vote by the vice president to end a 50–50 deadlock in the Senate.
There are lessons to be learned, however, in the aftermath. Lessons whose modules include how to stay focused, how to confuse and co-opt your opposition, and how to exploit deep fissures among your discombobulated resistance. And those lessons were taught, masterfully, by the country's two largest teachers unions, the National Education Association and the American Federation of Teachers, to most of us on the political left who work in this thing we call "reform."
But how did this happen?
Identity crisis
If there was a "Never Trump" camp on the Republican side of the political aisle, for Democrats it was a fortress — with principled barricades and policy crenellations — that cast a long shadow across both the country and the party. Many Democrats saw Donald Trump's ascendance as a threat not just to traditional Democratic constituencies but to ideologies (feminism, equity, immigration, and tolerance chief among them) that help describe the ethos of the party.
After the conflagration that resulted in Hillary Clinton winning the Democratic nomination, most, if not all, Democrats lined up behind her. This included self-identified Democrats (of all stripes) and progressives in the education reform movement. This happened with reformers despite her unclear position on charter schools, a notable pivot from her prior support.
The teachers union leaders were far more calculating here, as they broke early for Clinton — even as their members struggled not just over whether to support her or Sen. Bernie Sanders, but whether or not they should support a Republican or a Democrat. (Trump overperformed among
union households
.) Having failed to pick a winner in the prior four presidential contests (they did not endorse President Obama), the NEA and the AFT were desperate for a victory.
Clinton's defeat may have elicited the same reaction from teachers unions and left-leaning reformers alike — shock — but the two groups responded differently to the crisis. The teachers unions, in light of Trump's campaign talk of school choice and on the heels of the failed November ballot effort to lift the Massachusetts charter cap, immediately opposed both him and choice programs broadly. A lot can be said about the behavior of teachers unions, but what's clear is they know exactly who they are and what they do — protect their members — and that focus never wavers.
But there was no such clarity of purpose among reformers, of all political persuasions, but most specifically those who identify themselves as Democrats. Many saw the election result as a triumph of racism, sexism, or other issues, and were deeply affected by it. More vitally, and unlike the teachers unions, these issues of identity and affiliation rose to the top of the discourse for many, subordinating the policy goals (school choice, higher standards, etc.) many reformers use to anchor the coalition. Indeed, what had been an effort filled with questions like "Can we create better schools?" changed to one with challenges like "How can you work with this '-ist' administration and the '-ist' people in it?"
But not every reformer on the left felt this way. Some argued that we should take any progress we could make — carefully, given the volatile nature of the moment — but that we should take it nevertheless. Others argued that, in the pre-Obama era,
uncomfortable collaboration
had been the norm, not the exception, and that those times had actually produced the "golden era" of change many knew from the Obama presidency. They also pointed out that several of the most contentious issues — such as Trump's immigration policy, about which many people felt passionately — could not be addressed in the U.S. Department of Education.
In the end, the differences between these two groups, and their ultimate inability to resolve them, was less important than what the teachers unions did as a result of them.
Exploit fissures
From the moment Eva Moskowitz, founder of New York City's high-performing Success Academy charter school network, was announced as a
potential nominee
for secretary of education, the teachers unions went into overdrive. To them, Moskowitz, a strong supporter of choice, a hawk on accountability, and a heroine of sorts in reform circles for her determined opposition to the United Federation of Teachers, the New York City teachers union, would have been a disastrous pick. As would, for that matter,
Michelle Rhee
, the former chancellor of D.C. Public Schools who was also under consideration by Trump and who was a longtime target of teacher unions. None of this was a surprise.
The surprise was, however, the chorus of reformers suddenly singing the same tune. The unions had deftly and quickly seen the
divide emerging
on the left wing of the reform cabal between partisans and pragmatists and drove a truck right through it, with the exchange becoming not "How do we make this work?" but "How do we stop anything related to Trump from working?" "Resisting" Trump became not just a tactic but a litmus test for Democratic party loyalty, an important quantity among the reform left.
This only intensified with the nomination of Michigan's Betsy DeVos, a savvy political operator and Republican party influencer — not a career organization head or progressive school reformer — and supporter of vouchers, tax credits, and charter schools. Here we also see a widening of the split as a by-product of the divide among left-leaning reformers, who do not typically favor vouchers and tax credits as policy levers.
While the reformers waged an increasingly intense cold war over the possibilities, teacher union leadership beamed in the glow of seemingly newfound allies.
---
This is a very strong statement on behalf of children by DFER-give them real credit for this https://t.co/OjWFQIRlk0

— Randi Weingarten (@rweingarten) November 17, 2016
---
This collaboration proceeded forward without regard for the fact that, for the unions, a Clinton victory would have given them a hammer with which to smash reform opposition in the same way they had killed the modest charter cap lift in Massachusetts or the
Opportunity School District
effort in Georgia. Many among the divided left of education reform had voted for Clinton despite this danger (myself among them) but some at least were clear about the opportunity available in the uncomfortable safe harbor we had reached.
While reformers were split on DeVos, the unions were unified in their effort to scuttle her nomination. The reformers who believed working with her could provide a positive opportunity to advance choice and reform watched as those who saw supporting her as an abandonment of a suite of policies that anchored the Democratic-party portion of the reform left became increasingly vocal. The teachers unions' all-out efforts across the country following DeVos's Senate confirmation hearing only deepened the fissure by raising the stakes and making support of or opposition to DeVos a defining issue of party politics if not education policy.
To support her crossed a line drawn in the sand despite the fact that reform-minded leaders with more executive experience had been warned off — strongly — by the left's party-first wing. And all of this for a nominee
many acknowledge
as among the most — if not the most — moderate of the administration's offerings. A nominee who, for the record, had a long history of both working with and donating to Democrats while making policy change. Among the most notable being New Jersey Sen. Cory Booker, who participated in a last-minute Democratic #holdthefloor marathon of opposition speeches that ultimately failed to stop her appointment.
As he was
a once-powerful advocate
for school choice, Booker's change of heart is not only troubling; it's demoralizing. Some believe the senator has presidential aspirations and now seeks the support of the teachers unions. Which would make sense, if they'd actually been able to deliver a presidential winner anytime in recent memory.
The fight we lost while everyone lost focus
As Vice President Pence cast the deciding vote, two things were anecdotally clear on social media. The unions went silent, having suffered what amounts to a grand defeat, and the #dumpDeVos left began tweeting and posting away, seeking a quick metamorphosis into the #dumpSessions resistance.
Indeed, while the teachers unions — protectors of freedom and civil rights — and those who elected to follow them down the anti-DeVos rabbit hole were all in on the education secretary, Sen. Jeff Sessions, who was
once considered too racist
to be a federal judge and who
even conservatives
find troubling, was essentially skating on through.
This is to say while anti-DeVos reformers and teachers unions were fighting over what role the Department of Education's Office for Civil Rights might play under Secretary DeVos, civil rights were actually being handed over to a figure who, in every respect, is both more divisive and more empowered to act at both the state and local levels in ways that could compromise the freedom and security of minority and immigrant groups. This is a huge loss to anyone who will open their eyes to see it.
As an object lesson, this flirtation and collaboration with the teachers unions by the more definitively partisan education-reform left can be viewed in two ways: first as a study in how to stay focused, as the unions did, even when what was at stake wasn't really who would lead the least-powerful office in the president's cabinet, but what could have happened if that effort were instead directed at Sessions, who will lead one of the cabinet's most powerful as attorney general. The unions were very clear on what their priority was, and going along with that choice may cost not just every American school child, but every American, dearly.
The other is as an unfortunate collapse among Democratic reformers who either lost sight of or differed on the way to best reach the stated goal of better schools and choices for families. Or perhaps, more specifically, not how to undertake that mission but when and with whom. Whether the rifts opened and wounds delivered during this period of controversy can be healed remains to be seen. What seems certain is that even if they heal, the scars aren't going anywhere.
Get stories like these delivered straight to your inbox. Sign up for The 74 Newsletter