Bradford: Some Truths About Education in the Current Normal — There Will Be No Orderly Return to School in the Fall. Kids Will Continue to Learn Online. Epidemiology Wins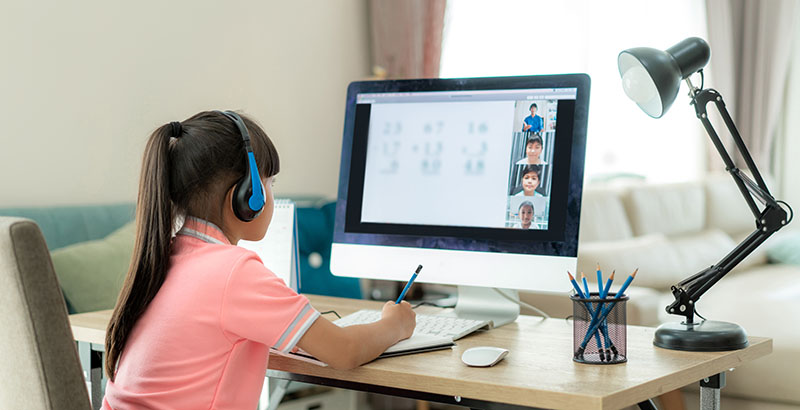 The education policy discussion during the COVID-19 crisis is as raucous as ever. Equity. Learning loss. Online education. These are all familiar fights, and the pandemic has not arrested them. But these exchanges miss something that used to ground them, and that is a common view of the moment and a sense of the future within which they exist. This is also to say they miss some common realities whose impact, quite literally, changes everything.
There is a virus in the world right now, and that virus kills people. It's extremely contagious. Early reports indicate that having it can do long-term damage to the heart and diminish lung capacity. There is no widespread testing for it. We do not know if having had the virus confers immunity. For all this uncertainty, we do know two things: There is no cure or vaccine at present, and gathering people together makes it more likely that the virus will be transmitted.
Even among those who consider the current social distancing regimes tyrannical, there is an acceptance that reopening not just the nation's economy but our society will be a slow and cyclical affair. One in which stay-at-home orders are relaxed until infections spike and then put back in place again, as the seminal Imperial College London study offers ("The Hammer and the Dance" will be a long-playing tango to which we all sway).
It is against these facts — and this science — that the discussion about education and education policy must happen. All other frames miss the essential issue: that finality looms above all human action right now in a way with which many Americans are unfamiliar. Epidemiology, not pedagogy, is the prime mover.
So if you care about education policy and what we might call reform, and you have been involved in one of the key tranches of the effort to improve the country's schools and expand opportunity for children who have had little of it, what should you derive from this grim take on the possible near future?
First, there will be no orderly and familiar return to school in the fall. It is fantasy to believe there will be, particularly in densely populated areas. The reasons are simple. Schools, in the best of times, are cauldrons of contact catalyzed by children, and that will accelerate transmission. Proceeding as if this is not the case will have two great costs. One will be visited upon teachers who will inevitably catch the virus and pay for the risk with their lives. The nation's schools and its largest school systems are closed for a reason. While New York City's feckless mayor, Bill de Blasio, dawdled over shutting schools down, the United Federation of Teachers, in an instance of genuine pro-educator advocacy, protested for its members who, rightly, feared for their own safety. Although leaders of varying degrees of competence may toy with the idea of opening schools this fall, it seems unlikely that the nation's teachers would make the same decision so easily.
The second cost is simpler: money. A teacher, mom, dad, child or grandparent will die ostensibly as a product of coronavirus transmission at school. Someone will sue, and school districts will crack under the weight of their liability in years when their resources will likely be diminished. Schools work to minimize risk, not compound it. No school leader or wary bureaucrat would take on such responsibility.
Here is what is also true. For the foreseeable future, children will be taught and learn online. This will happen not because virtual charter supporters, distance learning enthusiasts or unbundled education trailblazers want it. It will happen because when we bring people together, lives will be lost. There are profound questions of practice and technology that must be addressed in the process. That is a discussion we should have. But we should also be clear that it is a discussion grounded in life-or-death rules, not a debate over whether distance learning works, is optimal or is equitable in any of the myriad senses that the word is used during this crisis. Few things could challenge children's learning more than a global pandemic that shuts down schools of all types. It is precisely for this reason that learning in the present must not stop even as we prepare for a future we hope will be familiar. How can we better engage families? How is learning organized so it also allows caretakers who work from home to continue to do so? Should we support moms, dads and others — who are now educators — directly? These are the questions that need to be addressed in the country's households while this storm rages outside.
And finally, while many reformers and traditionalists have been engaged in a détente as they work to address the basic needs of children and families who are now stuck in apartments and houses and concerned about their health, their learning and their income, others have stayed the course with an eye toward consolidating their power and eliminating diversity from the nation's educational patchwork. Here, the Los Angeles Unified School District and, more specifically, its United Teachers Los Angeles chapter are instructive. While the children of the country's second-largest school district were on lockdown, Alex Caputo-Pearl, the head of UTLA, took the opportunity to negotiate new work rules for his members. There is no time like a health pandemic to return to the collective bargaining table, it seems.
Caputo-Pearl's requests were numerous, but two stood out. The first puts a cap on the amount of time teachers and students engage in distance learning. The second makes the use of live video optional, turning a key feature of teacher-student interaction — that they see each other — into a nice-to-have. One does not need to be an economist to know that caps and scarcity make things more expensive. Given the opportunity to drive up the price of his members (while continuing his and UTLA's anti-charter advocacy) Caputo-Pearl has done so, even as thousands of students for whom this learning is vital are missing or barely engaged.
It is hard to believe that UTLA's members or, for that matter, the families of Los Angeles would support this self-interested, tone-deaf agenda. Perhaps it's because they've seen it before, as the last time the city's children were at home and not learning, it was because of a strike led by Caputo-Pearl as well. To paraphrase Maya Angelou, when you give someone the chance to show you who they really are, sometimes they do. Caputo-Pearl has revealed to us the depths to which the power-hungry will sink, and that should be instructive for all who care about preserving the diversity of the country's educational landscape.
Worlds are based on rules, and right now those that govern education policy are unfamiliar. Pragmatism should be the guiding principle while we work to continue the education of millions of children who attend schools of all types in a way that is grounded in that same pragmatism. The new normal is now something else: the current normal. Sadly, strong notes of the divisions that captured our attention before COVID-19 made itself front and center remain. But what the world also needs are momentum and a clear understanding of what is at stake. The lesson is that, for now, epidemiology wins. Our decisions must consider the lethality of the coronavirus as a factor and that loss of life is a condition and consequence of those same choices. And our choices should emphasize the good, if not the perfect, of continued learning against the world's uncertainty, which isn't going away anytime soon.
Derrell Bradford is the executive director of the New York Campaign for Achievement Now (NYCAN).
Get stories like these delivered straight to your inbox. Sign up for The 74 Newsletter