Bradford & Brown: To Imagine the Future, You Need to Discuss What It Could Be. We Must Empower New Voices in Education to Have These Critical Conversations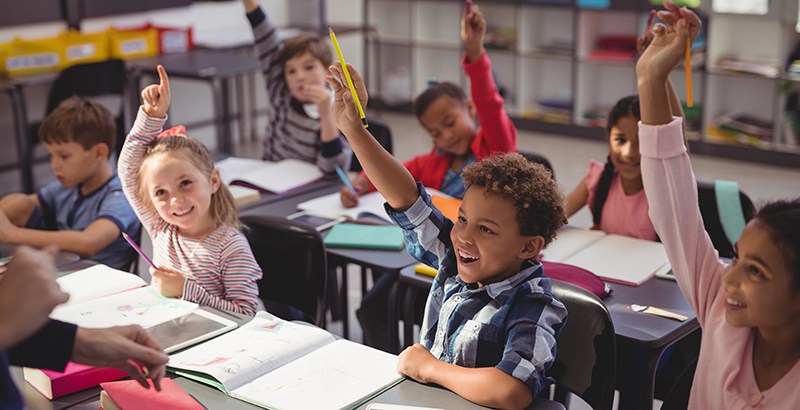 In the hit tween book and movie Wonder (a kinder version of Mask), we learn the that main character's teacher left Wall Street to pursue his dream of teaching. He challenges his students to think critically about what it means to be a good friend and a good citizen.
This story of overcoming obstacles in a world full of them is told beautifully — and it clarifies that education's mission isn't just the three Rs. It's also about raising connected and compassionate leaders. In our child protagonist, we see a young person working to find the right fit in school. In his teacher, we see a talented career switcher in one of our most important professions, which itself is struggling mightily at the moment. In fact, according to the National Education Union, 80 percent of classroom teachers have seriously considered leaving the profession in the past year.
Dealing with the challenges of childhood that come with K-12 education is exhausting, but blame for challenges in the teaching profession cannot be placed at students' feet. Today's classroom is a polarized place. Even when change is necessary, it's not easy. Questions of fit and environment are as important for our kids as they are for the adults who teach them. Though there may be disagreement about the right policy lever to optimize these two values, there should be no doubt that teachers, their students, and families across the country deserve better.
Perhaps the most essential question of the moment is, how do we ensure that education creates the opportunity for every child to develop his or her unique talents and abilities? We're not close to the answer, especially when it comes to the neediest students in cities and counties hard hit by change. According to a survey by Gallup, the Thurgood Marshall College Foundation, and the Charles Koch Foundation, only 32 percent of people living in communities with low economic mobility across the country believe they have access to high-quality educational options.
Folks feel they're stuck, and that's because the national conversation is stuck, too. The United Negro College Fund's "Done to Us, Not With Us" report concluded that the national conversation about education has been stagnant for some time and called for new voices.
At 50CAN, a network that supports local leaders working to improve education in their communities, we think you can't imagine the future if you don't talk about what it could be. So we're trying to meet that challenge by supporting a National Voices fellowship program designed to amplify new perspectives and innovative ideas on how to improve learning for all students.
Fellows like Nicole Allen of SPARC, the Scholarly Publishing and Academic Resources Coalition, are advocating for Open Educational Resources — a way to bring free, high-quality, and flexible educational materials to students, especially in communities in need, by breaking down regulatory, legal, financial, and technical barriers. One initiative she promotes is the technology platform and publisher OpenStax at Rice University, where millions of students have access to free, high-quality, peer-reviewed textbooks, saving them more than $177 million this year alone.
Evy Jackson, a former Colorado gubernatorial education aid and charter school board member, has worked for five years to improve access to quality public schools — changing key elements of the state's school finance system and supporting families of color as they advocate for greater personalization and change. She, too, brings enormous experience, will, and, most important, openness to the discussion about improving education.
The first class of National Voices fellows comprises 10 rising education leaders from across the country, providing a unique opportunity to collaborate, connect, and debate with a diverse and passionate mix of voices over the next year.
There's no identifiable ideological strain among 50CAN's fellows because there's no canned pedigree. The only requirements are that fellows resist the polarization of the moment, believe that families, teachers, and students have a voice in what works best, and commit to rethinking what education can mean. They have to be willing to imagine what today we cannot even fathom. As a result, libertarians and leftists, union members and reform advocates are coming together at the local level to discuss policies that will improve student well-being and allow children to develop their unique aptitude and become critical thinkers and lifelong learners.
In Wonder, the courageous teacher outlines a new precept for his students each month. February's direction is from the American humorist James Thurber: "It is better to know some of the questions than all of the answers."
When it comes to how to best educate children, we don't know all of the answers, but we should commit to empowering new voices, fostering innovative ideas, and asking lots of questions.
Derrell Bradford is executive vice president of 50CAN. Brennan Brown is the director of educational partnerships at Charles Koch Foundation.
Support The 74's year-end campaign. Make a tax-exempt donation now.