Boyd & Briggs: As Schools Return to in-Person Learning, They Must Keep Parent Engagement Going. Our Family Guides Can Help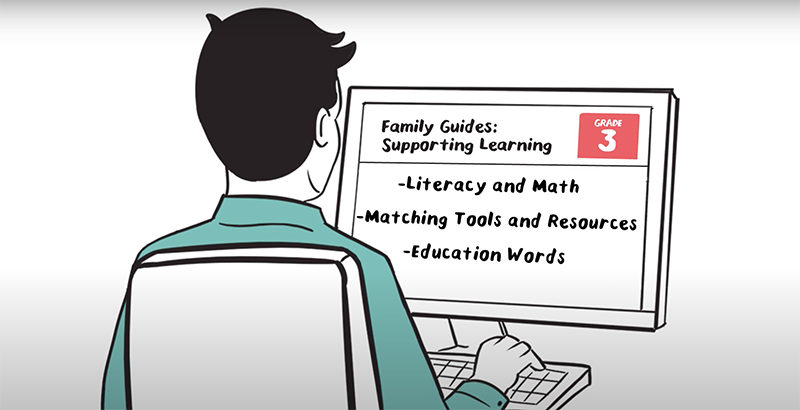 Get essential education news and commentary delivered straight to your inbox. Sign up here for The 74's daily newsletter.
In the early days of the pandemic, as we worked with educators, families and students to transition to virtual learning, we repeatedly heard a common refrain: Learning from home offered families a unique opportunity to see what their children were doing in school and become more engaged in their education. But these families also weren't sure what they should be seeing, what their children should be learning in each grade, how best to support them and how to create partnerships with teachers to keep their kids learning under unprecedented circumstances.
The importance of helping families understand what is most important for students to know and be able to do by the end of each grade isn't new, but the pandemic and shift to remote learning gave it renewed urgency.
Seeking to address this need, we partnered with families, caregivers and educators to create Family Guides, a user-friendly, jargon-free and accessible resource in Spanish and English designed to ensure that caregivers of K-12 students understand what kids should know and be able to do in each grade, along with tools to help them support their kids' learning.
Across the country, it's become clear how the right resources and support can help make families true partners in their children's education. For example, with support from GO Public Schools, parents in Oakland, California, used the Guides as a framework for conversations with other families about shared challenges and successful strategies to help support their children's learning. They used that new understanding to hold workshops earlier this year on language arts and math expectations, in part to help parents navigate summer learning opportunities. In Brooklyn, parents wanted to know how they could help their children stay on track to be prepared for the following year. By integrating the Guides into their curriculum and conversations with parents, public schools across the borough helped these parents look ahead to what would be expected of their children at the next grade level, laying the groundwork for future academic success.
According to a recent survey, 67 percent of families feel more connected with their child's day-to-day education than ever before. As schools consider summer programming and the transition to a new school year in the fall, there's an opportunity for districts, administrators, teachers and organizations that work with families to keep this engagement going. Ensuring that families have a deeper understanding of grade-level expectations and engaging them more deeply in academics than ever before is key.
Even before the pandemic, it was understood that the benefits of increased family engagement in schools are crucial and wide-ranging. Kids with engaged caregivers do better in school, and keeping families informed and engaged in their children's education through transparent and effective communication encourages connection and relationships that benefits students. But there were also significant challenges in keeping many families engaged and informed about their children's academic progress. Many families didn't know what their kids should know and be able to do in math and English by the end of each grade. Some families found it challenging to translate and decipher the jargon around their children's education, and therefore did not feel empowered to ask questions and assess how their children are really doing.
Providing tools and resources that engage families can be especially beneficial for those who have historically received less of this support, including Black, brown and low-income families. Tools like these help families advocate for the education their children deserve, and serve as a foundation for rich discussions, recommendations and new ideas born of strong relationships between families and schools.
Offering resources that help families engage more deeply with the academic content in classrooms is powerful, but simply sharing this information without context or support often isn't enough. Tools like the Guides are most effective when school or trusted parent communities provide opportunities for families to come together, ask questions and build their knowledge. We saw this in action, when one Connecticut parent created mini-focus groups to help parents determine how to best apply the Guides' recommendations in their own family settings.
The best engagement happens when families can connect with other families in their community for honest conversations about challenges or questions about tracking their children's educational progress and implementing strategies that focus on creating a friendly, welcoming environment for both students and caregivers.
As the country transitions back toward mostly in-person learning in the coming school year, schools and educators have a unique opportunity to ensure that the pandemic's unprecedented level of family engagement in student learning doesn't wane as children return to the classroom. By making family engagement about building academic partnerships between caregivers and schools and by offering all families the proper resources and support to engage, every student and family can be set up for success and support, next year and beyond.
Sandra Boyd is CEO of Seek Common Ground. Amy Briggs is president of Student Achievement Partners.
Get stories like these delivered straight to your inbox. Sign up for The 74 Newsletter