Bouncy Balls & Tippy Stools — How Flexible Seating at Louisiana School Is Helping Students Focus in Class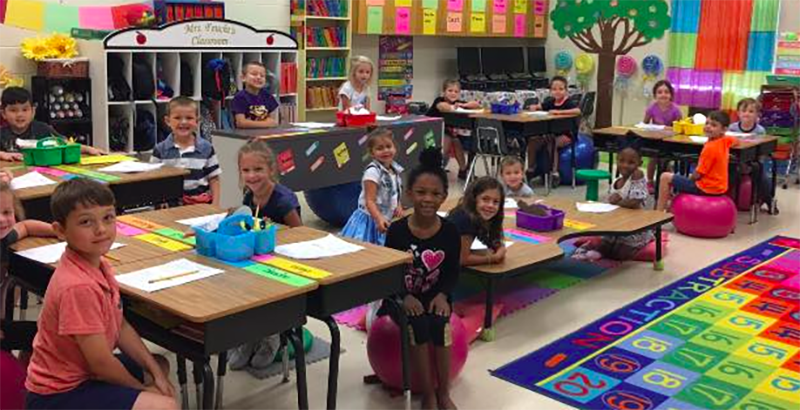 This article is one in a series at The 74 that profiles the heroes, victories, success stories, and random acts of kindness to be found at schools all across America. Read more of our recent inspiring profiles at The74million.org/series/inspiring.
If a kid wants to bounce a bit during a lesson, there's a seat for that. If a student wants to sit up a bit higher for a better view, there's a seat for that. And if a child wants something a bit softer to nestle into, there's also a seat for that.
Students at Juban Parc Elementary School in Denham Springs, Louisiana, have all sorts of options when it comes to the way they take a seat. The "flexible seating" school has made sure of it, from bouncy balls, stools, cushions, and couches to, of course, traditional chairs, creating student-centered learning spaces that give kids the flexibility to choose the way they want to take in their lessons.
"It changed our classroom culture," Sarah McCrary, a fourth-grade teacher who started the trend at Juban Parc, tells The Advocate. "This is not my room. This is their room. So, when they walk in the door and see seats that were specifically picked for them with them in mind, it communicates something to them that I can say over and over again but they can see it: 'This place is for me.' "
Brandy Melancon, who teaches third grade, told the newspaper the new seating options are particularly useful for kids with ADHD who have trouble sitting still. They no longer stand out from their classmates when they need to move around.
After the experiment with the fourth grade proved a success, Principal Shanna Steed spent about $8,000 to extend the program to grades 1–5, outfitting classrooms with flexible seating as well as tables at different heights — some perfect for cushions and others ideal for standing.
Teachers do have rules associated with the seats, such as no falling off and limits on when students can switch styles of seating. But as the students test out the different options, they grow to learn what works best for them. Logan Wollfarth, 10, tells the newspaper that using the bouncy ball helps him focus. "I feel like it's better than chairs," he says.
Jackson Seguin tells WAFB he tends to get restless, and with the new seating, "I can just bounce and move around and stuff and it's way better than just sitting in a seat."
McCrary says the idea puts a focus on learning. "If part of their brain is not keeping them still, that part of their brain can focus on their work," she tells WAFB. "They're taking charge of their own learning, and that one choice gives them that feeling of empowerment."
Support The 74's year-end campaign. Make a tax-exempt donation now.