Botel: As a Former Trump Administration Education Official, I Saw the President Up Close. That's Why We Need Joe Biden to Win the Election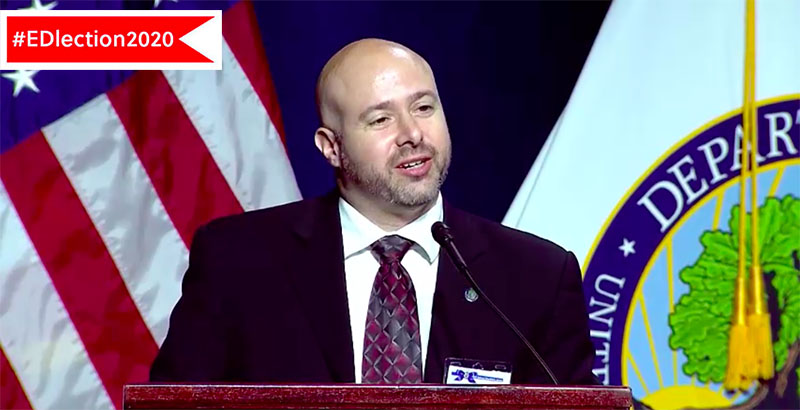 In November 2016, much to my surprise, I was asked whether I would consider serving in a role that then-President-elect Donald Trump's team was planning to create in his administration — senior White House adviser for education. I had grown up in relatively diverse areas near Philadelphia, and from a pretty early age I had felt committed to doing what I could to eradicate poverty and racism. While in my estimation neither the Democratic nor the Republican Party has been effective at, or adequately committed to, ending socioeconomic and racial inequities, Democratic platforms have seemed more likely to make progress. I have been a registered Democrat for a long time and I have almost always voted for Democratic candidates. I supported Barack Obama's and Hillary Clinton's presidential campaigns, and I have been supportive of Black Lives Matter since the early days of the movement.
I believed that many of the policies candidate Trump advocated during the 2016 campaign, and the racist, divisive, chauvinist, xenophobic, anti-Semitic and lawless things he said and promoted, were a threat to individuals, to the United States and to the world. I had not wanted to see a Trump presidency. But as one was imminent, I decided to accept the position in his administration for several reasons:
I thought I might be able to help establish more effective education policies for children in poverty.
Trump had disparaged the Common Core, and I hoped I could help prevent the U.S. Department of Education from being used to force states to dumb down academic standards, which further exacerbates inequities, both among students inside the U.S. and with students around the world.
While I disagreed with most of what candidate Trump had said, I did agree with one thing: that our country would be better off if parents, especially those living in poverty, had more educational options for their children.
I hoped I could help ensure the Every Student Succeeds Act was implemented in a way that drove equity and better outcomes for low-income children.
I served as the senior White House adviser at the U.S. Department of Education for the first 90 days of the administration, then became acting assistant secretary of elementary and secondary education, and later, acting assistant deputy secretary of innovation and improvement.
My experience at the department was overall very positive. I really enjoyed working both with political appointees and career staffers. On a daily basis, I led and participated in a marathon of meetings in which dedicated career and political leaders, attorneys and program officers collaborated to manage federal grants; debate tough policy questions that came in from schools, districts and states; and meet with stakeholders with various perspectives and interests.
On the other hand, my experience with the White House was almost uniformly negative. I dreaded every White House-led meeting or conference call, which occurred multiple times each week. While some competent people worked there, the ineptitude of so many others made it difficult to get things done. Examples ranged from basic mistakes — mismanaging conference calls, forgetting to reserve conference rooms for meetings, neglecting to get attendees' information to the Secret Service so they could gain entry to the Eisenhower Executive Office Building and the West Wing — to strategic errors, such as publicizing an obsolete document that showed an early version of a budget with substantial cuts to the bipartisan Impact Aid program, even though funding to keep the program whole was restored before the budget was finalized.
Although I felt I was making a positive contribution to education — particularly in reviewing ESSA plans for all 50 states, Puerto Rico and the District of Columbia, and giving feedback on how to make them compliant with important civil rights provisions and other federal laws — my concerns about Trump's rhetoric and approach to leadership and policy only grew. I shared many people's horror at how he responded to the murderous neo-Nazi rally in Charlottesville; at his cruel, reckless policy of family separation inflicted on people of color; and at his racist, profane characterization of majority-Black countries from which many Americans have immigrated. So, after Education Secretary Betsy DeVos approved all 52 ESSA plans, I left the administration in October 2018.
When it comes to education, I don't think Trump has done much worthwhile to improve outcomes for American children. He claims to advocate for more high-quality choices for parents and students, but I don't see evidence that he has embraced school choice beyond asking Congress for increases in funding for the federal Charter School Program (which I support) and claiming to champion private-school scholarships for students from low-income households. If he really wanted to promote scholarships for students in need, he could have advocated much more strongly that Congress pass legislation and approve funding for it. And he has shown no interest in any other strategies for improving education.
President Obama, by contrast, paid a great deal of attention to the numerous, complex challenges facing our nation's children. He led his administration and Congress to invest more heavily and strategically in improving student outcomes. I am hopeful that if former Vice President Joe Biden and Sen. Kamala Harris win the current election, they will be similarly attentive to improving student achievement and taking on tough educational issues. I am encouraged by their focus on recruiting and preparing more educators of color, for instance, which would help reduce racial inequities in multiple ways.
While education is the field about which I am most passionate and to which I have dedicated my career, I am much more concerned about Trump's impact on other important aspects of our country. I am worried that in a second term, Trump would lead our country further toward dictatorship, where the chief executive and his family would get richer and more powerful while the majority of us would experience further erosion of our civil liberties, our civil rights and our health. A second Trump term would very likely only exacerbate the already atrocious inequities in wealth, political power, health outcomes and justice that exist across social class, race and gender identity. A second Trump term would likely lead to more violence and discrimination against people of color, women, religious minorities, immigrants, refugees and people who identify as LGBTQ. A second Trump term would very likely lead to hundreds of thousands more Americans getting sick and dying from COVID-19 than would have if we had honest, competent leadership from our president.
I feel very strongly that it is in our collective interest to elect Joe Biden as our next president and Kamala Harris as our next vice president. Even if the nation removes Trump from office, we will still have a ton of work to do to protect ourselves from COVID-19, to reverse global warming and to make our country and world more equitable places. But with Trump still in office, the risk of fatal illness, violence, authoritarianism, chaos and inequality increasingly plaguing our country and the world would be infinitely greater.
A former official at the U.S. Department of Education, Jason Botel has served in a number of education-related roles, including as a public school teacher, a public charter school founder and leader, and an education policy advocate.
Support The 74's year-end campaign. Make a tax-exempt donation now.