Boser & Holman: New Innovation Fund Seeks Affordable Ways to Test for & Eliminate Toxic Lead in and Around Our Nation's Schools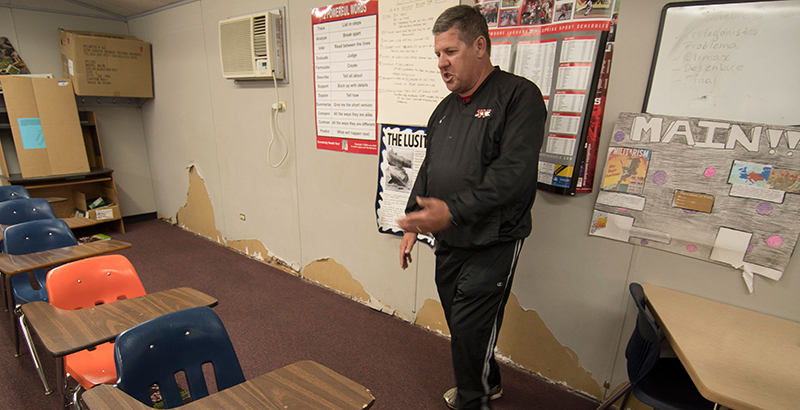 In his 2019 State of the Union address, President Donald Trump lamented America's "crumbling infrastructure" and called on Congress to pass long-term legislation to address the problem. "This is not an option. This is a necessity," he said.
On this, we agree with the president. Our infrastructure is in dire need of an update. Our schools, roads, pipes, and bridges are old.
Most of these infrastructure dangers are often discussed. But one is less so: the toxic metal lead that persists in old paint, in old pipes, and in the soil around old school buildings and highways. A discussion on infrastructure must include efforts to address this problem.
Lead exposure is a serious health issue. High exposure can result in seizures, coma, or death. Even moderate and low exposure can have lasting effects, like intellectual and developmental disabilities, or emotional and behavioral problems.
And lead is widespread. An estimated one-third of all U.S. households contain lead. In Chicago, one study found that out of nearly 3,000 water samples, 70 percent contained lead. In 2016, at the height of the lead water crisis in Flint, Michigan, a Reuters report found that 3,810 communities in the U.S. had lead poisoning levels at least double those in Flint.
While lead exposure cuts across demographics, those affected by it are more likely to be low-income communities of color living in substandard housing. Black children are three times as likely to have elevated blood lead levels as white children.
Schools are particularly hard hit. A report last year from the Government Accountability Office surveyed schools around this issue. It found that, of the school districts that tested for lead in the previous 12 months, 37 percent had an elevated level of lead in the drinking water. They also found that 41 percent of districts had not, in the previous 12 months, tested their water for lead at all.
So why aren't we addressing the problem? For one, lead remediation — replacing pipes, paint, or contaminated soil — is extremely costly. The second, and perhaps less obvious, cost issue is that testing is itself very expensive.
Machines that meet federal testing standards can cost over $100,000. Portable handheld lead analyzers are less expensive but can still cost over $20,000. Those equipment costs add up quickly: New York City recently estimated that testing its 130,000 public housing units for lead would cost about $80 million.
Such high costs mean that officials do not test often enough. And so, paradoxically, even though we know that lead is pervasive across certain communities, we don't actually know how much of it is where.
It also means that parents, teachers, and homeowners are at the mercy of local public health agencies, which can afford to pay for lead tests but are chronically underfunded and time-strapped.
The good news is that researchers are finding success in developing testing technologies and consumer-facing screening tools that detect lead at lower costs and higher reliability. Some are turning bacteria into biosensors; others are using smartphone technology to track and detect lead in water; still others have figured out how to modify existing and affordable soil-nutrient tests.
The Center for American Progress has put forth a proposal that would build on and further the research and innovations. The $25 million LEAD Innovation Fund, to be managed by the National Science Foundation, would accelerate the commercialization of lower-cost testing technologies and spur the development of federally approved consumer-facing lead screening tools. To spur innovation, the fund would hold a competition, much like the American-Made Solar Prize Challenge or the Kidney Innovation Accelerator, with outside partnerships, organizations, and investors incorporated where appropriate. Classroom-based activities and local partnerships would also bolster efforts to find and scale solutions to lead contamination and detection.
Lead is delaying the growth and development of children across the country. The scary thing is, we really don't know how many children are put at risk just by going to school and sitting in a classroom with lead-based paint, drinking water that flows through lead pipes and running in playgrounds that contain lead-contaminated soil.
The federal government is taking encouraging steps toward addressing our wanting infrastructure, but time is not on our side. While we work to increase funding to address the lead issues we do know about, we must also invest in new technologies that would help us understand the issues we don't know about. By working with researchers and entrepreneurs to accelerate innovations, we can ease the cost burden on so many local public health budgets while democratizing a process that remains centralized and beyond the reach of average Americans.
Too many Americans, especially children, are at risk of lead exposure for us to wait. With this comparatively small investment, we have a powerful lever for change with both short- and long-term positive returns for children, cities, and the future of our education.
Ulrich Boser is a senior fellow at the Center for American Progress. Read Holman is a fellow at Public Lab, a community and nonprofit democratizing science to address environmental issues.
Support The 74's year-end campaign. Make a tax-exempt donation now.