Boser: From Math to Music, There Are Great Online Supports for Nearly Every Subject. So Where Are All the Great Writing Apps?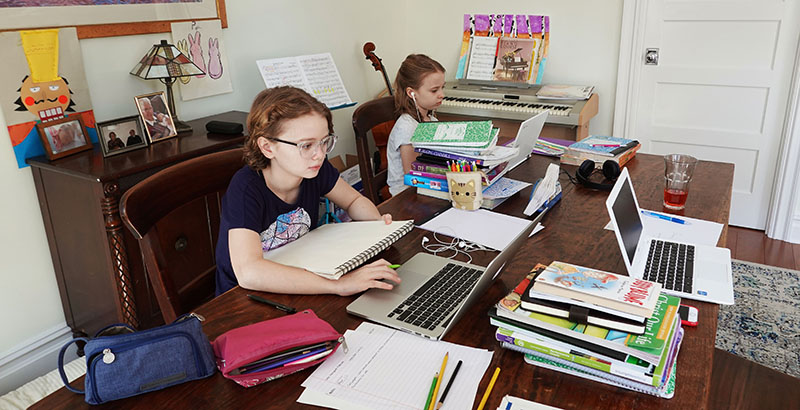 When the coronavirus shut down school in the spring, my kids' teachers spun out many impressive lessons. Their emails included links to travel videos on YouTube, math tutorials on Khan Academy, even parent-teacher video conferences.
There was, however, one conspicuous absence from my kids' e-learning: a feedback or support platform for their writing assignments.
This is not to disparage English Language Arts teachers, who — like all educators — were thrown into a terrible situation with no time to plan. Nevertheless, I was left wondering why there was limited online writing support for my two children. There were no online practice tools. There were no automated feedback programs.
Given informal chats with teachers and parents, this was not an atypical experience. As a new school year approaches, I fear that writing will again get shortchanged, and I wonder: Why are important writing feedback loops getting lost in the shift to online learning? Why do school systems still rely on red ink on paper when it comes to writing?
In recent years, developers have created a handful of promising writing applications, commonly referred to as automated writing feedback programs. These aren't simply spell checkers, and they do more than have students practice grammar. Powered by artificial intelligence, the programs are sophisticated pieces of software that can help students identify how their writing could be improved, encouraging them to edit or rewrite sections of essays.
There's promising evidence that tools like Revision Assistant can boost outcomes. One study suggested, for instance, that districts that use Revision Assistant outperform state averages of districts that don't use such programs. Other studies have shown a positive impact for English learners using the program Criterion.
But as promising as the new platforms are, they have yet to gain widespread use and acceptance in American classrooms at a time when they're needed more than ever.
One reason is cost. Some of these programs are plainly too expensive for many underresourced school districts. Revision Assistant, for instance, doesn't list a price on its website, but I was charged $750 for a single license.
Another reason is that the technology is still in its infancy, and although the tools show clear potential, most still need a solid dose of development. The platforms often struggle to identify subtle issues of logic and evidence. In this sense, they are like a lot of education technology: They lack nuance, focus and quality.
When I've talked to teachers about writing programs, they also have concerns around equity. Do the programs help students who are very far behind? For example, will the software recognize that a 10th-grader with an Individualized Education Plan writing on a fourth-grade level needs instruction that would be useful to a fourth-grader, not a 10th-grader?
Educators were also concerned about issues of cultural sensitivity. Many Black students face large obstacles when it comes to writing because they have to code-switch — change how they normally express themselves. The constant need to adjust their language can be mentally taxing, but students who choose not to may face linguistic prejudice. One teacher said the programs did not do enough to support these students.
As these tools slowly get better — and more students are forced to learn online — the benefits of the technology are starting to outweigh the costs. Assisted writing feedback tools can help teachers who are overloaded by writing assignments; some of them, like MI Write, can cut the amount of time teachers spend on grading in half, according to one study. No doubt that's good news for the many educators who report being overwhelmed by the amount of feedback that they must give on writing assignments.
In short, learning in the time of COVID-19 makes technology-based writing feedback tools more of a necessity than a luxury. After all, students who struggle in writing should be getting more feedback, not less.
Ulrich Boser is the head of The Learning Agency Lab and a senior fellow at the Center for American Progress.
Get stories like these delivered straight to your inbox. Sign up for The 74 Newsletter