Boosting Student Safety and Parental Engagement, While Keeping School Buses on Track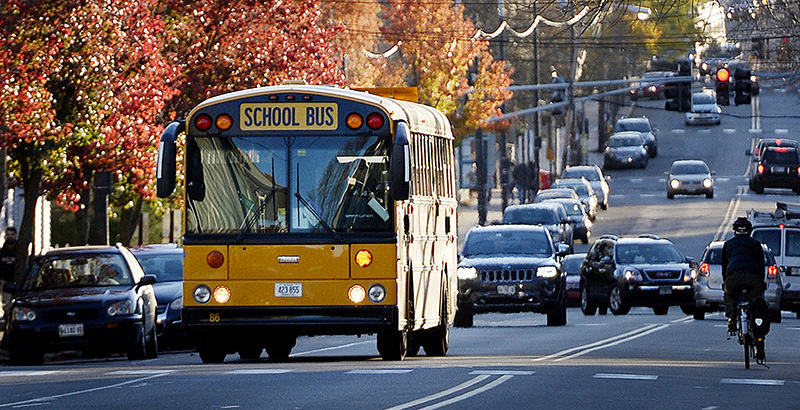 In 30-plus years helping school districts efficiently and safely transport students, Transfinder has evolved into a software provider the early company wouldn't recognize. "As a technology company, to survive and thrive, you have to change every two years," says Antonio Civitella, president and CEO. "Not because we chose to change, but we were forced to change based on the platform of technology we develop on."
The current iteration of the software ranges from Routefinder, which administers entire bus fleets with satellite-layered maps, live GPS information, and real-time onboard attendance, to Infofinder, which integrates scheduling and routing information with a district's website — and keeps parents up to date about their children's rides to and from school.
Families can sign up to receive notices related to schedules, stops, or vehicle changes, and districts can post the information on their website or simply use it for school staff to have quick answers when questions arise.
Bob Martin, transportation supervisor in Shelbyville, Indiana, outside Indianapolis, says switching to Transfinder made a huge difference for his district, particularly in dealing with multiple changes at the start of last school year. "We did not have one misplaced kid the entire time," he says.
Martin says the software also helped with key safety changes, such as moving stops away from four-way intersections to the middle of blocks. "They were scattered," he says. "What we wanted to do is bring the stops into the middle of the block where the kids can get off the bus, go to the left or to the right to sidewalks, and there's plenty of time for drivers to see them when they turn onto the streets."
For communities with constant in-year changes — Civitella notes that about 25 percent of a school population switches schedules — the tools allow for creating alternate sites and documenting route modifications in real time. Drivers can get turn-by-turn directions and instant notification of route changes. They also get pictures of each child on the route to ensure they have an up-to-date student manifest.
"It has to be accurate," Civitella says. "You can't take the chance that it is weeks old. Information is crucial" — particularly for substitute drivers in districts that face shortages of qualified school bus operators.
In an age of efficiency, Civitella says, the software minimizes disruptions to the community and reduces district costs by finding the most efficient routes for drivers and families, ensuring the district doesn't send more buses than necessary out onto the streets.
"It is a great tool for seeing what you're doing," says Nick Martini, route coordinator for the Anoka-Hennepin school district in Minnesota. "You can analyze your routes before you give them to a driver. It cuts down the learning time, and the consistency [in routes] is much higher, without changes."
Get stories like these delivered straight to your inbox. Sign up for The 74 Newsletter