Book Excerpt: Inside the 'Purgatory' of Success Academy's Waitlist Where Only the Most Committed Parents Find Their Way Out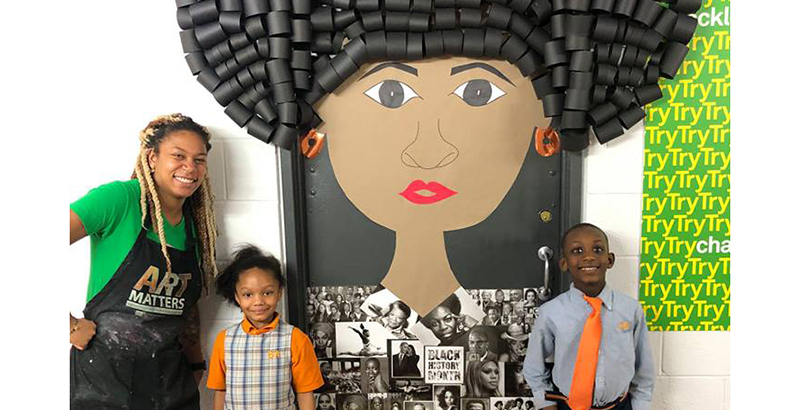 Adapted from How the Other Half Learns by Robert Pondiscio, copyright © 2019. Published by Avery, a division of Penguin Random House, Inc.
Chapter 24: The Likely List
The metal detector was the first thing Ayan Wilson noticed. It made an indelible impression on her when she visited the neighborhood school where she was supposed to send her children. Born in Somalia and raised in Canada, Wilson came to the United States in 2003 with her husband. A few years later, when her first child, her daughter, Leah, was approaching school age, Wilson visited P.S. 29, her zoned DOE school a few blocks from her home. It left her shaken and unnerved. "Cops. Security. Metal detectors. Like you're going to the airport," she recalls. Her voice goes up an octave. "I'm like, Who goes here? Jeffrey Dahmer?" Wilson had never seen anything like it in Canada. "I was like, 'No.' I don't even know what their test scores were. I didn't even care." We're sitting at the kitchen table in her basement apartment on Melrose Avenue, halfway between Bronx 1 and Yankee Stadium. Wilson grows even more agitated. "Do you know what the security lady told me? She said, 'Don't put your kid here. Don't you dare!'"
Wilson had attended Catholic school, so she enrolled Leah in Saints Peter and Paul, a nearby K-8 Catholic school. "It was hor­rendous," she said. "It had no metal detectors, but they really didn't do anything for her." Leah had difficulty sitting still and paying attention; she ended up spending a lot of time out of the classroom. "They would just put her in a corner or send her to the adminis­trative office. She'd just sit there while everybody else was learning," Wilson says. Worse, she didn't even find out her daughter was missing class time because of behavior problems until the end of the year, when the school staff told Wilson they wanted her daughter to repeat kindergarten. She enrolled her in Bronx Global Learning In­stitute for Girls, a charter school down the block, where Leah, now in middle school, began doing much better once they suggested that she be evaluated for attention deficit disorder. Wilson faults herself for not being more aware of her daughter's early struggles. "She was my first, so I didn't really know about hyperactivity or attention deficit disorder or anything. I didn't ask the right questions, and I didn't know the right course of action," she says. Wilson enrolled Leah most summers in a supplementary reading program at Fordham University. She is still about a half year behind but has closed the gap considerably. "I just want her to keep improving," she says. "She's a work in progress, but she's doing very good."
Lesson learned. Her daughter's rocky start prompted Wilson to do her homework when her son, Darren, approached school age. She entered the lotteries for KIPP and Success Academy. "I didn't care which one. I just knew that they were the top schools." She re­searched both. "I know they had a lot of positives and negatives, especially Success," she tells me. Darren ended up on the "likely" list for Bronx 1, and his mother ended up in the audience at Shea Reeder's welcome meeting.
Reeder's talk left her excited about Success but also appre­hensive. "Just sitting and listening to them, you can clearly see that they're really strict," Wilson said. Darren is a bright, active, and talkative little boy. He climbs all over his mom while we talk. Reeder, she admits, "scared me a little bit. Because every child is not …" She doesn't complete the thought, but her meaning is clear. Would her son even fit in? She describes both her children as "inde­pendent" and "hardheaded." Even though she worries about how Darren would adapt, she likes what she heard. "I like structure. Just like everybody else — any normal parent, anyway," she says. "I want them to sleep at this time, I want them to get up at this time."
Wilson opens her laptop and shows me her "enrollment dash­board," where she tracks Darren's progress through the admissions process. "Step one is look at my account. Step two, lottery results. Step three, welcome meeting," she reads from left to right across the top of the screen. "Step four is 'confirm your interest.'" A check mark indicates that she's completed each of the required steps and that her application remains active and up to date. The next step is a mandatory uniform fitting, at 1:30 p.m. on Saturday at Bronx 1. A large orange-and-blue "Reschedule My Meeting" button gives her the option to choose an alternative date if she can't make the one she's been assigned. Below that is a long list of the documents she needs to provide before Darren can enroll. "It's part of the steps. If you don't do these, you will not be called," Wilson explains. "Birth certificate, proof of address, health exam? All those things had to be done prior." To be clear: Wilson's son has not even been offered a seat; he remains on the "likely" list. But she's still required to com­plete all the steps and bring her son to the uniform fitting to maintain her "active" status.
After a decade managing the front desk at a Starwood hotel in Manhattan, Wilson recently gave her notice. She's opening up a day care facility in her home. She already has half a dozen parents signed up. Compared with the paperwork and regulatory hurdles she has to clear to become a licensed day care provider, Success Academy's enrollment process does not feel burdensome to Wilson, who holds a bachelor's degree from Monroe College in the Bronx and worked as an executive secretary for the New York City Department of Health and Mental Hygiene before entering the hospitality industry 10 years ago.
She shows me the rest of the dashboard. Parents on the "likely" list are instructed to check regularly for updated lottery results. And even though their children have not been admitted, they are told to "read at least one book with your child every night and record it on his/her reading log."
It's getting late. Darren has had his bath and exhausted his big sister's patience; he is eager for his mother's attention. He has been accepted in other local charter schools, but after looking at test scores and reading online reviews, Wilson decided against all of them. "Some of the ones where he got accepted were either starting this year or new. I don't want him to be a guinea pig," she explains. If he doesn't get off the waitlist for Bronx 1, she will enroll Darren in a neighborhood public school in the same building as his sister's charter school, Bronx Global Learning Institute for Girls. There are no metal detectors. "It's actually a really good school. The only problem is that it only goes up to fifth grade," she says. "So I don't want to be stuck after fifth grade and not know where he needs to go next. If I get Success, I will put him in Success." She admits, "I'm scared, but I will put him in Success."
Darren is number 17 on the "likely" list. There's no way of knowing how realistic his chances are, which Wilson finds frus­trating, but she remains hopeful. "It's almost like they're dangling something in front of you. You know what I mean?" I tell Wilson that I'll see if I can find out what "likely" actually means.
The next day, I ask Jen Fuoco about Ayan Wilson's chances of getting her boy off the waitlist. She doesn't know. Enrollment is handled entirely by the network until the new class of kindergar­tners comes in for a dress rehearsal just prior to the start of the term. She suggests I call the network office, but I decide not to pursue it. Number 17 seems like a long shot in a kinder­garten class of 90. My gut tells me that I already know the answer.
…
The following Saturday afternoon, a monsoon rain pelts the South Bronx. Cars disgorge small children and parents who sprint forty yards from the curb through the courtyard of Bronx 1. By the time they reach the safety of the overhang at the front entrance, it looks as if someone has opened a hose on them. Families who have been admitted to Success Academy for the fall, as well as those who remain in the purgatory of the "likely" list, are braving the deluge for the mandatory uniform-fitting day. Shaking out umbrellas and shedding soaked jackets, parents line up at a table in the cafeteria covered by a bright orange banner. They sign in by their child's last name and wait to be called. Representatives from Flynn O'Hara Uni­forms measure boys and girls for pants, polo shirts, jumpers, and cardigans, adding one size for every item. "We kinda figure they'll grow up a size over the summer," says Jim Everett, the genial sales rep for the Philadelphia-based company, which landed Success as a client in the network's second year of existence, when Harlem 1 was its only school. Success is now the company's biggest account. Children in their distinctive Success Academy orange polo shirts and plaid jumpers are ubiquitous on New York City streets and subways. A full girl's uniform — jumper, short-and long-sleeved polo shirts, cardigan, and backpack— runs $242 with shoes; a boy's costs $206; the jumper accounts for most of the price difference. Shoes and socks are an optional purchase; compliance with the school's dress code is not. "It's a big outlay initially, but over the course of a year, you'd be spending that much easily on school clothes," adds Everett, who sounds used to defending the cost of his wares. The uniforms are guaranteed for a year but wear like iron. Families hand them down to younger siblings or pass them on to other parents as their kids grow out of them.
Success gives the poorest families vouchers to cover a substantial amount of the price. On top of their order forms is a capital letter "V" and a dollar amount, indicating the value of a voucher they have received to defray the cost. If a parent has three children at Success, the third uniform is free, but every family is expected to pay at least something. "There are instances where we will 'comp' a uniform — obviously if a parent is not working and can't put any money in," explains Jessie Diaz, senior manager of parent en­gagement, whom I first met at the Bronx 1 open house on Groundhog Day. An upbeat young woman in a bright green dress, she is shep­herding parents from station to station. After measurements are taken, admitted parents and children shuffle off to the next table with their completed order forms to pay. For families in "likely" list limbo, measurement is the last stop. There's no point in waitlisted families shelling out for a uniform until they know for sure that the bottom of a $45 pair of pants will be matched to a Success Academy seat come August. So why bother making waitlisted families attend the fitting at all? Diaz explains that it's for compliance. "We want to make sure that 100 percent of our students are in full uniforms the first day of school. If we have parents do it on their own, they're going to take their own time." If a family makes it off the "likely" list right before school starts or a few weeks into the year, the uniform can be ordered right away. "Waitlist pulls" happen past Thanksgiving. If a child's number comes up, the family can call Flynn O'Hara, which will have the child's measurement on file and expedite delivery.
Uniform-fitting day is also another step in the process, largely unspoken but well understood, whereby Success Academy ensures that every seat goes to a fully committed family. "If parents don't show, if they don't come to their reschedule [an alternative uniform-fitting day], if they don't call us and let us know, we move to the next child on the waitlist," Diaz says, adding that it would be unfair to families hoping for a seat if an expected student simply failed to materialize on the first day of school. Like every other step on the enrollment dashboard Ayan Wilson showed me at her kitchen table, it's another de facto screen for parental engagement, organization, and follow-through. Whether by design or happenstance, the multiple steps required of parents — attendance at the welcome meeting, the "confirm your interest" email, the uniform fitting — test their ability to show up, follow up, and stay on top of things.
As the fitting winds down, a teenage girl in a white hoodie with a child's tiny pink umbrella hooked over her arm approaches Diaz shyly. She introduces her mother, who speaks no English. Her sister is waitlisted at Shea Reeder's elementary school, Bronx 4. The girl in the hoodie translates, switching between English and a language I do not recognize. Most of what I can hear is Diaz's side of the con­versation. "I can't guarantee that," she explains, "but the numbers move about every three weeks. The next waitlist pull is July 8." The mother's expression darkens; she grows agitated as the conversation continues. "No, the school she's likely for is Bronx 4," Diaz says, then, "I'll keep my fingers crossed." Finally, the girl asks, "Do you have a high school?" She's asking for herself. "We do," Diaz an­swers, "but we only accept kids from K-4, and then middle school and high school is for those kids."
Diaz tells them, "Don't lose hope," then turns and walks back to where she left me standing by the payment table, her jaw set. "That's a tough conversation to have," she says once the family is out of earshot. "The little girl is number 78 right now. They were originally 142, so they've moved halfway. But," her voice drops, "it's hard." It's unclear whether she's referring to the child's chances or giving disappointing news to the family.
I summon up the courage to ask on Ayan Wilson's behalf the question I've been avoiding: How likely is "likely"? Does her son, Darren, have a puncher's chance to get into Bronx 1? Diaz asks me for Ayan's name; after calling up data on her iPhone, she nods. Darren has moved up to number nine. "That's good," she says. Then she says something astounding. "She was originally number 106." Certain I've misheard, I ask her to repeat it. But there is no mistake. From 106 to 17 and now nine — Ayan Wilson's son has moved up more than 90 slots since the April lottery. It seems impossible.
There have been two waitlist pulls since the April lottery, and it's difficult to generalize or guess how deep into the waitlist any individual Success Academy school needs to go to fill every seat. The biggest falloff occurs in the first few weeks after the lottery. Some families might decide after the welcome meeting that they're not a good fit; some don't show up or they accept a seat at another school. People move. Plans change.
Neither are all waitlist numbers the same. A child who is number 70 for kindergarten may have a better chance than a kid with a single-digit number for third grade. Enrollment patterns also vary from school to school — a function of the quality of a neighbor­hood's public schools and the availability of other charter schools. Enrollment staff hints that "bad press" also plays a role in deter­mining a child's chance to get off the "likely" list. The past few years have seen a number of broadside media hits to Success Acad­emy's reputation: the now-infamous Charlotte Dial video and "Got to Go" stories in the New York Times and a PBS NewsHour piece questioning whether kindergarten is too young to suspend children from school. "Bad press doesn't affect us so much here in the Bronx," Diaz says. Not only are the alternatives generally poor, but also "a lot of parents like the discipline. That's how they grew up." Schools such as Cobble Hill, where the Charlotte Dial video was made, are different. Cobble Hill has more "progressive" families, Diaz explains, suggesting that parental compliance demands and strict discipline don't play as well in trendy Brooklyn neighbor­hoods. On the other hand, the network's Upper West Side school, in a similarly upscale neighborhood, is the hardest to get into even for in‑district parents.
Uniform fitting is over. Diaz goes off to pack up boxes and collect folders, order forms, and signage. The Flynn O'Hara reps, with no kids left to measure, break down their displays. Outside, it's raining even harder. On my way out, I see the Bronx 4 "likely" family standing under the overhang staring out into the rain. The little girl fidgets and twirls her umbrella. The teenager and her mother look miserable.
…
On July 8, there's a waitlist pull. Ayan Wilson's son moves from ninth on the "likely" list to sixth. Three weeks later, with the school year just weeks away, there's another round.
Darren is number five.
Support The 74's year-end campaign. Make a tax-exempt donation now.