Black Girls 6 Times as Likely to Be Suspended as Whites. 'Let Her Learn' Looks to Reverse the Trend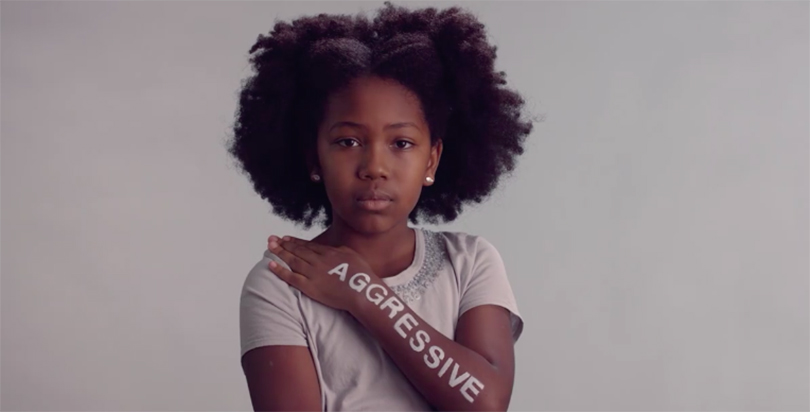 They were told they are aggressive, angry, rude, and even unladylike. One by one, a group of black girls look into the camera and recount a time when they didn't just hear about those negative stereotypes, they felt they were being marginalized in school because of them.
A young black female student talks about how she was sent home because she wore her hair in an afro hairstyle. A slightly older girl recalls the time a teacher cut her hair because she was playing with her braids, and another says she was thrown to the floor for simply sitting at her desk.
Those stories were illustrated by a video released in January by the National Women's Law Center as part of its "Let Her Learn" campaign, which aims to fight the unfair suspensions of black girls for minor infractions.
"We think it is particularly important to spur discussion about the unfair student disciplinary practices that black girls face," said Alexandra Brodsky, a fellow at the center. "That conversation often tends to focus on boys. There is a sense that the only students affected by unfair discipline practices are boys."
---
---
Although the public discourse on school discipline reform may be focused on boys, some research suggests that black girls are suspended at rates that are even more disproportionate than their male peers.
The problem of schools dishing out too many suspensions to black girls was highlighted by a flood of news stories last year after the release of a new
book
,
Pushout: The Criminalization of Black Girls in Schools
, in which author Monique Morris chronicles the ways black female students are mistreated because of negative stereotypes.
"When we combine latent misperceptions about black femininity with punitive discipline policies, we are paving the way for black girls to be disproportionately pushed out of schools," Morris
told The Atlantic
last year.
The center's campaign builds on its own research on the experiences of black girls in school. In 2014, the National Women's Law Center teamed up with the NAACP Legal Defense and Educational Fund to produce a
58-page report
on the ways African-American girls are being denied educational opportunities.
The report cites research from the U.S. Department of Education's Civil Rights Data Collection showing that 12 percent of black female students received an out-of-school suspension during the 2011–12 school year, a number six times as high as the suspension rate of white girls. And while black girls represent 17 percent of all female students, they comprised 43 percent of all girls who had experienced a school-related arrest during the 2009–10 school year.
At least part of the problem appears to come from the reasons schools seek to suspend students in the first place.
In Ohio, for instance, "disobedience and disruptive behavior," which the report cites as the most subjective infraction category, was also the most common reason all female students were likely to be disciplined by their school. African-American girls were disproportionately more likely to be disciplined for those kinds of violations, the report said.
"[Vague disciplinary policies] are really just an invitation for educators to discriminate," Brodsky said. She added that an educator's unconscious biases may prompt him or her to view the classroom behavior of a black female student as defiant while seeing the same behavior exhibited by a white female student as curious.
Dress code violations can also lead to discriminatory discipline practices by targeting hairstyles or clothing more likely to be worn by black girls, say advocates. Last year, Butler Traditional High School in Kentucky received a round of
bad publicity
after state Rep. Attica Scott criticized the school's policy of banning cornrows, twists, and dreadlocks on Twitter.
The school eventually lifted the policy.
The National Women's Law Center is distributing a
toolkit
for parents, advocates, and educators to help them decipher whether a discipline policy is discriminatory. Staff at the center are also offering webinars and information sessions on the toolkits as well as creating a network of lawyers who could help litigate discrimination cases involving black girls, according to Brodsky.
"We are ambitious. Our goal is to make sure all girls have access to education," she said. "Our work is done when nobody is being pushed out of the classroom."
Chalkbeat Tennessee
reported earlier this month
on efforts by Aspire Coleman, a charter school in Memphis, to address the disproportionate suspension of black girls. School leaders have placed special focus on recognizing and treating the trauma black girls may be experiencing — neglect, abuse, homelessness, or family dysfunction — and on creating girls-only advisory groups, where female students, they say, are much more likely to open up.
"We're glad those conversations [about the male school-to-prison pipeline] are happening, but we recognize there hasn't been as big of a focus on the women in our schools," said Chantavia Burton, chief of student equity and access for the state-run Achievement School District, which includes Aspire. "We want to change that. … Women in these communities bear burdens silently. It's not talked about openly — girls internalize. We in education have to recognize that and realize that just suspending girls who are angry or acting out might not help them on the road to rehabilitation."
After three years, suspensions at Aspire are down by two-thirds school-wide, Chalkbeat reports, and are well below the national rate for girls of color.
Get stories like these delivered straight to your inbox. Sign up for The 74 Newsletter