Is School Choice the Black Choice? Leaders Gather in D.C. to Disagree on Education Policy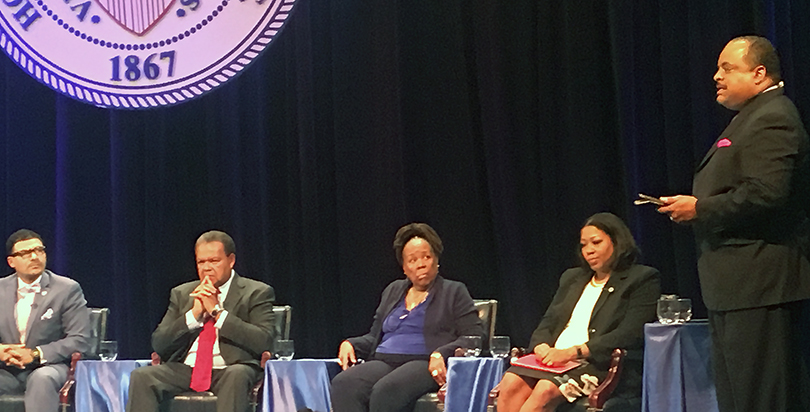 Washington, D.C.
Is school choice the black choice?
That was the essential question posed to a group of eight civil rights and education leaders who came together onstage at Howard University Wednesday night at a moment in time when the debate over education policy and priorities in the African-American community is particularly fractious.
That the participants represented both sides of the school choice divide was unusual in a debate where reformers and traditionalists are more likely to engage with 140-character jabs on Twitter, cheer the rousing (if predictable) speeches of their respective stalwarts at annual advocacy conferences and follow pundits whose op-eds extol their side's talking points without making so much as a phone call to someone who disagrees.
Moderator and TV One news host Roland Martin, a staunch school choice supporter, was not preaching only to the converted when he kicked off the discussion by saying, "The real question is, Does school choice make sense for African Americans?"
Or, put another way, do charter schools and vouchers help or hurt black kids?
The NAACP and the Movement for Black Lives have both put forth recent resolutions calling for a ban on new public charter schools. Meanwhile, more than 160 African-American leaders issued a letter urging the NAACP to reject the resolution, saying it would take away the right of black parents to choose the best school for their children. The
national board meets
in Cincinnati October 13–15.
At last night's debate, panelist Dawn Williams, an education professor at Howard University, said parents often rely on their personal networks for information on charter and public schools and they may not necessarily know a school's test scores or graduation rate.
Steve Perry, founder of Capital Preparatory Magnet School in Hartford, Conn., rebutted that notion.
"I find it offensive for you to suggest that the parents don't know what's good for their kids," he said. "How dare we stand piously and determine what's good for other people's kids while at the same time we move to the suburbs."
Hilary Shelton, the NAACP's senior vice president for policy and advocacy, said that parents do want what's best for their kids, but they need transparent information about their options and charter schools don't always offer that.
Elizabeth Davis, president of the Washington (D.C.) Teachers Union, said charter schools cherry-pick students at the expense of public schools. While she supports "quality schools," the expansion of charter schools in districts throughout the country has drained funding and enrollment from public schools, she said. New Orleans's virtually all-charter school system should not be a national model, she added.
"I do not want a market-based system that is pimping our kids," she said.
George Parker, who used to head the Washington Teachers Union but is
now an education reform advocate
, said he had a change of heart on school choice after he realized his opposition "was really more about my control and power as a union leader versus kids."
"I'm like Malcolm X, at this point — educate black children by any means necessary," he said. "I'm like Martin — we can't wait to fix the traditional public school system."
Rudy Crew, former chancellor of New York City Public Schools and now a
recently appointed education leader
in Brooklyn, said the question isn't whether there should be choice but what would make those choices equitable. Good schools should have high expectations, modern technology and buildings and "a caring, loving environment."
"It's in [some] private schools, it's in [some] public schools, it's in [some] charter schools," he said, but it's not in all of them, and that's a concern.
No panelist walked away Wednesday night and said publicly that they had changed their mind on choice, but they did have to answer to challenges to their own opinions before an audience of about 150 people. The hour-and-a-half-long discussion will be posted online and broadcast on television.
The one comment that did garner universal support came from 12-year-old Ryan Battle, a student at Howard University Middle School of Mathematics & Science, a charter school. Battle said schools should change their culture so that when kids get in trouble, they are not kicked out of class, "which automatically puts them on the school-to-prison pipeline."
"My question is, What happened to the village raising kids?"
A chorus of applause ensued.
Afterward, Battle struck perhaps the most practical note. The panelists raised good points, he said, but "they should have talked more about solutions."
Get stories like these delivered straight to your inbox. Sign up for The 74 Newsletter