Bipartisan Group of Mayors Demand Ed Dept Spike Change to Charter School Program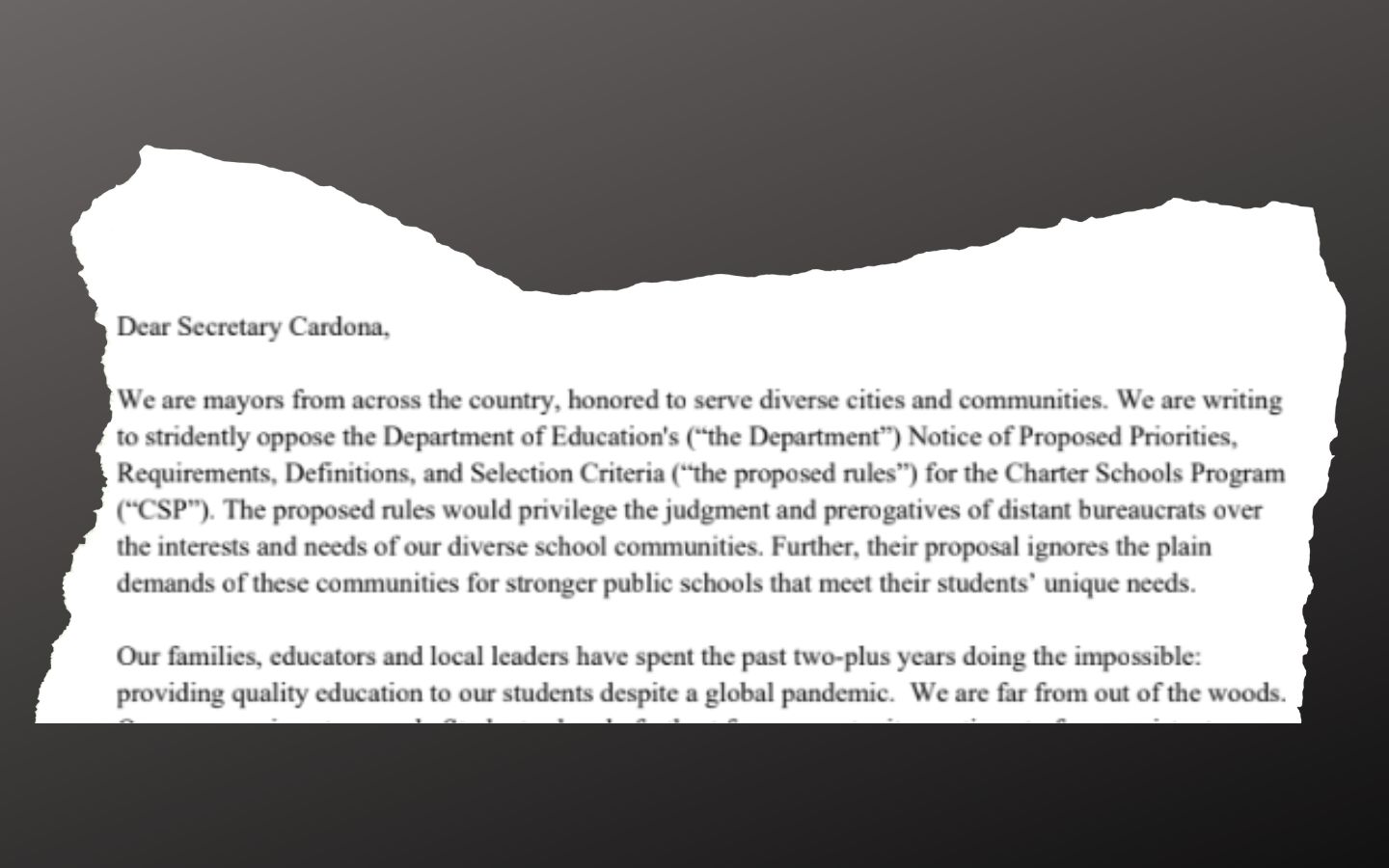 No paywall. No pop-up ads.
The U.S. Department of Education is working to finalize a new rule revamping the $440 million federal Charter Schools Program that would give preference to charters districts view as potential partners while discouraging new applications in communities with voluntary integration efforts. Charter supporters also warn that the proposed rule would make it significantly more difficult to get a new charter school approved in a district experiencing enrollment declines.
Throughout the spring, families, school district leaders and education advocates have offered public comments on the proposal. As The 74's Linda Jacobson reported in April:
The rule could significantly alter a program that has given a boost to almost 4,100 existing charter schools — roughly 53%, according to the department. Established charter networks like KIPP and Success Academy Charter Schools are among the grantees.
Nina Rees, CEO of the National Alliance for Public Charter Schools, said the funds help launch new charters, which typically don't receive state and local funding until they begin admitting students. The program is especially important for "aspiring school leaders of color" who might not have financial backing from a foundation, she said.
With nearly 65% of charters being single-site schools, Rees added, "these proposed regulations are a direct attack on new schools like this."
In a new development, a bipartisan group of mayors have now appealed directly to U.S. Secretary of Education Miguel Cardona, writing in a publicly released letter that the revisions to the program would privilege bureaucrats and politics over the "interests and needs of our diverse school communities."
"Families have flocked to [charter] schools amidst the pandemic," the group of 10 mayors write in the letter, dated June 8. "Public charter enrollment grew by nearly a quarter of a million students during the 2020-2021 school year. That is growth the equivalent of the enrollment of the nation's 7th largest school district. [Charter School Program] funding has been essential to the successful launch and expansion of high-quality public charter schools. Nearly half of charter schools across the country, in cities and states like ours, depend on CSP funds to build and grow learning environments that meet the specific needs of learners of all kinds."
The letter was signed by the mayors of Central Falls, Rhode Island; Cleveland, Ohio; Fort Worth, Texas; Indianapolis, Indiana; Denver, Colorado; Pembroke Pines, Florida; Providence, Rhode Island; Washington, D.C.; Oklahoma City, Oklahoma; and New Orleans, Louisiana.
Read the full letter here:
"The Department should be empowering local educators, leaders and families in creating more schools that deliver the learning environments children need today and in an increasingly demanding and complex future," the letter concludes. "Instead, the proposed rules would do exactly the opposite, constraining these schools and educators at a time when more families need and are demanding the flexibility and tailored support that public charter schools offer.
"We urge you to rescind the proposed rules and stand with our diverse communities as we work to build stronger tomorrows for all of our students."
Get stories like these delivered straight to your inbox. Sign up for The 74 Newsletter