Bill Expanding N.C. Private School Vouchers to All Kids Moves Forward in Senate
Supporters say the bill will guarantee school choice for all North Carolina families. Others say it's a threat to overall funding of public schools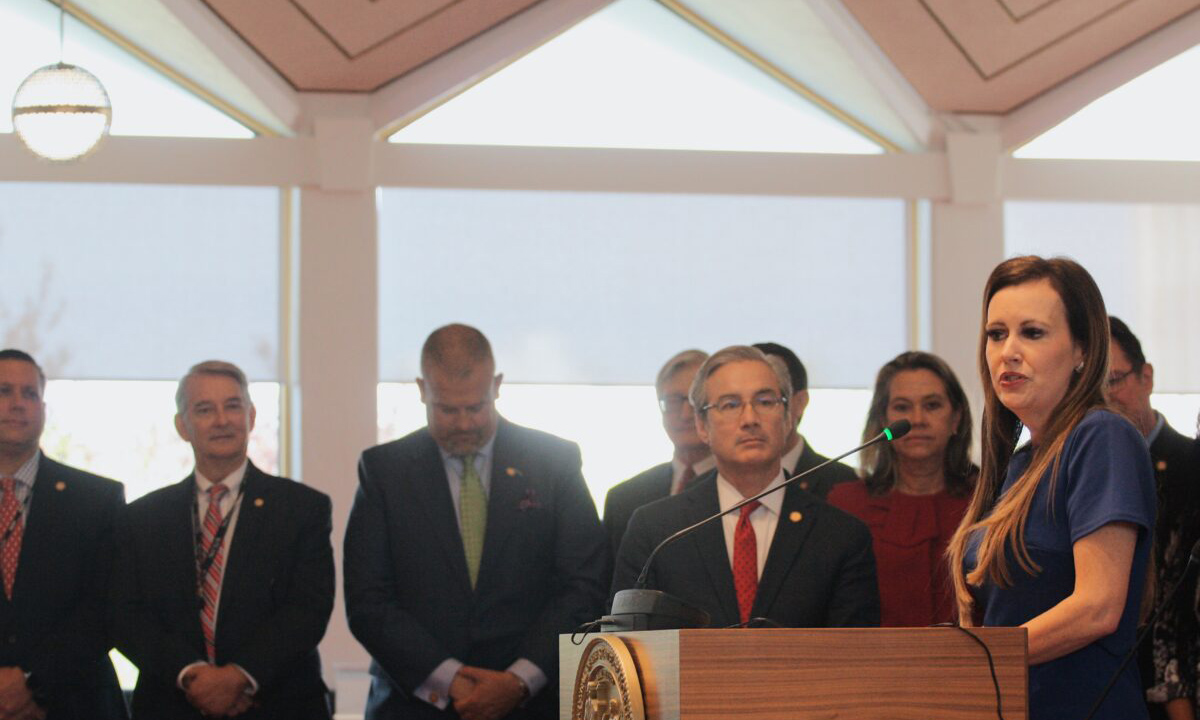 Support The 74's year-end campaign. Make a tax-exempt donation now.
A bill that would dramatically expand the Opportunity Scholarship program to all students regardless of their family's income moved forward in the Senate on Wednesday.
The chamber's committee on education gave the bill a favorable report. Next, the bill must go to the Senate appropriations committee.
Senate Bill 406, "Choose Your School, Choose Your Future," was filed by Republicans last month. At the time, President Pro Tem Sen. Phil Berger, R-Rockingham, said the bill would be the "largest expansion of school choice" since the state started the Opportunity Scholarship program 10 years ago.
"Today's a great day for kids – and that's what this bill is about," said Sen. Michael Lee, R-New Hanover, at a press conference before Wednesday's education committee. "The Opportunity Scholarship, as we proposed, has no caps. So everyone that hears me today is eligible for the opportunity scholarship, as long as you live in North Carolina."
The Opportunity Scholarship program currently helps families who make below a certain income level pay tuition and fees at qualifying nonpublic schools, according to the N.C. State Education Assistance Authority (NCSEAA), which administers the program. During the 2022-23 school year, 25,524 students received the scholarship.
SB406, if passed, would eliminate income eligibility requirements for the program, guaranteeing up to a 45% scholarship to all N.C. students. It also eliminates the requirement that a student needs to have previously attended a public school.
Supporters of the bill say it will guarantee school choice for all North Carolina families.
Others say the bill could pose a threat to overall funding for public schools and more importantly to enrollment.
As EdNC previously reported, in other states where significant policy changes are implemented that could impact average daily membership (ADM), stabilization funds have been provided for districts. This bill does not appear to include such funding.
On Wednesday, the education committee approved the bill with two amendments – adding more funds to the program, and delaying the start of access to vouchers for all families to the 2024-25 school year.
Students will be awarded scholarships based on their free-and-reduced lunch status, Lee said. After prior recipients are awarded, at least 50% of the remaining funds must go to students who qualify for free or reduced lunch, the bill says.
Awards go up to $6,492 for the 2023-2024 school year, according to NCSEAA's website. The projected average award is $5,600, Lee said.
Here is a look at the breakdown of award tiers proposed in the bill:
And here is a breakdown of the increased funding to the Opportunity Scholarship Grant Fund Reserve outlined in the revised bill:
In addition to expanding Opportunity Scholarships, SB406 also requires local school boards to create a three-year graduation track for high school students. Students who opt for that track – and who also seek a degree, diploma, or certificate at an eligible postsecondary institution – will be eligible for "early graduate scholarships" based on financial need.
'Backpack funding'
Last week, more than 200 bills were filed at the General Assembly – many of them education related. Several of those bills involved the expansion of school choice.
Last Tuesday, Rep. Tricia Cotham filed the House companion bill for "Choose Your School, Choose Your Future." Cotham, a former educator and assistant principal who was elected as a Democrat in Mecklenburg, announced her switch to the Republican party earlier this month. The move gave Republicans a veto-proof majority in the state legislature.
On Wednesday, Cotham said the bill "is about families being able to make the best decisions for their child."
"I started off really anti-school choice for a while when I first entered the General Assembly," Cotham said at the press conference.
Then, she said on Wednesday, she started thinking about where her own children would go to school. Eventually, she opted for her son to attend a private school.
"That's where my policy really started to change," she said. "Because as a policymaker and as a mom, I'm also not a hypocrite. I do believe that as policymakers and legislators, if we have the ability to send our children to a private school or to a charter, then we cannot say to others, well, you can't."
SB665, which would also allow homeschooled students to receive the vouchers, was also filed this month.
On Wednesday, all public speakers voiced support for the expansion of the program, including parents and a student from private school. There were no public speakers from public schools.
Democratic lawmakers raised questions about expanding the scholarship beyond low-income families in North Carolina.
"Over time, we've realized that it's important for all families to have choice," Lee said during the committee meeting. "And we've talked to a lot of families, and some families are here today that don't meet those eligibility criteria that would never have the opportunity to attend a private school."
During the press conference, reporters also raised questions about the Republicans' support to expand private school vouchers while blocking the Leandro plan. Earlier this month, a state superior court judge ruled that the state still owes $677.8 million toward public education for this school year and last school year.
"Rather than expanding a program that by its definition cannot support every student, let's invest in our public schools so students have safe schools, inviting classrooms, a well-rounded curriculum, class sizes that are small enough for one-on-one attention, and support services such as health care, nutrition, and after-school programs for students who need them," N.C. Association of Educators President Tamika Walker Kelly said in a statement Wednesday.
Lee said relying on a plan filed over 30 years ago was "laughable" and that the state already fulfilled many items laid out in the plan.
He went on to say that many Republican lawmakers believe the state should move toward "backpack funding," where students are funded wherever they go to school. He said he wants to see "uniform funding among all students," mentioning weighted funding.
Earlier this month, Senate Republicans filed Senate Bill 670, which would abolish "all funds, grants, allotments, and other sources of funding that expend their funds from the State Public School Fund," to enact a weighted student funding model.
"I do think over time we will start establishing weighted student formulas, and those formulas will be the baseline to establish for children," Lee said. "So it's a long way of saying that backpack funding for families is where we're heading with respect to all students."
As soon as there is a fiscal note that compares current funding by district compared with funding by district if SB670 were to pass, EdNC will cover it.
Questions about accountability
Under current state law, private schools are required to administer "at least once in each school year, a nationally standardized test or other nationally standardized equivalent measurement selected by the chief administrative officer of such school, to all students enrolled or regularly attending grades three, six and nine."
Each school must make and maintain records of the results for one year after testing, for "annual inspection by a duly authorized representative of the State of North Carolina."
In addition, a nonpublic school that accepts eligible students receiving scholarship grants must comply with the following measures, among others:
Contract with a certified public accountant to perform a financial review, consistent with generally accepted accounting principles, for each school year in which the school enrolls 70 or more students receiving scholarship grants or scholarship funds awarded by the Authority.
A nonpublic school that accepts students receiving scholarship grants shall not require any additional fees based on the status of the student as a scholarship grant recipient.
A nonpublic school enrolling more than 25 students whose tuition and fees are paid in whole or in part with a scholarship grant shall report to the Authority on the aggregate standardized test performance of eligible students.
Sen. Natasha Marcus, D-Mecklenburg, said such requirements don't let lawmakers see how private schools perform compared to public schools, which must record and publish standardized testing data.
"We have a lot of choice already without this bill, which I think does a lot of damage to public education," she said. "If we are going to open it up and balloon the payments the way this bill would do, are we now finally ready to agree to some accountability?"
Marcus also said some religious schools reject certain students, specifically listing LGBTQ+ students and students with a different religious background as an example. Public funds shouldn't go to such schools, she said.
"The ultimate metric of accountability is the family and the student," Lee said in response.
Earlier this month, House Democrats filed HB667, which lays out additional testing requirements for the program.
This article first appeared on EducationNC and is republished here under a Creative Commons license.
Support The 74's year-end campaign. Make a tax-exempt donation now.