Bill Clinton Highlights Undocumented Students, Diversity in Speech at America's Promise Summit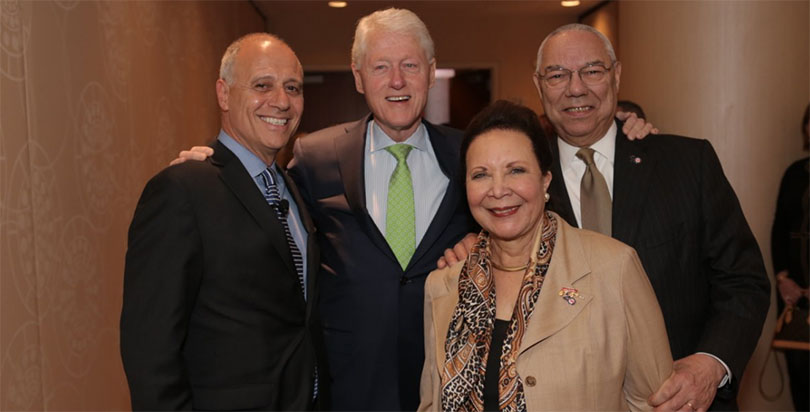 New York, New York
Former President Bill Clinton promised he wouldn't dwell on the current political climate. But the target audience for the keynote address he delivered Tuesday morning became clear when he homed in on immigrant students: President Donald Trump.
"I believe our diversity is a great opportunity," Clinton said, rejecting Trump's aggressive stance on immigration without ever uttering his name. "None of us are born in the log cabin we built ourselves."
---
---
Clinton's speech came during the 20th-anniversary celebration of the America's Promise Alliance, a nonprofit founded by retired four-star general and former secretary of state Colin Powell.
Tuesday's event featured a wide range of discussions focusing on issues that prevent at-risk children from graduating high school, including undocumented immigration status, the school-to-prison pipeline, student homelessness, and school segregation.
Speakers included former U.S. education secretary Arne Duncan and Jose Antonio Vargas, a Pulitzer Prize–winning journalist who publicly revealed his status as an undocumented immigrant to advocate for the right of undocumented young people to stay in the country under the DREAM Act. The event also featured appearances by Powell and his wife, Alma Powell, who took over as chairwoman of the organization when her husband was tapped to lead the State Department.
"I choose to be public about being undocumented because I will not let a presidency scare me from my own country," Vargas said. "I think the message to undocumented people all across this country, and young people in particular, is trying to remember the history of this country, that you are a part of what defines the fight for a more inclusive, more just America."
(More from The 74: Colin Powell on Education, Opportunity, and Immigrant Students Ahead of the America's Promise 20th-Anniversary Gala)
The event was billed as an opportunity for government officials, business leaders, and community stakeholders to reaffirm their commitment to improving outcomes for America's most at-risk kids — an agreement reached during a 1997 summit in Philadelphia featuring then-President Clinton; former presidents George H.W. Bush, Jimmy Carter, and Gerald Ford; and former first lady Nancy Reagan, representing Ronald Reagan, who was ill at the time.
"Across party lines and political philosophy, we always seem to have a fundamental understanding that societies and economics are about addition and not subtraction; about multiplication, not division," Clinton said Tuesday.
During his late-morning keynote address, the former president pointed to Japan as an example of a misguided approach to immigration. The Japanese government, he said, has "loathed to take immigrants," and as a result, the country faces a population plunge over the next few decades.
"When we take our guard down and we open our eyes and our ears, we can see the heart of things in a way that would otherwise not be possible," Clinton said. "That is America's promise: not to abolish difference, but to make diversity a strength, to understand that diverse groups make better decisions."
That optimism contrasted sharply with Clinton's actions as president. He approved some of the toughest rules against illegal immigration in decades — and Trump has doubled down on those efforts with get-tough policies of his own.
But while districts across the country are declaring themselves "sanctuary schools" to ease student fears about potential deportation crackdowns, Tuesday's discussions on improving prospects for immigrant children were not prompted by the Trump presidency, said alliance president and CEO John Gomperts.
(Related: Inside the Schools Now Actively Resisting President Trump's Immigration Crackdown)
The group's GradNation campaign is its largest K-12 school initiative — an ambitious push to help 90 percent of American youth graduate from high school by 2020. Immigrant students, Gomperts said, are among those most at risk of being left behind. Similarly, he said, schools across the country are grappling with how to best educate America's growing population of English-language learners.
Powell, the son of Jamaican immigrants, has slammed Trump for his immigration priorities in recent years. During a 2015 event in Washington, Powell said then-candidate Trump should let his immigrant employees stay home from work for a day so he could better understand their value to the U.S. economy.
"These are first-generation American immigrants who will raise children who will go up to higher things," Powell said at the time. "They're not mopping floors and waiting tables so their children can do the same. It's that immigrant tradition — get started and the next generation will be better, and the generation after that will be even better."
Powell told The 74 his parents moved to America in search of economic opportunity. The 41 million immigrants and 37 million U.S.-born children of immigrants deserve the same access to education he had as a student in New York City public schools, he said.
"If young people live in fear," he said, "how is it possible for them to truly take advantage of a successful educational experience that will then play an integral role in making the American dream true for them?"
(Extra: Why Miami's Superintendent, Once an Undocumented Immigrant, Is Banning ICE From His Schools)
---
---
Support The 74's year-end campaign. Make a tax-exempt donation now.