Big IDEAS: High-Achieving South Texas Charter Network Reveals National Expansion Plan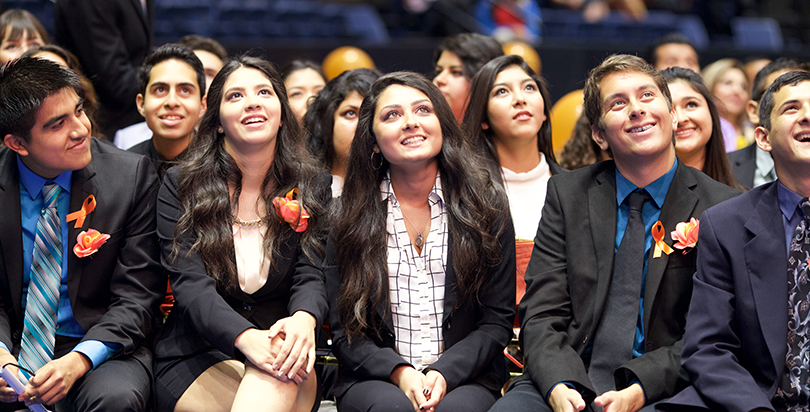 The 74 marks National Charter Schools Week (May 1-7) with a series of articles about America's charter leaders, students and policies. See the full series.
(McAllen, Texas) – We're gonna need a bigger stadium.
That's what IDEA Public Schools officials in the Rio Grande Valley said to themselves earlier this year while planning for their annual College Signing Day.
The 507 high school seniors in the charter school network's Class of 2016 — its largest graduating class yet — along with their parents, friends, classmates and guests apparently couldn't all fit into the State Farm Arena in Hidalgo.
So IDEA officials held two back-to-back College Signing Days, filling out the 5,500-person stadium twice in late April, and treating students (and their families) to a moment in the spotlight to announce which college or university they've enrolled in for the fall.
The ceremony had plenty of fanfare. There was a booming professional master of ceremonies, a light show, cheerleaders, the unfurling of college banners — Princeton, Harvard, Columbia and Georgetown among them — and hundreds of cascading balloons. All of it was meant to celebrate students for their academic achievement in the same way student athletes are touted when they sign with elite colleges and universities.
If IDEA leaders have their way, the graduating classes of 2017 and beyond will continue to grow in size and accomplishment.
The network last week announced ambitious plans to open several new schools and move outside of Texas for the first time. A new campus in El Paso, Texas, is planned for August 2018, with plans for Houston and Dallas/Fort Worth at a later date. IDEA's first stop out-of-state will be Baton Rouge, Louisiana, also in August 2018.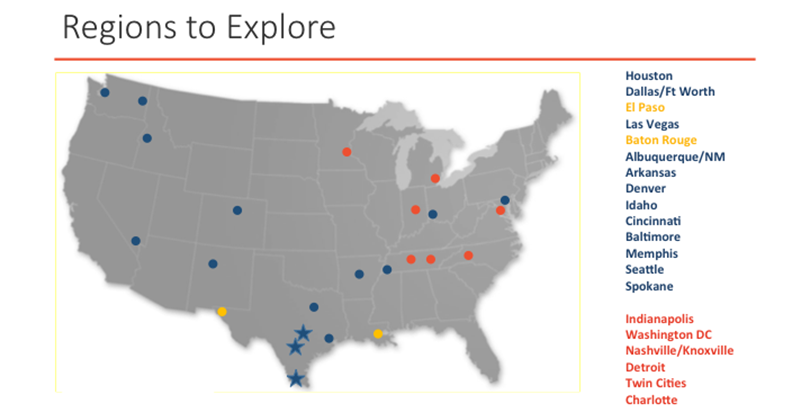 Chief Advancement Officer Sam Goessling said the expansion to charter-friendly Louisiana presents an opportunity to create a "proof point" outside of Texas for the network's reputation as a rigorous, high-performing college preparatory system.
"It's a chance to put Advanced Placement courses in front of these students and show the region, and show the state and show the nation, that these students can perform when the level of expectation is really high for them," Goessling told The 74.
In addition, IDEA has heard interest from and expects to target for future growth the metro areas of Las Vegas, Nevada; Albuquerque, New Mexico; Denver, Colorado; Cincinnati, Ohio; Baltimore, Maryland; Memphis, Tennessee and Washington state's Seattle and Spokane. Arkansas and Idaho are also potential grounds for expansion.
The total price tag for opening the new campuses wasn't immediately available. But the network's estimated overall regional cost per student, or per "new seat" created, ranges from $1,500 to $1,900, Goessling said. The cost is what is required to get a region to sustainability, meaning the schools can run on public funding alone, he said.
IDEA typically launches schools on its own property (rather than sharing space inside traditional district schools) with about 120 students in three or four grades — kindergarten, first, second, and sixth — and then expands each year until they reach their 1,400-student capacity.
The network also plans to expand its limited pre-kindergarten offerings to serve 5,500 children in 2018.
IDEA officials outlined their plans for the first time publicly at the second annual Reach Higher Summit in McAllen, Texas, on April 28, shortly after the College Signing Day ceremonies wrapped up. More than 100 educators, supporters, elected officials, and charter operators from around the country attended the two-day event in the Rio Grande Valley, which is home to IDEA's flagship school.
"They have already in the Valley, and to some extent in San Antonio, been able to show that they've been able to scale with fidelity," said Christi Martin, interim president and CEO of Choose to Succeed, the San Antonio-based organization that provides financial and logistical support to IDEA and other growing charter school networks. "There's no reason to expect that even when they get to an exponential level that would be any different."
Teach for America alums Tom Torkelson, the CEO, and JoAnn Gama, the president and superintendent, opened the first school in Donna, Texas, in 2000. It had just 150 students in fourth through eighth grades. And at the time, Torkelson, at age 24, was the youngest charter school founder in Texas.
In the 16 years since, IDEA has expanded at a brisk pace, currently operating 44 schools that are clustered in the Rio Grande Valley, San Antonio and Austin. The network serves some 24,000 students, a majority of whom are Latino and come from low-income families. Many high school graduates are the first in their families to attend college.
Roughly 12 percent of its teaching staff are Teach for America corps members, officials said. As the network expands to new regions, IDEA will be focused on hiring local talent, Goessling said, and sending principal candidates to Texas to participate in its principals-in-residence training program.
Goessling said staff targeted eight potential regions for growth during an 18-month-long research process. The vetting included speaking with local leaders and drafting a rubric that scored each region based on factors like community engagement levels, funding, state and local policy environment, facilities, available human capital and charter authorizer structure.
In conducting the in-depth planning, Goessling said the network intends to avoid the problems it encountered a few years ago, when a fast-formed partnership with the Austin Independent School District
fell apart
after about a year. In that case, it was about six months from the time they started planning to the time there were students in the seats, he said.
Going forward, IDEA will more likely open its own schools rather than partnering with local districts, although that remains a possibility, he said.
"The leadership (now) has about a two-year runway to get things up and running, and that two years provides time to build relationships, learn historical context, better understand the neighborhood, the needs of the families and think carefully about where schools should go — all of these things that I think we could have done a better job of in the work in Austin," Goessling said.
"We know this is hard work," he added. "This is challenging work to do right by our students and families and to think carefully about this work moving forward in new places. We are motivated and encouraged by that work, but we certainly recognize it's a challenge and we embrace it."
Disclosure: The 74 is partially funded by the Walton Family Foundation; IDEA Public Schools invited The 74 to attend its 2016 College Signing Day, and covered the costs of traveling to the Rio Grande Valley.
Support The 74's year-end campaign. Make a tax-exempt donation now.