Betsy DeVos Nomination Clears Hurdle, Leaving Acrimony and Uncertainty About Full Senate Vote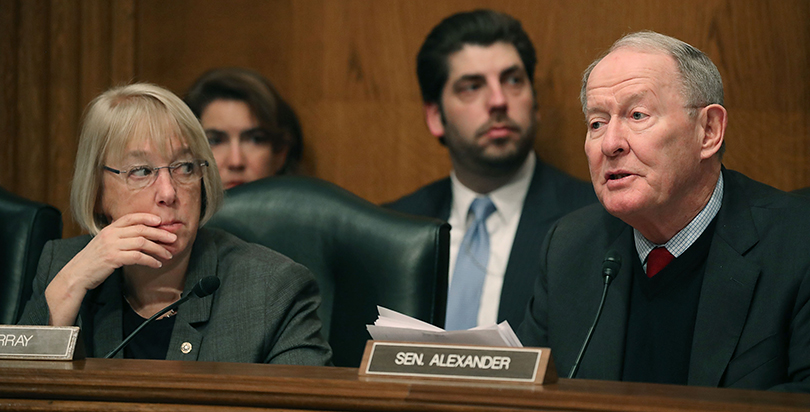 Washington, D.C.
Betsy DeVos's nomination as education secretary moved forward after a bitter party-line vote by the Senate education committee and an unusually rancorous process that galvanized her opponents, frayed Senate relations and raised the specter that some Republicans could defect when the vote reaches the full body.
The intention of committee Democrats to block DeVos was in play right to the end, when there was some procedural drama over whether a "yes" proxy vote by Sen. Orrin Hatch, who was not present at first, should be counted in the 12–11 split.
More significant, though, were statements by two Republican members of the Health, Education, Labor and Pensions Committee — Sens. Lisa Murkowski of Alaska and Susan Collins of Maine — that they haven't yet decided to vote for DeVos on the floor.
"I also said that when it comes to the vote on her confirmation, don't count on my vote," Murkowski emphasized in a written statement released after the hearing.
Republicans hold a 52–48 majority in the Senate. If, as expected, all Democrats vote against DeVos, it would take three GOP "no" votes to sink her nomination.
Sen. Lamar Alexander, the committee chairman, didn't entertain that scenario, telling reporters he believes DeVos will be confirmed and that the antagonism surrounding her nomination won't impair her effectiveness as secretary. The timeline for the full Senate vote is up to Majority Leader Mitch McConnell.
"I think she'll be an excellent education secretary," Alexander said at the end of the hearing. "Mrs. DeVos cares about children. She should get credit for that, for her work on behalf of children."
The fight over the next education secretary comes amid a larger national upheaval that this week featured President Donald Trump first banning travel from seven Muslim-majority countries and then firing the acting attorney general for refusing to defend an order she deemed illegal. Alexander tied some of that turmoil to DeVos's nomination.
"This recent election and what has happened since then, frankly, has got people on edge, and it's carried over to the committee," said the Tennessee Republican, himself a former education secretary under George Bush.
Even with that high-stakes showdown between the White House and the Justice Department and the preceding waves of protest over the immigration crackdown, the nomination of DeVos, a billionaire philanthropist, major Republican donor and staunch school choice advocate, still commanded significant attention and dissent.
Senators said their offices were flooded with calls, opponents held rallies outside the Capitol and across the country, and anti-DeVos advocacy became a rallying cry on social media. Supporters portrayed DeVos as an independent voice dedicated to providing better educational opportunities to low-income children, saying her nomination had inappropriately become a political pawn.
After the vote, statements poured in from advocacy groups on both sides of the nomination.
Wade Henderson, president and CEO of the Leadership Conference on Civil and Human Rights, said the GOP majority made a "crucial mistake" in moving DeVos's nomination forward.
"Betsy DeVos is simply unqualified and unprepared to be the nation's Secretary of Education," Henderson said in a
statement
. "At a time when the majority of public school students in America are children of color or from low-income families, the nation needs a Secretary of Education who has demonstrated a clear commitment to enforcing our education laws and protecting students' civil rights."
Former Florida governor Jeb Bush, president and chairman of the Foundation for Excellence in Education, said DeVos deserved the committee's support and remains focused on helping children despite weeks of "partisan gamesmanship."
"I know she will work tirelessly to improve the future of every child, especially those who have been stuck too long in failing schools. Betsy's long-standing commitment to innovation, choice and accountability create the exact formula needed to empower states and parents to transform education in America,"
Bush said
.
When it comes to those who will decide DeVos's nomination, the votes of Murkowski and Collins were, and will continue to be, the most closely watched. The two moderate Republicans are seen as among the most likely to buck the party line and oppose the Michigan GOP leader.
Collins and Murkowski argued that presidents are entitled to deference on nearly all occasions in appointing members of their cabinets, at least in advancing those appointments to the full Senate, but that they still had concerns about DeVos's nomination.
DeVos's advocacy work on charter schools and private school choice "raises the question of whether or not she fully appreciates that the secretary of education's primary focus must be on helping states and communities, parents, teachers, school board members and administrators strengthen our public schools," Collins said.
She also raised concerns about DeVos's confirmation-hearing flubs on federal protections for students with disabilities, saying she was "surprised and concerned about Mrs. DeVos's apparent lack of familiarity" with the Individuals with Disabilities Education Act.
Murkowski said she was concerned that DeVos's vision of charters and private choice wouldn't work for the public schools in rural, remote Alaska, continuing comments she raised during the January 17 hearing.
DeVos has met with Murkowski twice and made many commitments, including to visit Alaska schools, the senator said. But "she has not yet earned my full support," Murkowski said.
Procedural standoff, bipartisan spirit tarnished?
The committee recessed briefly after it voted the first time, 12–11, to advance DeVos's nomination. Democrats argued that committee rules prohibited Hatch's proxy vote from being the deciding one if the result otherwise would be a tie.
A squabble ensued over whether Democrats had raised their objections before the committee clerk read the final tally, and then whether a second vote, with Hatch present, complied with rules requiring advance notice of committee votes.
The parliamentary spat also affected an amendment by ranking Democrat Patty Murray to change the committee's rules to require cabinet nominees to release three years of tax returns.
Just because Trump, in a break with long-standing practice, didn't release his tax returns, that doesn't mean nominees should be held to the same lower ethical bar, she said.
"I believe, in these unprecedented times, with President Trump nominating a cabinet of millionaires, billionaires and CEOs with incredibly complex financial entanglements and conflicts of interest, the bar should be raised," she said.
Murray had previously unsuccessfully asked for DeVos to release tax returns. Her amendment was defeated on a party-line vote.
Democrats and Republicans — primarily Alexander — continued their ongoing disagreement over whether there had been sufficient vetting of the nominee. DeVos's hearing and the vote on her nomination had both been delayed after Democrats said more time was needed for her financial and ethics disclosures to be reviewed. Murray asked for a third postponement Monday, saying there was not enough time to go through DeVos's answers to nearly 1,400 written questions, responses which the Democrats said were insufficient.
Alexander, at both the beginning and the end of the hearing, reiterated the extent of the DeVos review: 90 minutes more of public hearings than Obama's education secretary nominees, plus answers to questions 25 times greater in number than what Republicans asked of John King and Arne Duncan.
Democrats argued that DeVos did not have a long public record on education, unlike Duncan, who had been superintendent of Chicago Public Schools, or King, who had served in the U.S. Education Department and as state commissioner in New York, and her nomination required additional review.
The HELP Committee has long had a tradition of bipartisanship, despite a wide right-left split among individual members.
Alexander cited the committee's work last Congress to pass the Every Student Succeeds Act, which overhauled No Child Left Behind, and what's often called "21st Century Cures," a law to speed approval of new drugs and boost medical research.
"I hope we can get back to that way of working soon, but I think we have to face the facts and say we disagree about process, we disagree about the nominee, and we're at the point where we need to express those disagreements by a vote," he said.
Murray, for her part, said it was the first time in her memory that the committee voted despite a ranking member's lingering questions about a nominee.
"I consider this to be a massive break with that strong bipartisan record, and it will dramatically impact our ability to work together in good faith going forward," she warned.
The Dick & Betsy DeVos Family Foundation provided funding to The 74 from 2014 to 2016. Campbell Brown serves on the boards of both The 74 and the American Federation for Children, which was formerly chaired by Betsy DeVos. Brown played no part in the reporting or editing of this article.
Get stories like these delivered straight to your inbox. Sign up for The 74 Newsletter