Bermudez: At NY Autism Charter School, Classroom Learning Is Just the Start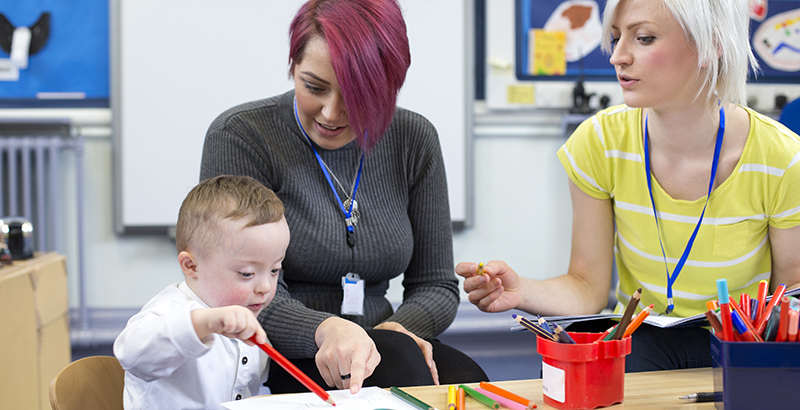 The NYC Autism Charter School might be the only public school in the city to set up shop in children's homes.
Teachers visit families to help students potty-train, eat more than one food, or take vacations — seemingly simple tasks that can be incredibly challenging for children with autism.
For Carol Santiago, putting her then-5-year-old son Ralphie to bed was a two- or three-hour ordeal every night.
First, she and her husband read a story to Ralphie, then sang a song, reread the same story, and sang a different song. Repeat. If they did not follow the routine as Ralphie prescribed, he refused to fall asleep in his bed. The late nights took a toll. Midnight passed, Ralphie was still awake, and the couple dreaded the exhaustion they would both feel at work the next morning.
The couple rang the school, located in East Harlem, where Ralphie had enrolled only months before.
"They came to our home and set up his bedroom in a way that would give him reminders of what he needed to do and the fact that this was his bedroom and he was going to sleep in it," says Santiago. "I had the teacher's cell phone number, where she invited me to call her whether it was 2 or 3 in the morning."
Not long after, Ralphie started going to sleep easily in his room.
Eleven years later, Santiago, the school's board president, credits the school with helping to raise Ralphie, now 16, who is still enrolled there.
"It's like a second home for my son," she says.
With 32 students and 28 full-time classroom instructional staff, the school operates year-round, save for a two-week break in August. Five of the eight classrooms have just four students, one certified special education teacher with a master's degree, and three instructors. The school's least restrictive classroom — four students, one certified teacher, and one instructor — is reserved for older students who are able to benefit from group instruction for most of their day.
The home visits are part of the school's holistic, individualized approach to autism. The school collaborates with parents to figure out what is best for their children, because if a child is doing well at home, he or she is going to do better at school.
A sense of urgency is also a driving force. Students age out at 21, so there is a race against the clock to prepare students to live as independently as they can. Equipping children and parents with the skills needed to go about daily life means pushing students to break their repetitive behaviors and adjust to situations they find uncomfortable, says executive director Julie Fisher.
"Can you tolerate getting a haircut? Getting your teeth cleaned? Waiting in line at the supermarket?" she says. "These are all things that can be huge challenges for families. We work on these skills here at school and then help generalize them to the home and community."
Once a month, the school holds clinics with parents to discuss students' academic and social progress as well as future goals. The clinics sometimes include on-the-spot training — for example, showing parents how to get their children to stay with them while walking. The clinics inform home visits, shape what children do in class, and dispense practical advice that parents rarely get elsewhere.
"Our level of involvement and discussion and dialogue and feedback with parents means that they are aware of everything that's going on," says Fisher.
It was through one of the clinics that the school learned of Ralphie's fear of all things automatic. He was 10 at the time.
"He was terrified of automatic flushing toilets, paper towels, everything," says Santiago. "We had gone out to visit family near the King of Prussia Mall, in Pennsylvania, and that was a disaster."
Routine excursions with Ralphie became trying. He threw tantrums, ran away and talked to strangers, or touched items that did not belong to him.
So the school stepped in.
"His teacher scouted out automatic flush toilets in the vicinity, we had his mom come, and we did a day of traveling into the community to teach him to tolerate the flushing. His teacher developed a special reinforcement system, carried it over to mom, and now it's not an issue," says Fisher.
The school deals even with delicate matters, such as how to use a restroom independently, brush teeth, or shave, because avoiding them, Fisher says, is not in students' best long-term interests.
"When I hear stories of teenagers with autism coming out of high school in diapers, it makes me so sad," she says.
Because the school is small, staff members can immerse themselves in the lives of students and their families. It does not use outside providers, such as speech or occupational therapists, because the teachers are able to address needs within these areas using intensive applied behavior analysis instruction, which is unusual among public schools in the city. All staff members are trained in this method, in which tasks are broken down into small parts and taught systematically using reinforcement to reward success.
Every year, students are formally assessed on language, communication, and social skills. The school tries to transition students into less restrictive environments if their progress shows they can succeed in larger classes — sometimes even helping them transition to schools that aren't focused on autism.
Catherine Lord, director of the Center for Autism and the Developing Brain at New York Presbyterian Hospital, Weill Cornell Medical College, and Columbia University Medical Center, praises the school for its balance of academics and life-skills training.
"I think they work very hard not just to be empirically based, but also to remember that all of learning is not just documenting, but it's what you do with the children," she says. "The atmosphere in the charter school is amazing in terms of being a positive place for learning."
According to a report from the A.J. Drexel Autism Institute, young adults with autism are more likely to be unemployed and socially isolated than people with other disabilities. Two-thirds had no job or educational prospects two years after high school.
Schools err in not having students venture out to gain real-world experiences to prepare them for adulthood, says Moira Cray, the school's director of transition and community outreach. "School's about learning how to do life after school — for all of us," she says. "If we're teaching students to shop, it makes sense to teach that at the supermarket."
At 16, the school's students start working in jobs or internships at places including White Castle, Shake Shack, Facebook, and the local nonprofit DREAM (formerly Harlem RBI).
Word of mouth, Cray says, has paved the path for additional job opportunities for students.
"Once when we get into a site, people are so blown away by how much our students can do that they get excited," she says. "The employees are going home and talking to their friends and family, and it snowballs that way."
By teaching students to be self-sufficient, and allowing them to interact with the local community, the school increases the chances that children with autism can forge lives beyond the classroom. And, because the school's students do not age out at 18, as kids at traditional public schools do, they get three additional years of education and job experience, increasing their likelihood of success.
Ralphie arrived at the school lacking functional language skills, unable to use words to express his needs and wants. Today, he speaks well and is easily understood by others. He uses public transit by himself and has held four jobs and internships. His facility with technology got him internships doing office work and data entry at El Museo del Barrio and DREAM.
"When it comes to autism, I know what the school gets right is that they understand that it's not just about what happens at school," Santiago says. "It's about what happens at home and in the community."
Support The 74's year-end campaign. Make a tax-exempt donation now.