Behind Christie's New Education Push, Impressive Numbers: Newark's Charter Schools 2nd Best in U.S.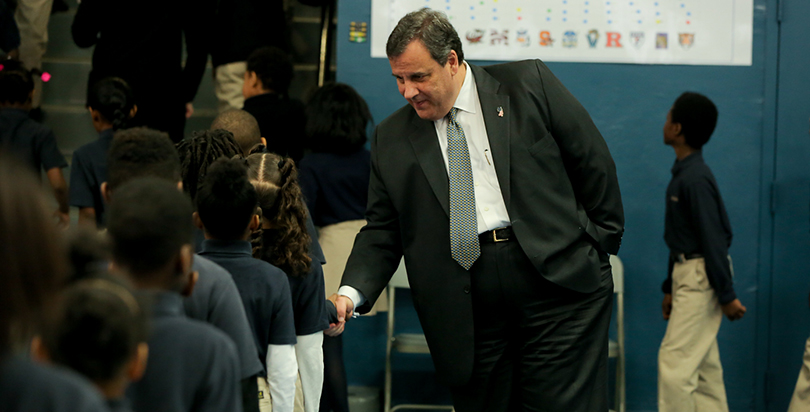 New Jersey Gov. Chris Christie was never short of big, blustery, headline-making statements, even before he joined forces with his one-time rival, GOP presidential frontrunner Donald Trump.
On Monday, Christie, back in his role as governor of the Garden State, visited a top-performing charter elementary school in Newark and said he'd use his remaining two years in office to continue expanding charters — bulldozing the opposition of local officials if he had to.
But unlike Trump, whose bluster often lacks grounding in facts, Christie has a point: charters in Newark have gotten results. Test scores are high, and parents are increasingly choosing to send their children to schools in the city's top performing networks.
In particular, achievement at North Star Academy's Alexander Street Elementary school, where Christie made his speech and took questions from second-graders, has been striking.
A long-distressed traditional school, Uncommon Schools took over operation prior to the start of the 2014-2015 school year. The school went on to outperform national averages on the new, Common Core-aligned PARCC tests, according to results initially reported by The 74.
Facebook CEO Mark Zuckerberg in 2010 gave $100 million to Newark to turn around its struggling public schools. That gift, the reforms that resulted, and a book detailing the whole endeavor, "The Prize," have been the subject of discussion in education reform circles and Newark political halls for months.
"The relatively small portion of the gift invested in Newark charter schools paid off big. Real big. The gains are so striking, in fact, they raise a key question: Why didn't the Newark reforms emphasize charters from the beginning?" Richard Whitmire wrote in an assessment of Zuckerberg's gift.
Those who have lived the Newark experiment also back up the city's charter investment.
"High-performing charter schools are the overwhelming first choice of Newark parents selecting schools for their children in the city's universal enrollment system," KIPP schools official Andrew Martin wrote in his "unwritten appendix" to "The Prize". (Also check out Newark Superintendent Chris Cerf's review of "The Prize.")
Christie also cited parent demand in explaining that while he favored rapid growth, he was not endorsing charter expansion on the scale of cities like Washington, D.C. or New Orleans for the near future.
"I think that [50% of the city's schools becoming charters] would be unlikely over the course of the next two years. I think that is probably too large of an expansion," he said.
"But the fact is, parents should be able to vote with their feet. And there are still thousands of parents and their families on charter school waiting lists in this city. I want to wipe out those waiting lists. That is what I intend to try to do."
Independent data also generally supports the push for charters.
A nationwide 2015 study from the CREDO center at Stanford University compared charter schools in major urban districts to their traditional public school counterparts. They found charters in Newark give students, on average, the equivalent of more than 144 days of additional learning in both math and reading — making Newark's charters the second highest-achieving in the nation, after those in Boston.
Researchers cited Newark as one of four districts across the nation where large numbers of charters outperformed similar traditional public schools in math (77 percent of charter schools outperformed their traditional peers) and reading (69 percent of charters outperformed their traditional peers.)
Although research on Newark's charters is largely positive, some researchers have argued that the charters vary widely in effectiveness and serve fewer disadvantaged students.
In typical Christie fashion, his comments didn't come without controversy. Newark Mayor Ras Baraka opposed the latest expansion of charters in his city. Christie, who spoke against "entrenched interests" that oppose charters, was asked whether Baraka was part of that opposition.
According to NJ Spotlight, Christie said, "I hope not, but if he chooses to, we'll run him over, too…He's desperately protective of a whole failed system that he was part of. I'm not, and I'm not going to be. So he can be part of the solution or part of the problem."
---
Exclusive: Christie Talks K-12 Education With The 74
Support The 74's year-end campaign. Make a tax-exempt donation now.