Battle Over Nation's 1st Religious Charter School Heads to Oklahoma Courts
A lawsuit says the Catholic virtual school violates the principle of church-state separation and could discriminate against LGBTQ students.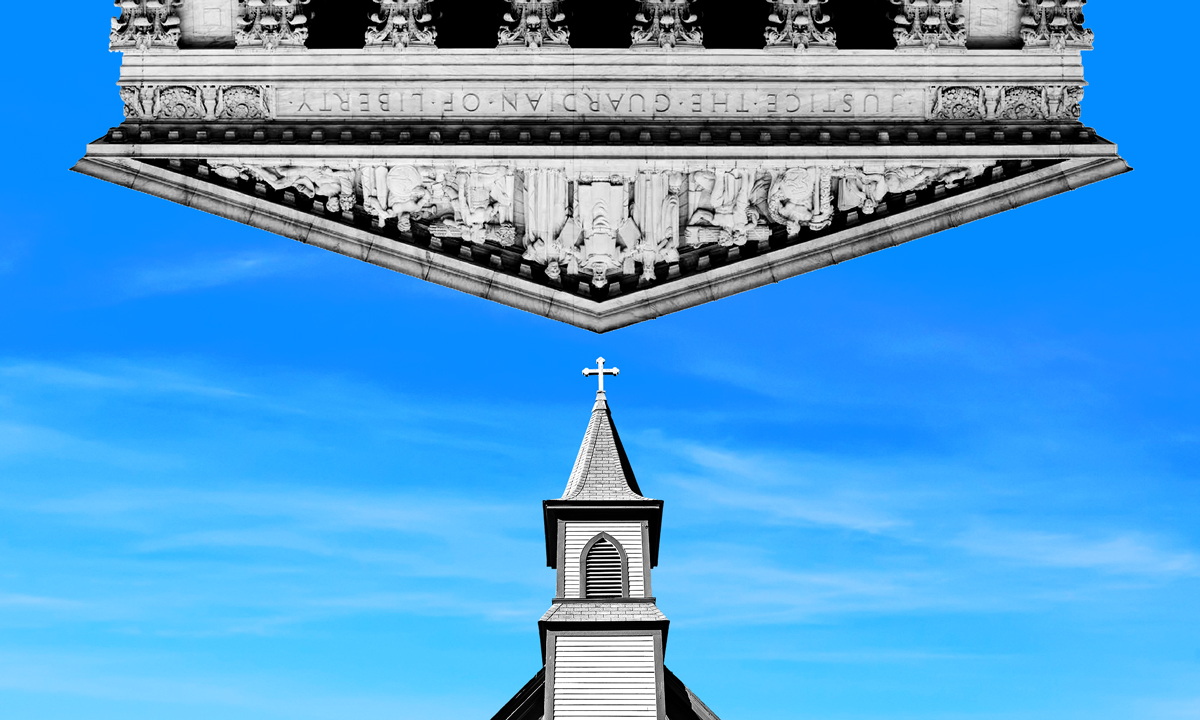 No paywall. No pop-up ads.
Oklahoma public school advocates filed a lawsuit Monday challenging the legality of the nation's first explicitly religious charter school.
The petition, filed in Oklahoma state court, seeks to stop authorities from moving forward with opening a virtual Catholic charter school.
The 10 plaintiffs, including the nonprofit Oklahoma Parent Legislative Action Committee, parents and religious leaders, say St. Isidore of Seville Catholic Virtual School would violate Oklahoma law and potentially discriminate against LGBTQ students and those with disabilities.
"We're witnessing a full-on assault on church-state separation and public education — and religious public charter schools are the next frontier," said Rachel Laser, president and CEO of Americans United for Separation of Church and State, which is representing the plaintiffs along with the American Civil Liberties Union.
The attempt to open a religious charter school, she added, is "one piece of a larger Christian nationalist agenda to infuse Christianity into public schools." She cited Texas's decision to allow chaplains to counsel students in public schools as another example.
Catholic church leaders in Oklahoma say they're ready for what could be a long legal battle — one that was expected even before the state's Virtual Charter School Board voted 3-2 in June to approve the application.
"News of a suit … comes as no surprise since they have indicated early in this process their intentions to litigate," said Brett Farley, executive director of the Catholic Conference of Oklahoma, a policy organization representing the Archdiocese of Oklahoma City and the Diocese of Tulsa. "We remain confident that the Oklahoma court will ultimately agree with the U.S. Supreme Court's opinion in favor of religious liberty."
The lawsuit, which names members of the Oklahoma Virtual Charter School Board, state Superintendent Ryan Walters and the state education department, is the latest development in a national debate over whether charter schools can legally practice religion.
Oklahoma Attorney General Gentner Drummond advised the board that approving the application would violate the state's ban on supporting religious schools with public funds. As a result, the board sought outside legal counsel and last month voted to hire Alliance Defending Freedom. The conservative law firm has participated in some of the more high-profile cases before the U.S. Supreme Court, including the Dobbs decision that rolled back abortion rights and 303 Creative v. Elenis, in which the court ruled that a Colorado graphic designer has the right to refuse to make a wedding website for a gay couple.
Walters said in a statement that the lawsuit amounts to religious persecution.
"It is time to end atheism as the state-sponsored religion," he said. "A warped perversion of history has created a modern day concept that all religious freedom is driven from the classrooms."
But in a call with reporters, Rev. Lori Walke, senior minister of Mayflower Congregational United Church of Christ in Oklahoma City, said the Constitution protects those who don't wish to practice religion.
"We have made a decision as a country to not coerce children into praying to a specific deity or in a specific tradition," she said.
The Supreme Court last month declined to hear a North Carolina case that argued charters are private, a distinction that was expected to bolster the argument of those who say charters can be religious.
The Oklahoma attorney general's office challenged the validity of the charter vote after Brian Bobek, the member who tipped the outcome in favor of the Catholic church, was appointed just days before the meeting and opted not to recuse himself. According to Drummond, the law says Bobek's appointment shouldn't have taken effect until November.
Before the board approved the application, they asked the applicants to strengthen their proposal for serving students with disabilities. But the plaintiffs say the school hasn't committed to serving students who may need in-person learning.
"I don't want my tax dollars to fund a charter school that won't commit to adequately accepting and educating all students," Michele Medley, a mother of three, said in a statement. Two of her children are autistic and one identifies as LGBTQ.
The application states that the school plans to fully teach the Catholic faith, but Farley said claims that the school won't serve students with disabilities are "unfounded."
"The whole idea is that we want to take the education program that we've been running for a century and put it online," he told The 74 before the board's vote. "Partnering with the state makes that possible."
Get stories like these delivered straight to your inbox. Sign up for The 74 Newsletter