Barrett: Reading Books With an Adult Is a Great Way to Build Empathy and Other Social-Emotional Skills in Kids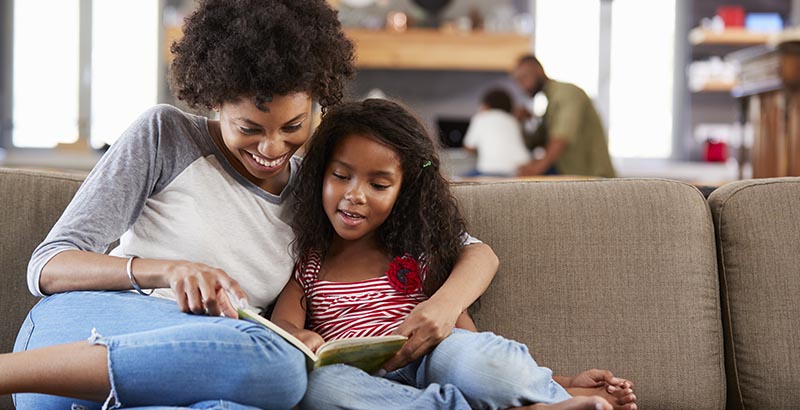 There are many reasons for families, educators and community members to spend time reading with children, from improved student reading skills to increased overall school and career achievement. For more than 20 years, Reading Partners has believed that pairing high-quality books with the mentorship of a caring, supportive adult is a key strategy in helping close the reading achievement gap for low-income and minority children. Now, another compelling benefit of this model, documented by Child Trends in an independent study of Reading Partners' California regions, is that reading with children can positively impact their social-emotional learning.
The Collaborative for Academic, Social, and Emotional Learning (CASEL) defines social-emotional learning as "the process through which children and adults understand and manage emotions, set and achieve positive goals, feel and show empathy for others, establish and maintain positive relationships, and make responsible decisions." These skills impact children's success across all areas and are receiving increased attention in educational settings.
Of the Reading Partners students who participated in the Child Trends study, 83 percent improved their social-emotional learning skills by the end of the school year, making significant gains in four out of five SEL skill areas: social competence, persistence, self-control and reading engagement.
CASEL documents the benefits of integrating SEL instruction with academic subjects, and one of the most natural ways to do this is by using books as tools for SEL growth in schools. Stories, whether fictional or real-life, serve as examples to help cement complex social and emotional concepts like perseverance, compassion, resilience and integrity. In short, they take readers along for the social and emotional ride.
As Rosa learns how good it feels to work for the benefit of others in A Chair for My Mother by Vera B. Williams, so do young readers. As Mira learns the power of an individual to foster connection and create community change in Maybe Something Beautiful: How Art Transformed a Neighborhood by F. Isabel Campoy and Theresa Howell, young readers can begin to imagine their own capacity for setting and achieving goals.
Stories and informational titles featuring varied people and settings expand children's capacity for empathy — particularly their ability to connect to others' experiences even if, at first glance, they seem quite different from their own. For example, I'm New Here by Anne Sibley O'Brien chronicles the experiences of four new immigrants as they join an American elementary classroom. The book offers language and images to illuminate the emotional experience of finding one's place in a new setting for students to internalize and apply elsewhere.
Of course, any book is more comprehensively experienced when coupled with the guidance of a knowledgeable teacher. Reading and discussing a book with an adult who can ask thought-provoking questions and model his or her own reflections can help students dial into concepts they may have missed on their own. The simple musing, "Do you think Rosa and her family ever felt discouraged?" after reading A Chair for My Mother opens children's minds to the potential ups and downs of working toward a goal.
There's also something special about turning pages together — paper pages, that is. Research indicates that readers absorb more from a print version of a story than from a version read on a tablet. Having a firm grasp on what happens in a book allows students to consider and learn from the broader ideas it contains.
Print books are visible conversation pieces; browsing books on the shelf can be a social experience, and noticing what others are reading can spark dialogue. Brief engagements with others over books can, over time, foster interest in reading and call attention to others' perspectives — a key pillar of SEL.
Of course, digital reading can also be a powerful educational tool, and it certainly has its place in today's world. But as with many things, balance is key. The chance for kids to pore over books with an attentive mentor, flipping pages back and forth to discuss compelling social and emotional themes in the absence of that proverbial blue-light glow, is a valuable one that develops not only reading skills but also human relationships.
When a child reads alongside an adult, there are plenty of opportunities for that adult to model and support self-control (such as sustaining attention) and problem-solving — key components of SEL. Whether the challenge is feeling wiggly or tired, not knowing what a word says or means, or not understanding a situation or fact presented in a story, an adult can show a student how to slow down and choose an appropriate strategy for moving forward.
In the Child Trends study, warm and positive student-tutor relationships were favorably associated with children's development of persistence and school engagement. This makes sense. Every word of encouragement to keep at it when reading gets hard, gentle suggestion to be patient and thoughtful in one's work, and compliment for a job well done offered by an adult fosters students' confidence and emotional know-how.
When students are recipients of individualized attention and caring support in reading, they can apply it to other areas in their lives. They may even offer it to others as friends and mentors themselves.
Lindsay Barrett is an educator, literacy consultant and freelance educational writer. She is the former director of curriculum & instruction at Reading Partners.
Support The 74's year-end campaign. Make a tax-exempt donation now.