Barnum: Obama's Education Legacy Mirrors the Rest of His Presidency — Accomplished but Polarizing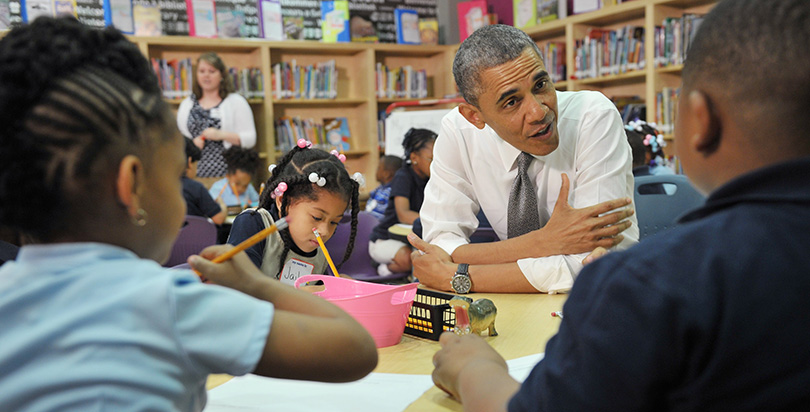 When Barack Obama was elected president in 2008, he
pledged
a "determination to heal the divides that have held back our progress." The reference was probably not to the notoriously polarized education-reform divides, but rather to the "red state/blue state" divisions Obama had hoped to overcome.
"It's one of the few regrets of my presidency — that the rancor and suspicion between the parties has gotten worse instead of better," Obama said in his 2016 State of the Union address. In the last interview of his presidency, with 60 Minutes' Steve Kroft on Sunday, he admitted to underestimating the depth of the divide and having failed to "crack the code in terms of reducing this partisan fever."
He could have just as easily have been talking about debates on how to improve schools, differences that don't always split along party lines but can be just as politicized.
All signs pointed to Obama's desire to transcend such fights while implementing aggressive reforms. The person he chose to head up the Department of Education, Chicago schools chief Arne Duncan, was praised at the beginning by both teachers-union and reform leaders. Duncan was also the only person to join separate, seen-at-the-time-as-competing coalitions advocating, respectively, for drastic changes to schools and addressing out-of-school factors.
In one sense, looking back, Obama succeeded, but in another, he failed on his own terms. The Obama education legacy mirrors the rest of his legacy: a great deal accomplished buut with deep political and ideological divisions in his wake.
An era of good feelings
Duncan's 2009 confirmation hearing before the Senate went remarkably smoothly. As a Washington Post article described it, "Chicago schools chief Arne Duncan, President-elect Barack Obama's pick for education secretary, promised yesterday to work to expand preschool, build the ranks of quality teachers and support such initiatives as charter schools and performance pay, setting out an agenda that won him broad bipartisan support at a Senate confirmation hearing."
Duncan even received a warm welcome from Republican Sen. Lamar Alexander and was praised by the American Federation of Teachers and the National Education Association, the country's two biggest teachers unions. He was confirmed without dissent by the Senate on a voice vote.
Obama and Duncan wasted little time before implementing an ambitious agenda. Realizing that states were strapped for cash in the middle of the Great Recession, the administration created Race to the Top as part of its economic stimulus package. The $4 billion funding competition rewarded states for enacting certain education policies.
In making the case for the program, Obama said, "The most effective and innovative approaches will be developed outside of Washington in communities across this country."
In fact, however, if states wanted the federal money, they had to abide by a number of specific federal policies: the expansion of charter schools, comprehensive student and teacher data systems, common academic standards, and teacher evaluation systems based in part on test scores.
But consistent with Obama's vision, Race to the Top rewarded states for garnering agreement from local unions, which in turn were pressured not to stand in the way of new money.
"What we want to do is to assume that teachers want to see kids succeed, solicit their best ideas, and then shape and craft reforms that have their buy-in and have their ownership, because that's going to — there's going to be greater success," the president said in a 2009 interview.
It seemed to be working.
The AFT offered some praise of the program, saying, "Race to the Top creates a real opportunity, but it will work only if all stakeholders come together to make it work." And in a closely watched speech in early 2010, the union's president, Randi Weingarten, echoed some of Duncan's critiques of prevailing teacher-evaluation systems and endorsed the use of student test scores as one part of judging teacher performance — a key tenet of Race to the Top. In 2011, the NEA passed a resolution supporting, for the first time, a limited role for standardized tests in teacher evaluation.
Meanwhile, Race to the Top proved remarkably successful in influencing policy. The vast majority of states applied for a grant, and subsequent research found that even in states that didn't win, the competition pushed them in exactly the direction Obama and Duncan intended.
In 2009, just 15 states required student assessments to be a part of teacher evaluation; by 2013, 41 did. The vast majority of states also adopted the Common Core standards and still use some form of them. Charter school enrollment nearly doubled between 2008 and 2014.
Although none of these changes were solely due to Obama's policies, the administration's initiatives clearly had an effect.
The makings of a rebellion
Soon, though, there were signs of trouble.
In 2010, Obama's support for a turnaround program that led to the dismissal of the teaching staff at a struggling Rhode Island high school drove a wedge between the White House and the teachers' unions.
Prominent education historian Diane Ravitch did a surprising about-face, turning from one of the most enthusiastic supporters of reform policies to their chief antagonist. She wrote two best-selling books on the topic and offered prolific and vigorous denunciations of the Obama administration on her widely read blog.
Ravitch, as well as actor Matt Damon, spoke in 2011 at a large rally of teachers and parents in opposition to Obama's education policies. In 2012, the Chicago teachers' union staged a high-profile strike, targeting Obama's former chief of staff, Mayor Rahm Emanuel, and his policies supporting charter schools and tougher teacher evaluations, among other issues.
More recently, the nation's first black president and his education policy chief have come under criticism for their tepid support of school integration. In a This American Life interview, Duncan pointed to the political difficulties of including integration in Race to the Top, but he later told The 74 that he would give himself "a pretty low grade" on addressing school segregation.
Duncan's successor, John King, emphasized integration through the bully pulpit and small grant programs — but by the time King was appointed in 2015, Obama's term was almost over.
In the aftermath of the initial Race to the Top competition, Duncan doubled down on the administration's teacher-evaluation policies, offering states waivers from onerous aspects of No Child Left Behind, but only if they agreed to link test scores to teacher evaluation. Many, though not all, states buckled under this pressure. Some legal scholars said the practice of conditional waivers was illegal, overextending the Department of Education's power beyond what Congress had intended.
The swift move to revamp teacher-evaluation systems proved difficult to implement and likely led to a proliferation of new tests. The problem was that the administration wanted every teacher evaluated on some student assessment, but most — like gym, art and even many social studies and science teachers — didn't teach a tested subject. That meant districts had to create new assessments or else evaluate teachers on some existing exam, prompting lawsuits in some states. Despite efforts to make the evaluations more exacting, the vast majority of teachers still received high ratings.
The expansion of testing led to a growing movement by families to opt students out of the tests, most prominently in New York, where about one in five kids refused to take the state exam in recent years. Although in most states such movements were relatively isolated, the fierce criticism of tests led to political pressure for the state and federal government to act.
In 2015, President Obama personally endorsed a reduction in testing, though the administration was short on specific ways it planned to implement this. Many states dumped federally funded tests aligned to the Common Core, which swiftly became a hot-button issue among conservatives, who were skeptical of any federal involvement in schools and critics of Obama.
The teachers unions, while endorsing the president's re-election in 2012, broke sharply from his education policies. Both unions retracted their support for test-based teacher evaluations, and both called on Duncan to resign as education secretary in 2014.
Perhaps ironically, one of Obama's biggest successes on education, the passage of the Every Student Succeeds Act in late 2015, was made possible, in part, by mutual distaste for his agenda from Republicans and teachers unions.
Contrary to White House proposals at the beginning of the Obama administration, ESSA, which replaced No Child Left Behind as the nation's K-12 education law, significantly scaled back federal power. The federal government is now prohibited from influencing states' academic standards or teacher-evaluation systems. This move seemed directly targeted at Obama's long reach — though it will also make it difficult for subsequent administrations to scale back his policies.
More polarization likely under DeVos and Trump
There's no doubting President Obama's lasting legacy on K-12 education: Most states have ushered in new teacher-evaluation systems, adopted the Common Core and become more hospitable to charter schools because, in significant part, of his Department of Education.
Obama would argue all this was to the good, telling Steve Kroft Sunday that "our kids' education is better" now that it was in 2008.
Since 2009, high school graduation rates are up significantly, but national test scores are basically flat — though neither result can be safely attributed to Obama's policies. A federal study on Race to the Top concluded that it was essentially impossible to say how the program affected student achievement. Other research on specific policies, like school turnarounds and teacher evaluation, paint a complicated picture.
Dismantling these changes would require state-by-state legislative action — which has already happened to a limited extent with teacher evaluation — and depends heavily on local political dynamics. In many states, Obama-era education policies seem relatively safe, at least for the time being.
On the other hand, there is no sense that Obama has healed the political divide on education. The initial peace between his administration and teachers unions was short-lived; Republicans in Congress also turned on Obama's education policies, arguing that they were a federal overreach. In particular, Republicans vigorously opposed the Common Core, which became closely associated with the president, with some critics even calling it ObamaCore.
Betsy DeVos's nomination as secretary of education suggests there will be no end in sight to the polarized, politicized education wars. Her views in favor of allowing families to use public funds to pay for private school tuition have already inspired intense debate.
But while her policies will be significantly different, their controversial nature will likely lead the Trump administration down the same contentious path trod by Obama.
Support The 74's year-end campaign. Make a tax-exempt donation now.