Barfield: How Elected Officials and Policymakers Can Strengthen Work-Based Education Programs for a Future-Ready Workforce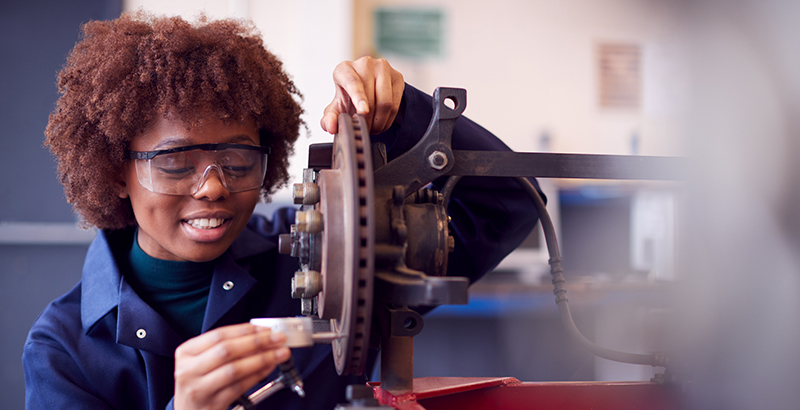 Get stories like these delivered straight to your inbox. Sign up for The 74 Newsletter
Two years of disrupted learning due to the pandemic have widened longstanding educational disparities that placed youth of color and those from underserved communities at a disadvantage when entering the workforce. Now, we have an unprecedented investment in the nation's infrastructure that presents the possibility for numerous lucrative new jobs, particularly for young people. But without in-school preparation to develop workplace skills and knowledge, recent graduates will miss employment opportunities created by the $1 trillion Infrastructure Investment and Jobs Act.
Bridging gaps in education and career development through work-based learning can both set students up to thrive in the workforce of the future and repair our nation's decrepit infrastructure. These types of programs can give young people real-world experience while in high school, hone students' academic, technical and employability skills and, by pairing preparation with opportunity, enable graduates to meet the new demands the infrastructure bill will create.
Unfortunately, our education system is not providing students with the skills and experience they need to succeed, particularly in the fields of science, technology engineering and math. Industries reliant on STEM faced a workforce shortage even before the pandemic, and as many as 2 million of an estimated 3.5 million manufacturing jobs may go vacant by 2025 because of the difficulty in finding people with the required skills. At the same time as the infrastructure package increases the need for workers with the capabilities to improve roads, bridges, railways and broadband access, COVID-19 learning loss has put students interested in pursuing STEM careers potentially six to 12 months behind in their education. Students of color are at increased risk of falling behind, with the pandemic widening pre-existing racial disparities in core subjects like math and science that are needed for success in high-paying jobs in these fields.
Fixing the school-to-career pipeline will become the driver of economic recovery. Schools must have the support to prepare learners for opportunities in indispensable high-wage, high-skill occupations that have proven resilient during economic upheavals. Work-based learning brings industry experts to the classroom and students to the workplace. These robust experiences incorporate academic achievement — credits toward a high school diploma or college — and professional training such as paid work experience and internships that help ensure students have pathways for long-term career success.
NAF, a national network of education, business and community leaders focused on ensuring that high school students are college, career and future-ready, recently released a policy brief that strongly encourages elected officials and policymakers to strengthen work-based learning programs as they develop legislation to restore their economies.
Policymakers at the state and federal levels need to develop and strengthen legislation that expands access to high-quality, work-based learning. They should prioritize building talent pipelines in high school, if not sooner, and encouraging schools and districts to develop strong student pathways to and through college that align with postsecondary credentialing or skill development that leads to high-wage occupations. These opportunities should be offered equitably to students from all communities, to broaden the number of workers who can help sustainably rebuild our economy.
Policymakers must also expand professional development by providing educators with adequate time off, awarding credits toward career advancement and training resources, offering program grants for educators developing career-technical education classes and recognizing relationship-building with industry leaders as an important skill to master.
Tax credits or other financial incentives for employers can encourage the creation of work-based learning opportunities for students. While these incentives exist in many states for adult apprenticeship programs, they should also be available to young people, and additional incentives should be offered based on a broader range of metrics, such as the number of students programs serve and the amount of time employers dedicate to them.
The policy brief also highlights the importance of creating meaningful interactions between educators and employers to ensure students gain the knowledge and skills necessary to succeed in the classroom and the workplace. There must be clear communication that outlines employers' roles and responsibilities for work-based learning programs. By standardizing this, policymakers can create realistic conditions for ongoing and consistent engagement between school and industry.
Other recommendations include recognizing this form of career-focused education in graduation requirements and school accountability measures — such as incorporating students' participation/experiences — and establishing fiscal incentives that award funds or bonuses to teachers who dedicate their time and resources to building up the next generation of workers. These types of state requirements create both urgency and momentum and prepare high school graduates to take the next steps toward bright futures.
Young people deserve high-quality work-based learning opportunities that will allow them to thrive. For the economy to recover, future workers need equal opportunity and access to skills training to meet present-day workforce demands and plan for a secure future. This does not just benefit students — it propels communities and strengthens the foundation of our society.
Tiffany Barfield is senior policy and advocacy director at NAF, a national network of education, business and community leaders who work together to ensure high school students are college-, career- and future-ready.
Get stories like these delivered straight to your inbox. Sign up for The 74 Newsletter