Baltimore's New Mayor Proposes $288 Million in Education Spending to Save City's Schools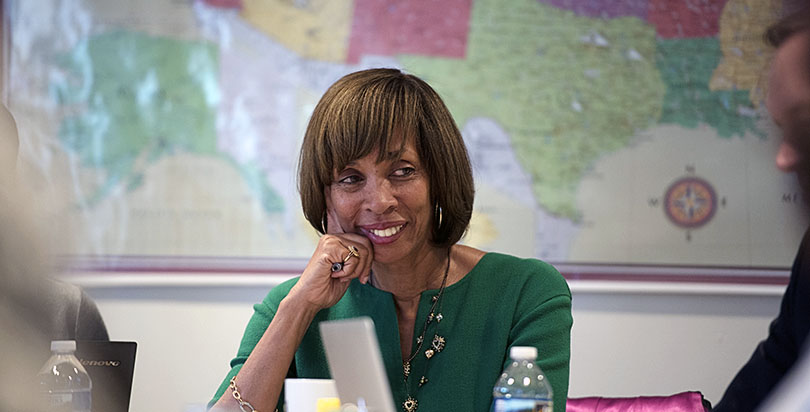 Baltimore Mayor Catherine Pugh announced a "major new commitment" to the city's financially strapped public school system Wednesday, outlining a $22.4 million increase in aid to schools in her
2018 budget
. That would bring local education spending to $287.8 million, a huge jump from the previous year's $265.4 million.
The increase in city education dollars is part of an agreement between city and state lawmakers to help Baltimore City Public Schools address a $130 million budget shortfall that could prompt layoffs of 1,000 employees, including teachers, this year. The deal would provide an additional $60 million to Baltimore's schools for each of the next three years.
Gov. Larry Hogan held up his end of the deal Monday when he released a supplemental budget that would provide an additional $23.7 million in state funding to Baltimore schools in exchange for new fiscal accountability.
Although the increase in local and state aid doesn't cover the projected budget gap, Baltimore Schools CEO Sonja Santelises thanked Hogan for agreeing to boost aid. "The additional funding included in the governor's second supplemental budget is a major component of the state and city's plan to contribute $60 million toward closing the district's anticipated budget gap for 2017–18," she said in a statement.
In announcing her budget, Pugh said the $2.8 billion spending plan invests more money in education than law enforcement and reallocates $5.5 million in funds from the Police Department to Baltimore City Public Schools. Advocates and local lawmakers have long complained that the city spends more on cops than kids.
Calling the budget a "historic moment," Baltimore Budget Director Andrew Kleine noted that Pugh earmarked a combined $512.7 million for schools, education and arts grants, youth recreation, and other programs, allocating more for education than for law enforcement.
The Police Department's budget also increased, however. Pugh allotted $497 million, including $10 million to implement reforms Baltimore agreed to in the aftermath of the 2015 death of Freddie Gray in police custody.
Baltimore City Council President Bernard C. "Jack" Young said last week he plans to go even further than the mayor, diverting an additional $10 million from the police budget to education. The council ultimately must decide whether to approve Pugh's budget.
Spokesman Lester Davis said Young is "looking at cutting fat, not muscle" from the police budget, adding that per capita, Baltimore maintains one of America's largest police departments. Davis noted that the cuts target police overtime and pointed to misuse by officers that has led to a federal indictment and an audit by the mayor.
Not everybody is on board with reducing the police budgets in favor of education spending, however. Nathan Willner, president of the Cheswolde Neighborhood Association, told The Baltimore Sun crime in the city is at "crisis levels."
"The safety of our children has to come first," Willner said.
---
---
Support The 74's year-end campaign. Make a tax-exempt donation now.