Baltimore's 'Happy Teacher Revolution': Educators Band Together to Help Each Other Thrive in the Classroom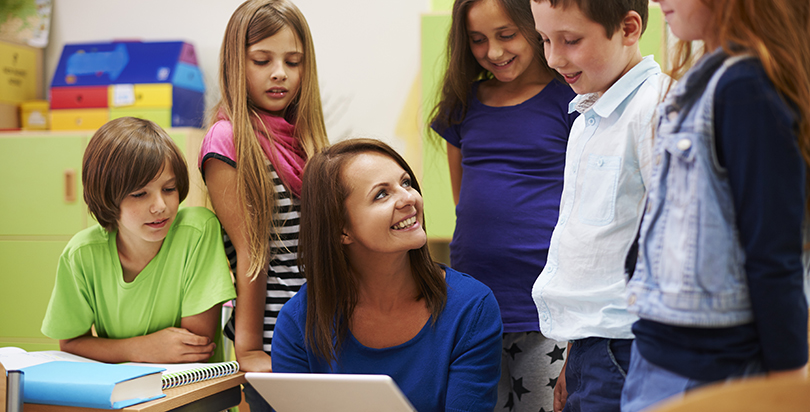 When Danna Thomas suffered from anxiety and depression in high school, it wasn't her friends or family who first noticed the warning signs; it was a teacher. Thomas said that educator's attention to her social and emotional well-being saved her life.
Today, Thomas is a kindergarten teacher at Windsor Hills Elementary Middle School in Baltimore, and she's returning the favor to the teacher who rescued her years ago.
She's the founder of the Happy Teacher Revolution, a peer support group for Baltimore educators. The group provides a much-needed outlet for adults whose passion for helping children to succeed requires putting their students' social-emotional needs ahead of their own every day.
"In teaching, we are asked to give so much and to sacrifice so much that it seems almost counterintuitive to me that [social-emotional competency] isn't a huge component of teacher preparation as well as professional development," said Thomas.
Kites cover Thomas's kindergarten classroom as part of a Mary Poppins theme. Like that famously positive nanny, Thomas tries to put a spoonful of sugar in with every lesson, a job she said she can do more easily when she's rejuvenated from Happy Teacher Revolution meetings.
"In my classroom, I realized that when I'm taking care of myself, I am a more joyful Miss Thomas than I would be otherwise," she said. "Prioritizing my social-emotional learning helps me be there to teach my kids how to."
Thomas and and her colleagues decided to help one another do just that two years ago. In October 2015, they had their first Happy Teacher Revolution meeting — and since then, nearly 300 educators have attended these after-school Friday sessions, or what they sometimes call "happy hour."
Anywhere from five to 25 teachers attend each week, sitting in a circle to begin with a moment of silence and mindfulness. Then they'll take turns reading the mission statement and a 12-part wellness strategy that includes declarations like "I choose to make time for sleep" and "I choose to disconnect and detach with love."
For second-year elementary school teacher Oliver Hart, the advice that has helped the most is, "No matter how the school year started, I choose to finish well." He repeats that mantra every day in the classroom, which helps him focus on moments of joy with his students rather than on the difficulties.
"You're managing so many different things, from building relationships with students and families, ensuring that you're aligning everything to the curriculum, making sure that kids have exactly what they need in terms of supplies, just the whole gamut of wearing several different hats," Hart said. "The meetings have been really helpful in figuring out how to strike a balance between what is my teacher hat and what is my own personal-self hat."
Research shows that groups like Thomas's are desperately needed. A 2016 Pennsylvania State University report found that 46 percent of teachers experience high daily stress, a rate that ties with that of nurses as the highest of all occupations. Stressed-out teachers lead to lower student achievement, higher turnover, and increased costs for districts trying to address those problems.
"Teachers have been ignored. They haven't been on the radar, surprisingly, of central needs in education," said report co-author Mark Greenberg. "Somehow we think that curriculum and standards, etc., are really the key issue, but really, the key issue is the quality of the teacher. Anyone who's been in school knows that that's the case."
Teachers report stress from long hours, an isolating job with little collaboration, high-stakes testing, student behavioral problems, budget cuts, and poor school leadership. Secondhand trauma is also a big issue. When students experience things like violence, parental divorce, or someone they love being put in jail, their teacher can find it hard to process and let go of the trauma.
Disconnecting is a common topic, and a difficult one. "Teaching, it's not a job you can turn on and off. When I leave at the end of the day, I might be done working with the students, but I'm always thinking about them," said kindergarten teacher Heather Lightner, who is in her 13th year of teaching and has attended Thomas's meetings since the beginning.
Though the sessions focus on positivity, it's not uncommon for a tissue box to make the rounds. " 'I forgive myself for —' If someone starts something with that, it can get choked up," said Thomas, who has taught in Baltimore for six years.
Now, others are starting to notice Thomas's Revolution. Private schools and Teach for America have invited her to do workshops with their teachers, and Thomas — a TFA alum — hopes to expand the program nationally, with an ambitious goal of reaching all 53 TFA regions by 2018. She is considering applying for TFA's Social Innovation Award, which provides seed money to corps and alumni for entrepreneurial ideas.
For teachers looking for immediate support, Greenberg suggested forming groups to connect with colleagues, taking notice of the positive events of the day, practicing deep breathing, and committing to daily personal time. But this isn't a substitute for the role districts and schools can play in supporting their teachers — and programs like mentoring, mindfulness workshops, and workplace wellness initiatives can go a long way in improving teacher retention.
A 2015 report from the Institute of Education Sciences studied 1,990 first-year teachers over five years and found that 17 percent left the profession. It also found that mentoring programs helped improve retention rates.
---
---
Get stories like these delivered straight to your inbox. Sign up for The 74 Newsletter