Baltimore Schools Withdraw Charter Cuts After Backlash: 'Our Voices Have Been Heard!'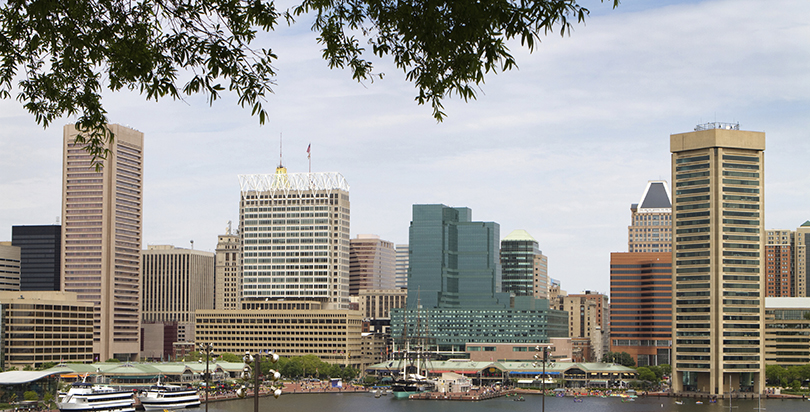 EDlection 2016 is The Seventy Four's ongoing coverage of state-level education news, debates and votes in the lead up to 2016 elections. Read our previous dispatches from Iowa, Nevada, Missouri and Pennsylvania. Maryland's presidential primary is currently scheduled for April 26.
Baltimore school district leaders swiftly withdrew a funding formula proposal this week that threatened to shut down some of the city's best charter schools, after a vocal backlash from politically empowered charter parents and community members.
Baltimore Mayor Stephanie Rawlings
said Tuesday
that she'd called upon former mayor Kurt L. Schmoke to mediate the ongoing conflict between the city school district and charters. Schmoke previously helped the Washington, D.C. school district and its teachers union come to agreement in 2009.
The surprise intervention was announced during a school board meeting packed by hundreds of parents and community members who had gathered to protest the proposal. Many had received letters from their schools warning they couldn't afford to stay open under the new funding model.
"I was devastated and scared at the same time," says Sherrell Savage, a parent with three children who attend KIPP Baltimore. "I'm not sure where else I would send them. I don't even want to have to think about that because I've found a place that is really good for them."
KIPP joined eight other Baltimore charters who sued the school district over its existing funding formula, alleging that it violated state law by not funding charters fairly. While the district spends about $15,000 annually per student, this year charter schools got 37% less — around $9,300 — to spend per pupil.
The district's
proposed funding formula
provided a base amount of $5,210 for each student and designated an additional $4,605 for low-income students and $4,573 for English language learners.
The new formula also included a "chargeback fee" for administrative costs that exceeded the 2 percent fee charters automatically pay to the district's central office.
The changes would have been felt by 26 of the city's 34 charter schools, which serve more than 13,000 of Baltimore's 85,000 public school students. KIPP Baltimore projected a $1.2 million annual loss.
"What the district didn't do is stop and say, 'What do we need to do to educate our students?'" says Kate Mehr, executive director of KIPP Baltimore. "They did a formulaic calculation and did not realize the impact on charter schools and kids and families."
District officials did not respond to a request for comment. They have said the change was intended to create a revenue-driven model, which gave charter operators more autonomy over cash. By linking dollars to certain student demographics, charters wouldn't get paid for populations they didn't serve.
"
In these days of state funding cuts when all schools could use more, we are challenged to ensure that budget allocations are made in such a way that no school benefits at the expense of another," new Baltimore schools CEO Gregory E. Thornton said in
a recent op-ed
.
The district still would have covered the cost of special education services and specialized transportation under the new formula.
"I understand what they are trying to accomplish," says 4th District City Councilman Bill Henry, whose two daughters attend a city charter. "All schools are struggling to build more bricks with less straw. But you shouldn't take straw away from the schools doing well to do that."
Prior to the district's decision to withdraw, Henry introduced a City Council resolution calling for equitable funding for Baltimore charters. The resolution had the full backing of the council, sending a strong message of support to the pro-charter forces.
"We dodged a bad thing happening to us," says Henry of the board's decision to withdraw the proposal. "But a victory is getting all of the resources that we all deserve."
Education reform advocates say Baltimore is not alone in its struggle to distribute funds equitably.
"In lots of states we are seeing people annually try to rejigger funding formulas, in particular because charter schools are more popular than people anticipated," says Derrell Bradford, a Baltimore native who leads New York school reform group NYCAN.
"Since charter schools are a creation of the state law, these are state problems that manifest themselves locally," says Bradford.
Maryland
state law
requires charter schools to get "commensurate funding" as their traditional public school counterparts, but doesn't spell out how. Both charter and public school leaders agree that following the law to the letter could bankrupt the system, so they negotiate each year.
But local charter leaders say the district lacks spending transparency, making a necessity of third-party mediators like the well-respected Schmoke, president of the University of Baltimore and former dean of Howard University Law School.
"Schmoke is a stunningly smart choice," says Bradford. "Both his personal experience and his professional experience as CEO give him a balanced view on the issues at hand."
Councilman Henry agrees. "I'm hopeful he will help the two sides to find the common ground to focus our efforts on what should be the goal — getting proper funding from the state."
It's unclear whether the recent lawsuit against the district will be dropped now that Schmoke will join negotiations.
"They don't have another 10 years to figure it out," says Bradford. "The intensity of the intervention right now has to be explosive, because the circumstances are."
"I think this is more of a wake up call for us to get more involved," says KIPP Baltimore parent Ayrika Fletcher, who says she won't send her 6-year-old son anywhere but a public charter or private school.
Although the district reversed its position on the funding proposal, Fletcher and other parents still plan to attend a charter-organized rally on Saturday to shore up support: "I think it's empowering, not merely for charter schools but all of the schools in the district," says Fletcher. "Now we understand that we have that power to make that difference."
Get stories like these delivered straight to your inbox. Sign up for The 74 Newsletter