Trump Nominees Sessions and Kelly Duck DACA, Immigration Questions at Confirmation Hearings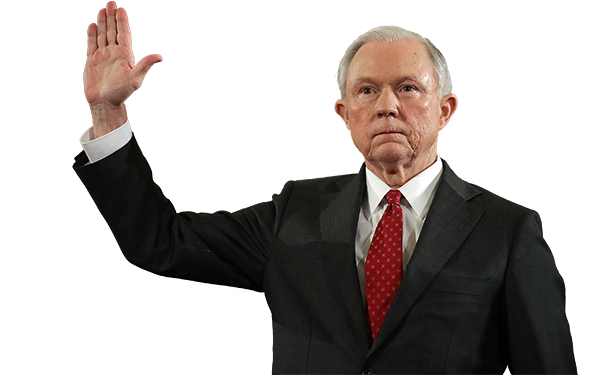 Two of President-elect Donald Trump's nominees for top cabinet posts repeatedly dodged questions from senators Tuesday about what will happen to hundreds of thousands of undocumented youth granted temporary legal status under a program that Trump has vowed to end.
Both Gen. John Kelly, chosen to run the Department of Homeland Security, and Attorney General–designate Sen. Jeff Sessions declined to discuss whether the next administration would seek to deport young people enrolled in the Deferred Action for Childhood Arrivals (DACA) program.
"I would guess that this category might not be the highest priority for removal," Kelly said during his confirmation hearing before the Senate Committee on Homeland Security & Governmental Affairs.
Sessions, an Alabama senator who has long opposed immigration reform, earlier told colleagues on the Judiciary Committee that he believes Trump would have the authority to rescind DACA as president. "It's an executive order, really, a memorandum of the Department of Homeland Security. It would certainly be constitutional, I believe, to end that order," Sessions said.
Asked by Sen. Richard Durbin of Illinois what would happen to youth already in the program, he said, "We are not able, financially or any other way, to seek out and remove everybody that's in the country illegally. President Trump has indicated that criminal aliens — like President Obama has indicated — certainly are the top group of people."
Sessions added: "Let's fix this system. Then we can work together after this lawfulness has been ended. Then we can ask the American people and enter into a dialogue about how to compassionately treat people who have been here a long time."
Replied Durbin, "That does not answer the question about 800,000 who would be left in the lurch, whose lives would be ruined."
President Barack Obama created DACA by executive order in 2012, giving legal status to so-called DREAMers — youth who arrived in the United States before age 16, attend school or have graduated from high school, and have no criminal convictions. The program also provides work permits and relief from deportation.
During the presidential campaign, Trump vowed to end the program and ramp up deportation of undocumented immigrants, prompting concerns from some activist groups and lawmakers that the DACA list, which is maintained by Homeland Security, could be used to provide names for expulsions.
In an interview with 60 Minutes after the election, Trump appeared to soften his approach, saying his administration would focus on undocumented immigrants with criminal records and make a determination about others later.
Newly elected California senator Kamala Harris asked Kelly whether information DACA applicants supplied to Homeland Security about their families or guardians would be used for deportation proceedings.
"I don't know, right now, where the upcoming administration is going on this," he said. "I can tell you, Senator — I promise you — I will keep a very open mind as we look at this topic."
Harris has vowed to introduce legislation protecting DREAMers from deportation. Other California lawmakers have urged the Obama administration to pardon DACA youth.
---
As my first official act as California's U.S. Senator, I'm co-sponsoring legislation protecting the 744K DREAMers from being deported.

— Kamala Harris (@KamalaHarris) January 4, 2017
---
Perhaps the most heated exchange was between Sessions and Durbin, who accused the senator of offering no evidence that he would handle the issue of immigration fairly and humanely. "Tell me I'm wrong," Durbin said.
"You are wrong, Senator Durbin. I'm going to follow the laws passed by Congress," Sessions said. "I do believe, if you continually go through a cycle of amnesty, that you undermine the respect for the law."
Get stories like these delivered straight to your inbox. Sign up for The 74 Newsletter