At Least Half of CA's Districts Are Closed Due to Coronavirus. A Look at L.A. Unified's Plans to Teach, Feed Students — and How Community Members Reacted on Day 1 of Shutdown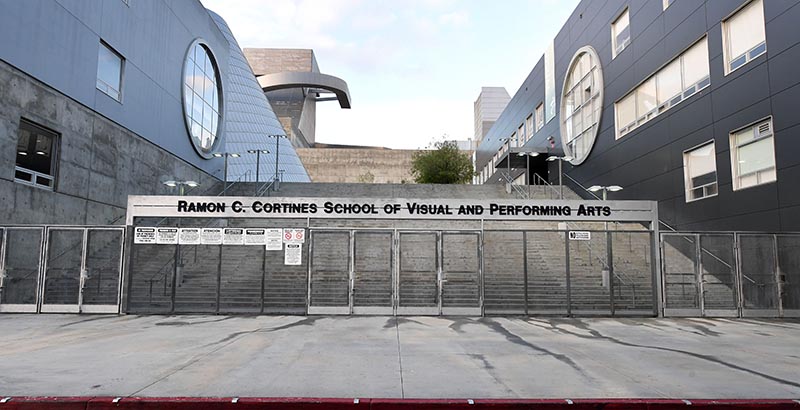 Updated, March 17
L.A. Unified Superintendent Austin Beutner in a letter to families late Monday announced that the district at this time is unable to open 40 family resource centers as initially planned, as "state and local health and public safety officials cannot assure us it will be safe for the children and adults." There will instead be 60 "grab & go" food centers open weekdays from 7 a.m. to 10 a.m. starting on Wednesday, with each child allowed to take home two "nutritious meals."
Speaking to the first day in general, Beutner wrote: "It wasn't perfect and we can expect more bumps along the way, but teachers got up extra early, all of us did our best, and students continued to learn. And we will work to make it better." Updated information on specific food center locations, instructional and parent resources can be found here.
Los Angeles and about half of California's school districts woke up Monday to a jarring reality: an unprecedented mass closing of schools in an effort to slow the spread of coronavirus.
"It's been pretty hectic," Alma Castillo, an L.A. Unified high school junior from South Central Los Angeles, wrote to The 74 on Monday. Some students "are concerned, while some are considering this a long break. … I'm personally kind of freaking out."
L.A. Unified, the nation's second-largest school district, with about 480,000 students, announced Friday it was closing schools for at least two weeks and reverting to online and television-based learning. By Saturday night, the L.A. County Office of Education had confirmed that all 80 school districts in the county would be shuttered Monday. Gov. Gavin Newsom then stated on Sunday that 51 percent of California's school districts — serving 80 to 85 percent of the state's children — had temporarily closed.
"The public-health crisis created by the coronavirus is not something any of us could have reasonably expected to happen," L.A. Unified Superintendent Austin Beutner said Friday in announcing the closure. "We are in uncharted waters as we work to prevent the spread of the illness."
L.A. County as of Monday had 94 confirmed cases of coronavirus. Statewide counts Monday afternoon stood at 375.
The move to close schools in California's largest district for two weeks was "probably the most difficult decision any of us on the board have had to make," board vice president Jackie Goldberg said. "It affects so many people and it affects so many children and affects so many people who have jobs that they are fearful of losing if they have childcare issues."
About 80 percent of the district's children rely on free or reduced-price meals, and more than 17,000 qualify as homeless. A mass closure of schools means setting up meal distribution systems, transitioning to remote learning, addressing inequitable student access to the internet and technology, and ensuring that families unable to take time off from work still have a place for their children to go, among other logistics.
Though sources contacted by The 74 backed the district's choice to close schools, they said it's already shaping up to be a far from optimal situation.
While L.A. Unified is prepping to open 40 family resource centers and 20 food pickup sites across the district starting Wednesday, for example, it wasn't clear on Monday how the district was getting meals to students in need before then.
"We are worried that today and [Tuesday] children who depend on a meal at their school will not be able to access a healthy meal," said Aurea Montes-Rodriguez, executive vice president of Community Coalition, which serves families in south L.A.
Parent Ben Austin said Monday that he and his wife are "beginning to feel some responsibility to step into a quasi-teaching role" and are navigating how to explain this drastic transition to their elementary- and middle-school-age daughters, who attend a local district and charter school in west L.A., respectively.
"The really challenging balance to strike is how to convey the right lessons and urgency to keep our kids safe while simultaneously not traumatizing them," he said on a call. In the background, 10-year-old Eloise and 13-year-old Fiona called out that they "missed their friends" and already "don't like online school."
Castillo, the L.A. Unified junior, who is also a member of United Way's Young Civic Leaders Program, is largely concerned about "whether we are running out of resources," especially relating to laptops and hotspots.
"I don't have Wi-Fi," she said."I hope LAUSD notices this issue and sees how many students need to access internet at home."
When sent questions regarding logistics and planning, a district spokeswoman responded that "we are still working on details … [and are] hard at work." She directed The 74 to monitor lausd.net for updates.
What we know about how service rollout is working
Starting Wednesday, there will be 20 "grab and go" food centers and 40 family resource centers across the more than 700-square-mile district, running from 6 a.m. to 6 p.m. on weekdays to offer services such as counseling and health services for students and families, meals and access to books, computers and instructional materials. They will be staffed by a mix of Red Cross volunteers, L.A. County employees and district staff, such as administrators, nurses, classroom teachers, security aides, school police and counselors.
Staff participation is "100 percent voluntary" and comes with a $100 stipend "in addition to your usual pay" for six-hour shifts, according to the district. All center visitors will have their temperatures taken with forehead thermometers when they arrive, and students will be instructed to wash their hands.
"Children will be able to have a warm meal, engage with their peers and pursue their different studies. And they'll be safe," Beutner said during Friday's announcement.
A district letter to families Sunday said the openings of these centers "will be subject to the continuing guidance of state and local health and public safety authorities that it is appropriate to do so and that all students and staff will be safe." A list of the food pickup sites and 40 resource centers was not posted on the district's website as of 3 p.m. PT Monday, though District 6 school board member Kelly Gonez wrote on Twitter that afternoon that officials will "share the list as soon *as it is finalized.*"
Community Coalition's Montes-Rodriguez emphasized the importance of pushing out critical information "through all of the local television networks … through the communication mediums our families are relying on" as soon as information is available. "We need to be over-communicating" with the community, she said.
Another major transition for the district is rolling out a combination of online and television-based learning. Teachers will utilize tools such as L.A. Unified's learning management system, Schoology, for lessons and activities. District officials used emergency spending authority to buy $10 million worth of additional Google Chromebook-like devices for about 150,000 district students who do not have computers at home; those are expected to be distributed at some point this week.
Charter Communications and Comcast are offering free internet service for 60 days and open Wi-Fi hotspots for public use (see their plans here). The district estimates that about 25 percent of families in L.A. Unified don't have internet access.
Especially for those who may not have immediate access to online materials, free, educational daytime programming began Monday for each grade level on the following channels:
Elementary broadcasts include shows like Sesame Street, while middle and high school programming features programs like NOVA and Shakespeare Uncovered. More information is available here.
Learning regression, however, remains a central concern.
"We are so concerned about the loss of learning time for young people," especially those from disadvantaged families, Montes-Rodriguez said. "Think about families that have three to five children in one household. Parents will have to figure out how to connect those five children, how to structure their days. And that's just something unprecedented."
As L.A. Unified and others prepared for these kinds of provisions over the weekend, Gov. Newsom refrained from demanding statewide closure of schools, leaving it as a local decision.
"It's one thing to say you have a plan; it's another to actually deliver on that plan," Newsom said at a press briefing in Sacramento Sunday night, not speaking directly to any one district. "I'm deeply concerned about [students'] health, and I'm deeply concerned about their safety, and I'm deeply concerned about their parents' inability to go to work."
CDC guidance released Friday was wary of short-term closures, noting that schools that close prematurely and for shorter periods of time — like two weeks, as L.A. Unified has decided for now — "will be unlikely to stem the spread of disease or prevent impact on the health care system, while causing significant disruption for families, schools."
Newsom did, however, sign an executive order Friday affirming that schools will be paid for days they shut down to prevent further spread of the coronavirus. California schools' funding from the state is determined by their average daily attendance.
As of Monday, all public schools in 35 states, the District of Columbia and Puerto Rico had been closed, according to Education Week. After holding out for days because of the district's critical role as a social safety net for children and in keeping the adult population working, Mayor Bill de Blasio announced Sunday that New York City Public Schools, the nation's largest district, with 1.1 million students, would be closed at least until April 20.
The two biggest districts face many of the same challenges in serving vulnerable student populations, but they also have some distinct differences. New York City schools must reach more than double the number of students but across a much smaller geographic area — about 300 square miles — compared with the sprawling 700-plus square miles that L.A. Unified encompasses.
To track all closures nationwide, see Education Week's map. To follow L.A. Unified-specific updates, go to lausd.net.
74 contributor Mikhail Zinshteyn contributed to this report.
Support The 74's year-end campaign. Make a tax-exempt donation now.