Ashley Berner and Charles L. Glenn: America's Muslim Schools and the Common Good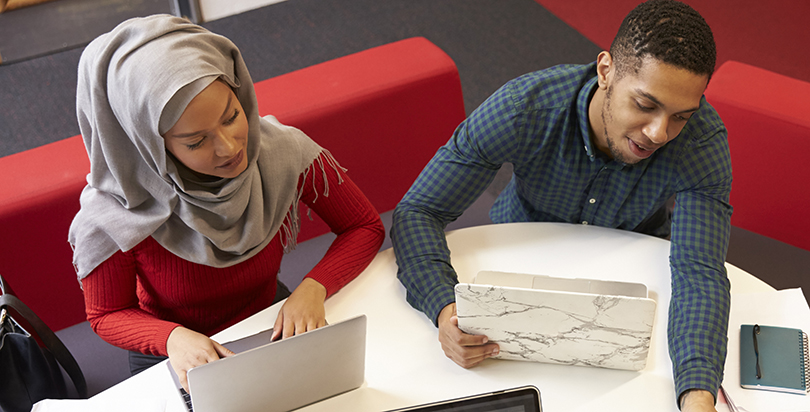 If we worry about whether the children of Muslim immigrants will be tempted to jihadist violence, perhaps we should encourage schools in which they learn a truer version of Islam. Early findings from a study underway at the
Institute for Advanced Studies in Culture at the University of Virginia
in partnership with Boston University suggest that American Islamic private schools do an effective job of countering jihadist temptations and fostering the qualities required by American citizenship. These schools urge community service, political engagement, and relationships with non-Muslim peers; their headmasters and teachers routinely warn against the allure of violent jihad. As one young interviewee put it, "The message our school wants us to carry on and hold onto is that we don't look to harm anyone — the religion is focused on being a good person as well as connecting with God."
Navigating between religious adherence and social integration is never easy for religious or ethnic minorities. Islamic schools are playing an important mediating role in the process and should be supported by public funds.
That seems counterintuitive. Doesn't the public education system exist, in no small part, to form loyal American citizens? Certainly, that's what opponents of Catholic schools argued in the 19th century, when nativists feared what immigrant Catholics, with their authoritarian religious beliefs and perceived loyalty to a foreign power, might do to the young Republic. Imposing uniform public schools, nativists thought, would diffuse the threat of the un-American habits and sensibilities of the Catholic Church.
The nativists were wrong. Research has demonstrated (see here, here, here and here) that Catholic schools, particularly Catholic high schools, do an especially good job of fostering civic knowledge (understanding how the government works), civic capacities (analyzing legislation and writing letters to Congress), community involvement (volunteer activity) and civic tolerance (honoring beliefs with which one differs). These results are due, at least in part, to a morally coherent school culture and a rigorous academic curriculum.
Muslims in the 21st century are in a position similar to that of 19th-century American Catholics. To the majority culture, their beliefs may seem perplexing and their loyalty suspect, although, according to the Pew Research Center, American Muslims are overwhelmingly "mainstream and moderate" and 82 percent report being satisfied with their lives in this country. Despite the high educational attainment and remarkable economic success of America's immigrant Muslims and their children, however, some Americans consider their presence a menace. Islamic schools have become a focal point for rumors and vandalism, and some otherwise sympathetic legislators have retreated from supporting school-choice programs because they don't want to fund Islamic schools.
Such sentiments are intolerant and unwise. Islamic schools constitute a powerful antidote to the alienation from American life fostered on the Internet and by marginalized groups. More than 200 Islamic schools exist across this country, and they are growing in number and adding grades and academic heft each year. Their academic outcomes have not yet been explored in depth, but if they continue to provide high-quality instruction and robust character education, we should expect to see a new version of the "Catholic school effect."
Other democracies (including Canada and all of Western Europe) avoid conflicts about diverse schools by funding any school — whether Jewish, Hindu, Islamic or Montessori — that meets governmental norms of academic quality. Alberta even supports homeschooling. In the Netherlands, nearly 50 Islamic schools receive public funds and adhere to public accountability protocols.
Islamic schools that adhere to public standards of accountability — such as administering state or nationally normed assessments — should be funded in the United States. This is largely a matter for state legislatures, which are often constrained by state constitutional prohibitions brought to us by past anti-Catholic fervor. In fact, the recent diversification of our school systems in the form of charters, tax credits, vouchers and education savings accounts represents a return to an earlier norm, before the nativist prejudice against Catholic immigrants reshaped the structure of public education.
Support for the hopes of parents and the initiative of educators is very much in the American tradition and would be a significant vote of confidence for the Muslim American citizens whose loyalty has been often and unjustly under attack in recent months.
See more coverage of School Choice Week 2017
Ashley Berner is an assistant professor and the deputy director of the Johns Hopkins Institute for Education Policy. Palgrave Macmillan released her book, Pluralism and American Public Education: No One Way to School, in November 2016.
Charles L. Glenn is a professor emeritus of Educational Leadership and Policy Studies at Boston University. Glenn has published many books, including The Myth of the Common School and Contrasting Models of State and School. He is the lead researcher on Islamic schools for the Institute for Advanced Studies in Culture project.
Support The 74's year-end campaign. Make a tax-exempt donation now.