Armed Personnel in Every School?
Potential GOP presidential candidate spoke in Des Moines a day after Nashville's school shooting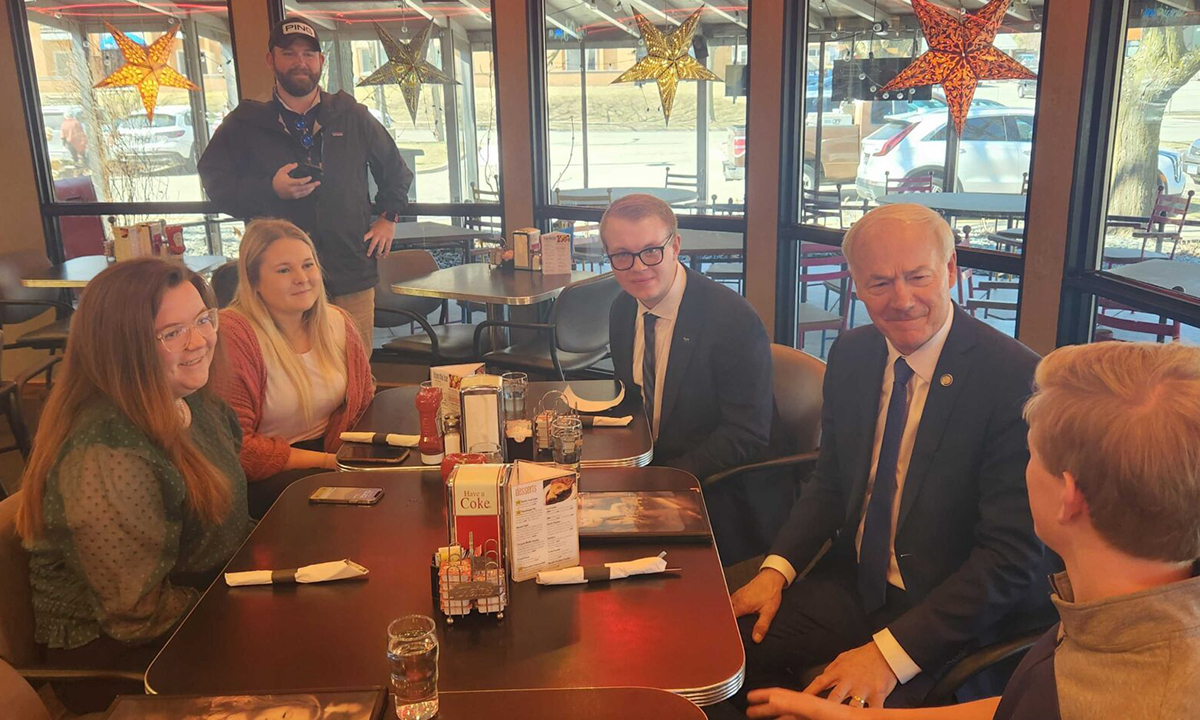 Support The 74's year-end campaign. Make a tax-exempt donation now.
In the aftermath of a school shooting in Nashville, Tennessee, former Arkansas governor and potential presidential candidate Asa Hutchinson called Tuesday for armed officers in every school.
Hutchinson, a Republican, made his comments during an event with Drake University students in Des Moines.
"My belief is that every school should have armed personnel," Hutchinson said. "Ideally, it's a school resource officer or a trained law enforcement officer, but in Arkansas we have allowed some of our rural schools to have training for the personnel there so that they can be able to respond in the event something happened."
Hutchinson made his remarks the day after an armed woman killed three adults and three students at a private school in Nashville before being killed by police.
Drake student and event attendee Ashley Johnson, speaking after the event, didn't entirely agree. "… I do think that something needs to be done to prevent violence, specifically gun violence in schools. But I do think that there are other routes that may be more successful in accomplishing that," she said.
Hutchinson, in the middle of a three-day trip to Iowa, said Monday he will announce in April whether he will run for president.
He has served in both the executive and legislative branches at the federal level. He represented Arkansas' 3rd district in the U.S. House from 1997-2001 before moving on to serve in the George W. Bush administration as administrator of the Drug Enforcement Administration from 2001-2003 and undersecretary of Homeland Security for border and transportation security from 2003-2005.
Hutchinson's varied political career was appealing to some of the Drake students who attended the event at the Drake Diner, organized by Drake College Republicans.
"I think his perspective on a lot of issues and knowing what you can and can't get done and what works in a leadership position [is valuable to a potential Hutchinson presidential bid]," Dylan Engelbrecht, a Drake student and chair of the Drake College Republicans, said. "Through those experiences, he has really good insight."
Both Engelbrecht and Johnson said they believe there is a division among Iowa Republicans between those who want a second Trump term and those who would prefer a more open field.
"I would say many College Republicans agree that we want to kind of wait and see who all gets into it," Engelbrecht said. "I think it's really good to get their perspective because sometimes they're not always the ones most covered but, you know, they're the ones willing to sit down and meet with college students."
Johnson agreed that younger Republicans are not looking backward. "I think the Republican Party has a lot of different perspectives on this, especially right now in a post-Trump era. There are some who want somebody more like Trump and definitely others who want somebody quite different," she said. "I think a lot of people, especially young Republicans, would like to see a shift in the age of governmental leadership."
Iowa Capital Dispatch is part of States Newsroom, a network of news bureaus supported by grants and a coalition of donors as a 501c(3) public charity. Iowa Capital Dispatch maintains editorial independence. Contact Editor Kathie Obradovich for questions: info@iowacapitaldispatch.com. Follow Iowa Capital Dispatch on Facebook and Twitter.
Support The 74's year-end campaign. Make a tax-exempt donation now.