As Trump Pushes to Detain Migrant Families Indefinitely, Advocates Fear Expansion of Already-Inadequate Schooling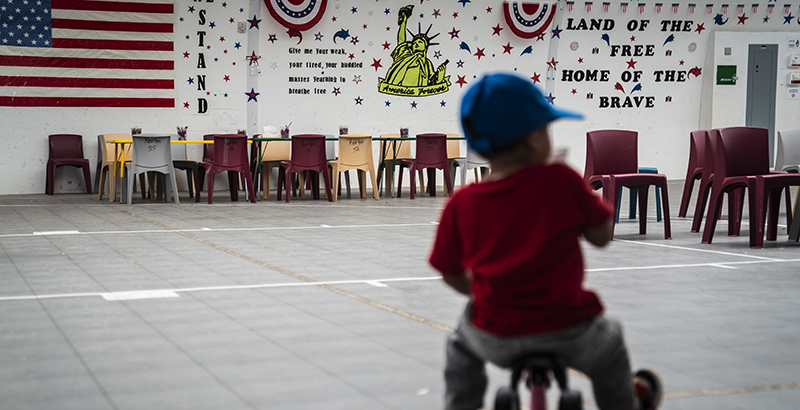 It's back-to-school season, with local news flooded with mayors and superintendents high-fiving returning students and social media feeds full of smiling kids showing off their new backpacks.
But for the migrant children in the custody of various federal agencies, the back-to-school experience is vastly different. Far from bright classrooms with new friends and eager teachers, children in detention are often faced with limited, repetitive schooling ahead of uncertain futures in this country. Now, the Trump administration has proposed keeping some of those children in detention with their families indefinitely.
At present, most of the rights afforded to immigrant children stem from what is known as the Flores settlement, a 30-year-old legal agreement that sets standards for the housing and services provided to unaccompanied children and limits the amount of time they can be held in federal custody. It has more recently been interpreted to apply to children who arrive with their parents, and because it forces parents to be released with their children, the Trump administration blames the standards in part for the influx of immigrant families from Central America.
After apprehension by Customs and Border Protection, which offers no guarantees for the education of children in its custody, children who arrive with a parent are held at Immigration and Customs Enforcement family shelters.
There, education is often limited, advocates say.
For example, at the Berks facility in eastern Pennsylvania, which has space for about 100 people, students are divided into two classrooms, one for children under 12, and the other for those 12 and older. Children describe a relatively limited curriculum that repeats roughly every six weeks. With a repeating curriculum, there's limited ability for students to advance.
And the ability to speak and understand Spanish, the most prevalent language among children and families in detention, isn't a common skill among teachers, and even less so for lesser-known languages, such as those indigenous to Central America, said Robyn Barnard, a staff attorney at Human Rights First, who has visited the facility several times.
The Flores settlement limits how long children detained by the government can stay in federal custody. Under changes the Trump administration proposed last week, families would be detained in those facilities indefinitely, until their cases are completed.
The ICE family detention centers aren't set up to house children long-term, Barnard said.
"These are prisons. They're not facilities that are set up and equipped to provide the level of care that children should receive. They're not equipped to provide the education children should be receiving," she said.
The Trump administration has said the changes are necessary to stem the flood of families from Central America.
"This rule allows the federal government to enforce immigration laws as passed by Congress and ensures that all children in U.S. government custody are treated with dignity, respect and special concern for their particular vulnerability," acting Homeland Security Secretary Kevin McAleenan said in a press release.
The regulations will go into effect Oct. 22, pending a judge's approval. Legal challenges have already been filed.
Children who arrive alone, or with adults who aren't their parents, are supposed to be moved quickly to the custody of the Office of Refugee Resettlement, a branch of the Department of Health and Human Services. Their treatment generally wouldn't change under the newly proposed rules.
The Flores settlement says migrant children should be given an "individualized needs assessment," including an educational assessment and plan. Schooling should be developmentally appropriate, given in a "structured classroom setting," Monday through Friday. Though the classes should focus on English language acquisition, they should also include science, social studies, math, reading, writing and phys ed.
What that looks like in reality, however, varies, advocates said. Facilities are run by different contractors, and rules for education can change depending on state regulations.
"There's a great deal of variation by the different contractors or networks that manage the different facilities or programs, in terms of how they're implementing the educational component of what they're required to do," said Brenda Shum, senior directing attorney at the National Center for Youth Law.
"It's been very difficult to get a full comprehensive picture of what is happening from site to site," she said.
The Administration for Children and Families, the branch of Health and Human Services that oversees these shelters, did not respond to questions by deadline.
As with the ICE centers, there is concern about repeating curriculum and insufficiency of teachers' language abilities.
"The need for a more extensive educational program becomes greater with the longer amount of time children are in the shelters," said Mark Greenberg, a senior fellow at the Migration Policy Institute who worked for the federal agency overseeing the shelters for unaccompanied children during the Obama administration. "The amount of time they're spending in shelters has gone down this springtime, but that still is only looking at averages. For some children, they are there for a much longer period." (Children were held on average for 93 days last November, down to 45 days in June, CBS News reported.)
Once migrant children are placed with sponsors or in long-term foster care, they have the right to attend local public schools the same as any other child. However, the Trump administration reportedly looked to contravene a long-standing Supreme Court decision recently and block their enrollment.
Get stories like these delivered straight to your inbox. Sign up for The 74 Newsletter