As Student Protesters Throng the Capitol, Senate Committee Pledges Safety Legislation Will Fix Parkland Vetting Gaps, Strengthen Background Checks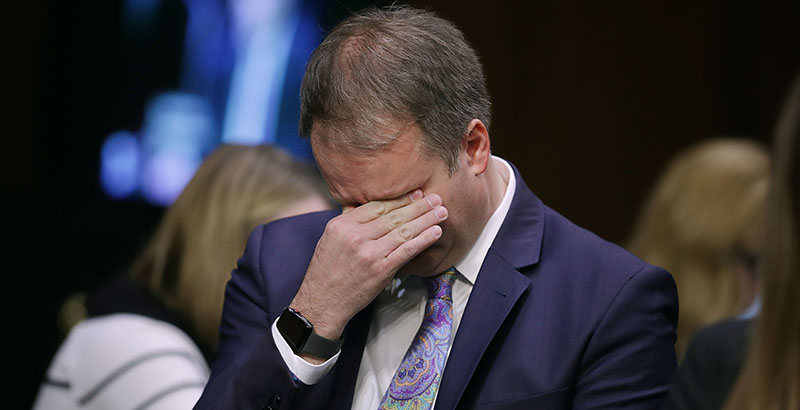 Occasional sharp questioning of law enforcement officials and the poignant testimonies of a grieving father and a teacher who sheltered her students during February's mass shooting at a Florida school framed a Senate hearing on school safety Wednesday.
There was little grandstanding but clearly different aims among Judiciary Committee members as the two parties continue to feel their way toward the difficult goal of an agreement on guns. Democratic committee members returned repeatedly to the dangers of semi-automatic rifles and the ease of purchasing weapons.
They found an ally in Katherine Posada, a language-arts teacher who was with her class when the rampage began.
"I cannot imagine a scenario in which Nikolas Cruz could have come to my school armed with a different type of weapon, such as a knife, and murdered 17 innocent people," Posada said of the accused gunman, who had been expelled from Marjory Stoneman Douglas High School the year before. "Some of the victims were shot through doors, or even walls."
Posada's remarks echoed those of Thomas E. Brandon, a former Marine who is now deputy director of the Bureau of Alcohol, Tobacco, Firearms, and Explosives. Earlier in the hearing, he said he has seen people hit by semi-automatic fire "and they were screaming."
Committee Chairman Sen. Charles Grassley led questioning another way. He and Republican senators John Cornyn and Ted Cruz argued that better vetting by the FBI and local authorities might have helped avert the tragedy in Parkland, Florida, that sparked nationwide student demonstrations Wednesday honoring the victims and demanding stricter gun control.
On January 5, less than six weeks before the murderous spree, a national FBI hotline in West Virginia received a tip that the 19-year-old Cruz was unstable and capable of "conducting a school shooting." The information was not passed forward to the agency's Miami office.
"We could have and should have done more," acknowledged FBI Deputy Director David Bowditch. "While we'll never know if we could have prevented the shooting, we should have done more." When pressed by Ted Cruz and others, he seemed to suggest that no one at the FBI had yet been disciplined for the missed warning.
The Broward County Sheriff's Office also received tips prior to the shooting, but Sheriff Scott Israel declined to appear at the hearing. "I've seen that sheriff all over television discussing the shooting, so it's disappointing that he has refused to speak to the country through his testimony before this committee," Grassley said in prepared remarks.
A Broward County judge entered a plea of not guilty on Cruz's behalf Wednesday after he stood mute at his arraignment. Prosecutors have said they intend to seek the death penalty, rejecting offers by Cruz's public defenders for their client to plead guilty in exchange for multiple life sentences.
Ryan Petty, whose funeral address for his daughter Alaina was covered nationally, urged senators to focus on what they had in common. In written testimony he said Americans "aren't interested in surrendering or curtailing their Constitutional [gun] rights" but share a common interest in safe schools and communities.
He called a compromise gun safety bill, passed in Florida last week despite opposition from the National Rifle Association, "a real and substantive legislative and policy achievement" that was "earned at an unimaginable cost."
The $400 million Florida legislation doesn't ban assault-style rifles or high-capacity magazines — steps being called for by the student activists behind National Walkout Day — but it raises to 21 the minimum age for purchasing a gun, establishes a waiting period, and prohibits bump stocks, which enable faster firing.
The bill also allows some staff, though not classroom teachers, to be armed in schools.
Grassley says he would like to pass bipartisan federal legislation; it would likely need to reflect far less compromise than did the new provisions in Florida, once known as the Gunshine State, where the pressure for change has been enormous.
Grassley and Cruz recently introduced a proposal that would improve the quality of information entered into the FBI's database for background checks, amp up prosecution of those who try to buy guns illegally, and better fund security for schools. Grassley also wants to make wider use of threat assessment protocols developed by the Secret Service.
The Republicans' emphasis on pre-emptive identification of bad actors in gun shops and big-box stores seems destined to be part of any bill; not so the Democratic push to prohibit semi-automatic rifles like the AR-15, which was used in Parkland and many other mass shootings, including Newtown, Las Vegas, and Sutherland Springs. Extending background checks also seems unlikely.
For Petty, who brings a Job-like quality to his appearances, government solutions are necessary but not sufficient.
The best defense, he said, "is in building up strong families where love can be shown to a hurting child. It is in the care we show to a struggling or overwhelmed neighbor. It is in the charity we extend to a stranger. It is in the comfort we give a wounded heart."
Support The 74's year-end campaign. Make a tax-exempt donation now.