As Outside Spending & Attacks Reach All-Time High, LA School Board Candidates Say Race Is Out of Their Control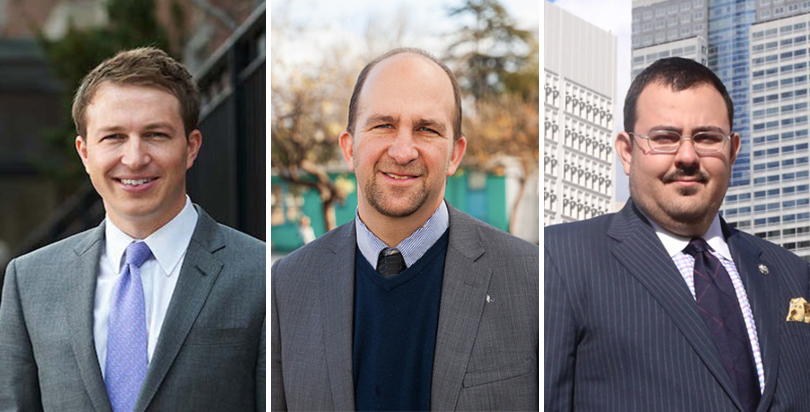 Negative campaigning has reached an all-time high as the nation's most-watched school board race enters its final month.
And all four LA Unified board candidates don't like what's being said in their name. The independent organizations, including unions and charter groups, that are campaigning for — and against — them have no involvement with the candidates themselves, and by law, candidates can't control those messages.
What's at stake is the potential to tip the seven-member school board to a pro-reform majority. The current board's sympathies were clearly on display this week as the board voted 4–3 to support state legislation backed by teachers unions that limit autonomies given to charter schools.
School board president Steve Zimmer, running for re-election in District 4 in the May 16 general election, and Imelda Padilla, running for the open seat in District 6, are supported by the local teachers union, United Teachers Los Angeles, and other labor groups. With two charter-backed members already on the board, wins by reformers Nick Melvoin in District 4 and Kelly Gonez in District 6 would change the makeup to a 4–3 pro-reform board.
"I deplore negative campaigning; all negative campaigning crosses a line," Zimmer said. "I pray more that no one who is supporting me will do that, because whatever is done to me somehow, some way, I will endure. But I have a harder time living with what's done under my name. I hope people recognize that, and understand that it's not who I am. It's not who I want to be about no matter what's done to me."
Melvoin is equally against negative campaigning and calls the outside campaign money "corrosive to our democracy." He wrote: "Outside groups can spend unlimited money on campaigns, and face little regulation. Libel laws are ineffective, images and text can be appropriated without consequence, and flyers can be disguised to look like they come directly from campaigns themselves, or worse, from non-partisan non-political sources. In our race for school board, there's already been over $2 million in outside spending, most of it negative."
(More about L.A. schools: City's School Board Puts Money and Lobbying Muscle Behind State Legislation Drafted to Shackle Charter Schools)
Next Saturday, May 6, all four candidates have been invited to meet in a forum at the United Way of Greater Los Angeles's downtown headquarters. With just under four weeks of campaigning to go, $2.6 million has been spent on negative ads, compared with $1.1 million in the 2015 race and just under $1 million in 2013.
In District 4, candidate fundraising in both the primary and general elections is closing in on $1 million, while independent expenditures are nearly $5 million. In District 6, candidates have raised $355,000, and independent expenditures are nearly $2.4 million.
In the primary election, according to the City Ethics Commission, negative campaigning against Zimmer was nearly 10 times the amount against Melvoin, fueled in large part by former Los Angeles mayor Richard Riordan's group LA Students for Change. Outside groups spent $1.59 million against Zimmer, while unions spent $179,000 against Melvoin.
So far in the general election, $177,000 has been spent against Zimmer by charter-backed groups, while teachers unions have spent nearly $92,000 against Melvoin.
In the primary election, no money was spent against Gonez by outside groups. More than $125,000 was spent against Padilla by the California Charter Schools Association and related groups.
In the general election so far, about $89,000 has been spent against Gonez by teachers unions; $89,600 has been spent against Padilla by CCSA groups.
Zimmer predicted that negative campaigning will get uglier in both school board races. "I can't talk to them about it, but I've put out very, very clearly that I am against negative campaigning no matter what."
Zimmer said he doesn't like some of the ads that are against his opponent but said, "It's very, very different from what was done to me, because it got very personal. I'm afraid, frankly, that because of the level of the trolling and the level of distortion and the level of hate that was directed at me, I'm very afraid that the independent expenditures on my side in this general election will resort to those things. That scares me; I don't want that done in my name in any way, shape, or form."
In the District 6 race, the negative ads from CCSA were targeted at former state assemblywoman Patty Lopez, who came in third place, and Padilla. One of the mailers criticized Padilla for resigning from the Sun Valley Neighborhood Council, and another showed that she missed meetings for the LA County Commission on Women and Girls and posted on Twitter about television shows on the days she missed meetings.
Roy Behr, Padilla's campaign consultant, said, "It shows that Kelly's supporters really don't believe they can win this on the issues. If they're going to spend time talking about tweets and irrelevant meetings, then it suggests that on the issues and on who's best for kids in the district, they're going to lose that fight."
Behr said Padilla resigned from the neighborhood council after she began working for City Councilwoman Nury Martinez to prevent an appearance of a conflict of interest.
"It doesn't have anything to do with the kids in this district," Behr said. "You can see that in the primary we talked only about Imelda's record fighting for kids and families in the district and her connection to the district. That is a contrast with Kelly's record."
Since the primary, UTLA has funded a negative ad against Gonez, claiming she registered as a Republican. Gonez's campaign spokeswoman Megan VandenBos said she hasn't seen any evidence that Gonez registered as a Republican and said she is currently a registered Democrat.
"It's pretty ridiculous to suggest that she's a Republican at this point," VandenBos said. "Obviously her priorities as she has campaigned are Democratic in nature in terms of wanting to invest in teachers and really empower them."
She also pointed out that Gonez served in the Obama Administration.
VandenBos said she can't speak to any decision that might be made in the future, but she said Gonez's campaign has been focused on sharing her experience and her vision, which voters find "very compelling."
"Overall, it's obviously lamentable that so much money has been spent on negative campaigning," VandenBos said, adding that it distracts from issues such as how to improve schools.
Get stories like these delivered straight to your inbox. Sign up for The 74 Newsletter