As NY Lawmakers Mull Budget to Expand Charter Schools, Fears of Federal Cuts May Shift Political Alliances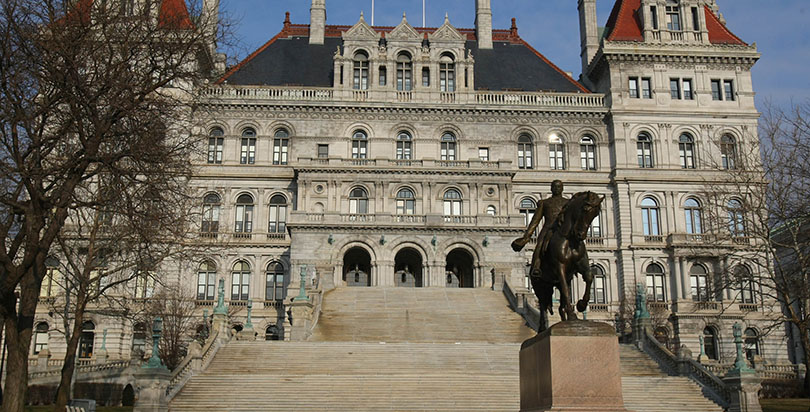 Updated, April 10: New York Gov. Andrew Cuomo announced a new $153.1 billion budget last Friday, a week after its April 1 deadline. The headline items include free tuition at state public colleges for students whose parents earn less than $125,000 and a provision that would establish 18 as the age when young people can be tried as adults — up from the current minimum of 16.
Cuomo also boosted spending on education to $1.1 billion, an increase of 4.4 percent, while charters will receive a boost in rental assistance and spending this year — and will receive the same increases in the future as traditional schools do. The cap on charter schools remained in place.
A one-year extension of mayoral control in New York City was pulled from consideration. Senate Republicans, who have oppose Mayor Bill de Blasio since he campaigned against them in 2016, want to revisit the issue later in the spring.
A slate of charter school–friendly proposals is on the table as New York lawmakers work to hash out a state budget deal by midnight Friday — a process much thornier than usual because of looming federal aid cuts.
Traditionally, the Republican-dominated state Senate has backed Gov. Andrew Cuomo in his support for charter schools, while the Democratic-led Assembly and New York City's mayor, Democrat Bill de Blasio, have opposed his policies. But this year may be very different, said Jeffrey Henig, professor of political science and education at Teachers College, Columbia University.
"Education politics is all part and parcel of a broader political set of conflicts and issues," Henig said. "It's going to be a question of how much federal support, and with what kind of strings, is going to come down, not just around charters and vouchers, but also broadly. Those are the battles where I think New York state actors broadly may find themselves sharing a common interest against the Trump and national Republican budget and education initiatives."
Cuomo's budget proposal would eliminate the cap on new charter schools in New York City, which allows for only 30 more, and instead have the city draw from the statewide pool, which has 126 remaining.
His plan would also:
Boost per-pupil state aid for charter schools by allowing a 2014 freeze to expire.
Increase by $6 million, or 18 percent, the $39 million "transitional aid" fund that helps districts outside New York City make per-pupil payments to charter schools.
Raise rental assistance for city charter schools not housed in public school buildings from 20 percent of per-pupil funding to 30 percent, according to Chalkbeat.
The governor's budget also includes a three-year extension of mayoral control of New York City schools, which de Blasio has sought since he took office. It was unclear whether the prospect of a three-year extension — rather than a one-year extension, which was all the Senate would allow last year — would ease his opposition.
Neither the mayor nor the governor responded to requests for comment.
At a joint legislative hearing in January, de Blasio said having room for 30 more charters in the city is "ample."
"There is no need to raise the cap at this time," he said.
But charter school enrollment in the city has grown steadily in recent years, with 106,600 students, about 10 percent of the public school population, attending charters, according to the New York City Charter School Center. Roughly 44,400 children are on wait lists, the center said.
De Blasio also charged that Cuomo's plan would shift $198 million in state aid from the city Department of Education to charter schools. Indeed, the Independent Budget Office found that the plan could put the city on the hook for an additional $159 million to $220 million next year.
Assembly leaders agree with the mayor on the charter cap and facilities aid, and they're calling for improving charter school transparency and accountability. In Albany on Monday, the United Federation of Teachers, a key de Blasio ally, turned out hundreds to rally in favor of increasing state aid to district schools and other shared priorities with the Assembly.
The Senate is mostly in line with the governor but would go further: Its own plan would lift the cap altogether, make charter schools eligible for building aid, and increase the pool of available charters if a charter school closes.
Senate Majority Leader John Flanagan and Assembly Speaker Carl Heastie did not respond to multiple requests for comment.
Lawmakers have until midnight Friday to reach a deal, but Cuomo on Tuesday floated the possibility of passing a "budget extender" to keep the state operating until the implications of federal cuts — which he said could exceed $1.2 billion — are clearer.
---
---
Get stories like these delivered straight to your inbox. Sign up for The 74 Newsletter