College Bust — Or Boom? As Enrollment Falls and Campuses Shutter, a Surprising Number of New Schools are Opening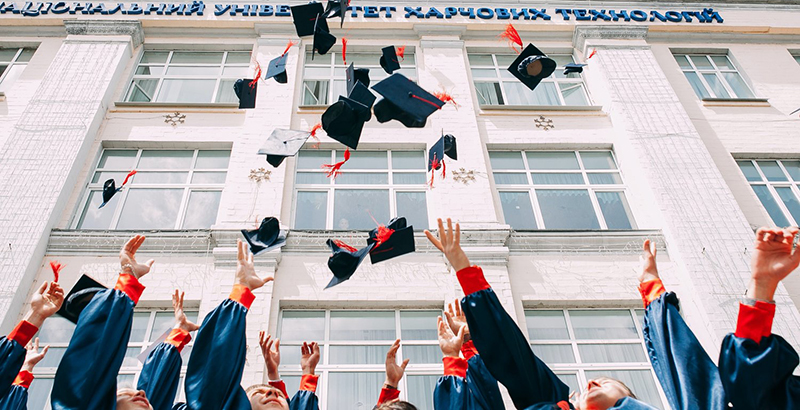 Support The 74's year-end campaign. Make a tax-exempt donation now.
Portland, Maine
The ergonomic chairs, glass-walled conference rooms, ubiquitous technology and smell of new carpets and fresh paint scream well-funded startup.
And that's what the Roux Institute is: a brand-new university campus backed by $200 million of donated money.
The institute, which opened last year in borrowed space with sweeping views of Casco Bay in Portland's fast-developing East End, is offering master's degrees, certificates and professional training in computer science, data analytics, artificial intelligence, biotechnology, cybersecurity and other subjects.
These are hot fields in a state with a growing tech sector that employs 12,140 people, but whose existing colleges and universities collectively produced only 103 computer science graduates with bachelor's degrees or higher in 2017 — the last year for which the figures are available — including just 10 with master's degrees.
"Nobody was servicing the need," said Chris Mallett, the chief administrative officer.
At a time when other higher education institutions are closing or merging because of a decline in the supply of high school graduates, the Roux is among a small but largely unnoticed number of new colleges that are opening.
Some are focusing on high-demand disciplines such as technology, health and alternative energy. Others are serving the huge number of older, working Americans who never went to college or didn't complete a degree. Still others are trying to remake higher education with new models that forgo top-heavy bureaucracies and expensive campuses — models that in some cases don't look like conventional colleges at all.
All three strategies are in large part a reproach to traditional higher education, which has often failed to provide the right programs to the people who increasingly need them.
It seems a bad time to start a university or college. Postsecondary enrollment has been falling since 2011, with particularly big dips last year and this, according to the National Student Clearinghouse Research Center. In the last five years, more than 60 conventional colleges have closed, merged or announced they will close, including at least 13 since the start of the pandemic.
"You get the combination of 'That's so brave of you,' 'It's admirable' and 'You're crazy,'" Michelle Jones said of people who hear that she founded a new associate degree-granting college — Wayfinding College in Portland, Oregon.
Cost and red tape, including accreditation requirements, make it hard to start postsecondary institutions from scratch, and some that are planned have quietly moved back their opening dates.
But several have opened or are about to debut, some as independent experiments and others as offshoots of existing universities and colleges.
The Roux, for instance, was started after a Maine native, David Roux, chairman of the private investment company BayPine and cofounder of the technology-focused private-equity firm Silver Lake, offered $100 million to create a technology-focused university in his home state. A Maine-based foundation kicked in another $100 million.
Roux and his wife, Barbara, approached a dozen existing institutions and ultimately teamed up with Northeastern University to run the project, which was given temporary space in a tech company building on the Portland waterfront while it awaits the renovation of a historic B&M Baked Beans factory into its permanent campus. It reports enrolling 313 students this semester.
Foot traffic increases in the Portland space as night classes near for students who work during the days. There are high-tech glass-walled classrooms and a balcony with a view of passing fishing boats and ferries and corporate offices and condos under construction nearby. Inside, rough sheetrock is going up to create lab space, and there are still-unopened boxes of furniture.
Northeastern has also started campuses offering business and technology credentials in other cities with high demand for them but scarce supply, including Charlotte, North Carolina, and Seattle.
Also in Maine, Unity College plans to launch the Technical Institute for Environmental Professions in the spring at a new campus that will award certificates and associate degrees to people who want to work in fields such as solar power. Demand for workers in solar is expected to nearly double by 2030, according to an industry census.
Bristol Community College in Massachusetts is converting a former seafood packaging plant into an offshore wind institute scheduled to open next spring. The number of workers needed in the offshore wind energy industry will also nearly double, by 2025, to 589,000, and increase to 868,000 by 2030, the consulting firm Rystad Energy estimates.
---
"Everybody agrees that our higher education system is broken. They might disagree about what needs fixing first. But everyone is aware of the brokenness."
—Michelle Jones, founder of Wayfinding College in Portland, Oregon
---
Some of these new efforts are dramatically different from traditional higher education experiences, and their focus is almost entirely on nontraditional students.
The Rivet School, with campuses in San Francisco, Oakland, San Jose and Richmond, California, provides personal coaching, financial aid, dedicated workspaces, group study sessions and career counseling to 164 adult students — a large proportion of them working and more than half of them parents or caregivers, the founders say — who take courses on their own schedules from two accredited nonprofit online universities.
Students graduate with a certificate of completion from the Rivet School. To them, it's a college — the conduit through which they get degrees, even though the degrees are in the name of one of those two universities.
A program with intensive advising similar to the Rivet School's, called Duet, in Boston, resulted in graduation rates that were double the state average, with no racial disparities, while cutting the cost of college in half, a Harvard study found. Duet students earn degrees online from Southern New Hampshire State University
"There's a huge opportunity to rethink what the college experience looks like for all types of students," said Jeff Manassero, the Rivet School's executive director. "We've tried to reimagine it for working adults."
At least 36 million Americans have started but never finished college, the National Student Clearinghouse Research Center calculates. That's a market nearly 10 times bigger than the number of people who graduate from high school every year. Already, a quarter of undergraduates are 25 and older, the U.S. Department of Education reports.
But many of these adult students complain that conventional colleges fail to help them balance school with families and jobs.
"It was very much like a factory they put you in and put you through," said Chris Clausen, who started college after high school but never finished and now, at 29, has returned to take courses at the Rivet School toward a degree in business management.
In a knit cap and long-sleeve raglan T-shirt, Clausen was hovering over his laptop in the co-working space that serves as Rivet's Richmond outpost, not far from the shipyard where women were recruited into service during World War II by a poster featuring the fictitious Rosie the Riveter, from whom the school took its name.
Working women and men alike need a way to finish their degrees, said Maria Ortega, 27, another student who was catching up on her homework there and who also works part time helping applicants through the admissions process.
Ortega started at a university right out of high school but quit after a year and a half.
At least 36 million Americans have started but never finished college.
"I did not feel supported. It wasn't that it was hard to navigate; the professors post their office hours. It was just that when you were in their office hours they seemed like they were in a rush," Ortega said.
Longstanding institutions like the one she left "are missing out. If they would pay attention to demographics like mine, they would be seeing so many people."
The Rivet School itself consists of an office big enough for four desks, a minifridge and some bookshelves. A coach was meeting with a student virtually behind a glass door decorated with a decal of a stylized Rosie the Riveter.
Thanks to one-on-one counseling like this, the dropout rate is a third lower than at conventional universities and colleges, according to figures provided by the school.
"There's just a lot of hurdles in traditional colleges — financial aid and choosing classes and picking majors," said Chardonnay Hightower-Collins, another college coach at Rivet. "That's why we exist. We're filling the gaps from traditional colleges."
Back east, in Pennsylvania, college and university enrollment has declined by 22 percent in 10 years — so much that the public university system is combining six of its campuses into two regional institutions. Yet one Pennsylvania county in September opened its own new community college.
Erie County Community College, or EC3PA, has used federal pandemic funding to make tuition free and is offering courses and services virtually and in person at a vocational high school, branches of the county library system and an education center run by nuns.
"We're never going to build some 800-acre campus," said Chris Gray, founding president.
EC3PA, too, focuses on students who its advocates say are not well served by existing universities — working adults with children, for example, or whose own parents never finished college.
"What made me pack up my family and move and take a risk at a time enrollment's been horrible is that we have to rebuild this system from the ground up and tear down those things that keep traditional higher education so elite," Gray said.
The county seat, the city of Erie, includes the poorest ZIP code in the United States; the median income is $10,873. Gray said he'd just gotten off a call with a prospective student who works at a McDonald's and has no permanent address.
"We're going to take the toughest students that no other institution would even look at," he said.
Two conventional Pennsylvania institutions have also added new schools and campuses. Lehigh University last year opened its first new college in half a century, a school of health that will teach such things as using data science to track and treat disease. And Harrisburg University of Science and Technology has spun off a campus in Philadelphia to teach computer science, interactive media and management, entrepreneurship and business administration.
---
"There's a huge opportunity to rethink what the college experience looks like for all types of students. We've tried to reimagine it for working adults."
—Jeff Manassero, executive director, the Rivet School
---
"We're gluttons for punishment," said Harrisburg President Eric Darr, laughing. "You think about probably the most competitive higher education markets on the planet, you could probably pick Boston or Philadelphia."
But his university found it was accepting Philadelphia high school graduates who couldn't afford, or didn't want, to come to its campus in Harrisburg. So it took the education to them.
"Yes, there are world-class universities in Pennsylvania with hundreds of years head start on us. But they don't focus on these kinds of students," Darr said. "So we saw an opportunity, but we also saw a need."
The campus has about 60 students who, Darr said, otherwise "would not have gone to college. They would not have gone anywhere." Strapped for enrollment though they are, he said, other institutions "do overlook potential students right in their own back yards."
Wayfinding College co-founder Jones previously taught organizational behavior and leadership at Concordia University Portland, which closed last year because of growing debt and declining enrollment. Even before Concordia shut down, she and others raised $200,000 to open Wayfinding, which offers one major, called self and society, meant to help students decide on what they want to do in life. It's about to add a second major, in social change and civic action, which Jones said "seems like a thing the world needs, but there's not a lot of programs that connect people to that career path."
Wayfinding has 25 students — 70 percent of whom started but never finished at traditional universities, Jones said — making it part of a so-called micro-college movement that rejects huge, impersonal universities, even at a time when small colleges are struggling because of poor economies of scale.
Flagstaff College in Arizona, for example, also has only one major, sustainability and social change, and operates out of space on a community college campus. Other micro-colleges in various stages of development include Outer Coast in Sitka, Alaska, housed on the campus of a conventional college that closed in 2007, and Thoreau College in Viroqua, Wisconsin. These schools also have smaller staffs and lower overheads, with administrators often taking on several roles.
Two women, a former professor and a former nurse who earned a legal degree, are raising money to open a full-scale higher education institution in Seattle by the fall of 2023 called Wright University, which they say will employ and enroll people "historically excluded by academia" and have courses in 29 undergraduate and graduate disciplines.
These kinds of places are "for folks who for whatever reason, and there are a lot of them, wouldn't thrive in the traditional college model but still want college — students who are left out and fall between the cracks and are often ignored or discounted," said Jones.
"Everybody agrees that our higher education system is broken," she said. "They might disagree about what needs fixing first. But everyone is aware of the brokenness."
Conservative founders and supporters of another just-announced institution, the University of Austin in Texas, say they will open next summer as a counterbalance to "illiberalism."
Other institutions are moving forward with enhancements that will help them keep attracting students.
Wright State University in Ohio in September brought together health-related and education programs into its first new college in 30 years to focus on high-demand fields such as nursing and physical, mental and emotional health.
The University of Denver in October announced a new 724-acre campus in the Rockies to run outdoor activities for its students and programs in sustainability, environmental sciences and geography that were constrained by its existing urban location.
At a time when much of higher education is retrenching, "What we've done is put a stake in the ground and said our future will rely heavily on excelling and standing out in the crowd in that student experience," said Jeremy Haefner, the chancellor.
"This is our blue-ocean strategy," said Haefner. "It's a sense of confidence and optimism that these changes in higher education don't faze us — that we have a very solid strategy moving forward."
It isn't easy to start a college. Unity's new campus was scheduled for a September opening, which has been pushed back to the spring. A performing arts college planned by the nonprofit Norwalk Conservatory of the Arts in Connecticut announced plans to open in August 2022, but that has now been moved to 2023.
Nonetheless, Hightower-Collins, at the Rivet School, thinks the momentum will continue.
"That's just the nature of the world at this moment," she said. "We're finding all kinds of gaps in society, and you see so many startups popping up to address those problems."
This originally appeared at The Hechinger Report and is published here in partnership with the Solutions Journalism Exchange.
Support The 74's year-end campaign. Make a tax-exempt donation now.