As Educators Grapple With COVID-19 Challenges, Supporting Undocumented Students & Families Must Be a Priority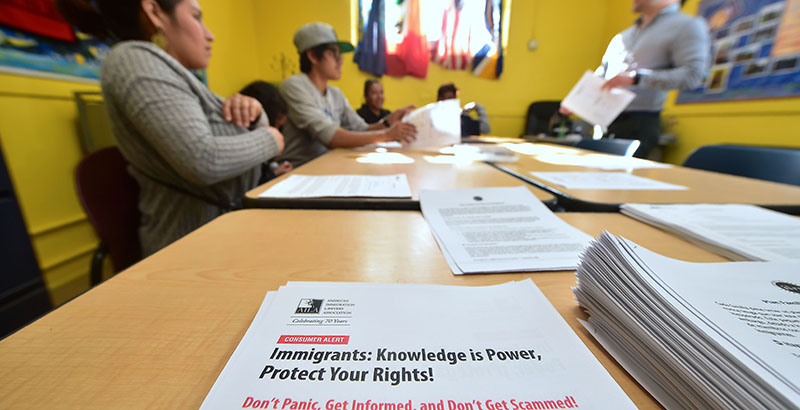 Last month, one of my former middle school students sent me a message on Instagram: "Miss, Hi! I wanted to ask you…do you have any information on food resources for my family? My mom isn't sure where we can go, we are struggling right now and we need to feed our family. I know you work with immigrant families in schools so I wanted to­ ask."
I taught this student three years ago in the seventh grade — we used to have lunch together almost every other day. We worked on bulletin boards, organized the classroom for my next classes and completed extra credit assignments. Now a 10th-grader in Queens, New York, my student is grappling with the impact of the COVID-19 pandemic while living in the epicenter of this crisis and being a part of a mixed-status immigrant family — her 10-year-old sister is a citizen, while she and her parents are undocumented.
She watched her parents, who work as a cook and a server in local restaurants, lose their jobs as New York eateries shuttered amid the pandemic. And after the city's schools closed last month, she began engaging in virtual learning. In between classes, she translates for her family, manages bills that they will not be able to pay this month and bravely seeks support from those she trusts. She is one of the 3.9 million students who are undocumented or have an undocumented family member in K-12 schools across the country.
The COVID-19 pandemic has heightened the vast inequities experienced by immigrant families across our nation. As educators and schools take on a new world of schooling in the time of COVID-19, they must center their response on the needs and resilience of the communities they serve. Research indicates that students' physiological and safety needs must be met before any learning can happen, a reality intensified by the current pandemic.
Undocumented families need their support now more than ever as they are currently unable to access federal relief programs and may be fearful of accessing health care due to their status. Educators and schools across the nation have a responsibility to serve, protect and support our undocumented students and families in this time of crisis.
Now that schools are temporarily closed and virtual learning has begun, undocumented students and families are relying on the trusting relationships they have developed with educators. My organization, ImmSchools, an immigrant-led nonprofit working in the intersection of immigration and education in K-12 schools, is urging educators to adopt the following practices in support of our undocumented community.
Adopt a trauma-informed lens in virtual learning
Undocumented families are experiencing unique challenges like the fear of accessing health care and losing their jobs without any form of relief. This deeply impacts their ability to seek resources and supports. When engaging with students and families in virtual learning, educators must understand and adopt trauma-informed practices — like being lenient with assignment deadlines and behavioral compliance, in favor of relationship-building and promoting well-being. To help with this, they can gather resources from organizations like Teaching Tolerance that have compiled trauma-informed practices to adopt during COVID-19. Other practices include addressing and discussing the rise in hate crimes against those of Asian descent and developing a sense of safety through touch points with students and families.
Stay informed
It is critical that educators learn what services are available to families in their city and know if those services are open to all regardless of immigration status. Many federal, state and local efforts have been developed in the past few weeks to support families. Unfortunately, many require a Social Security number or citizenship status to access relief and resources. As educators are accessing resources, always look out for citizenship requirements.
Educators can begin researching resources by reaching out to local immigration organizations and creating a running list, such as the one found here. Bookmark this list and share it with fellow educators inside and outside of your school community.
Share resources with families in multiple languages
The undocumented community in our schools is incredibly diverse. There are more than 575,000 undocumented black immigrants and 525,000 undocumented Asian immigrants. The resources educators provide must address the intersection of education and immigration, and be in the various languages spoken in their school community. Resources from Informed Immigrant, for example, detail financial support for immigrants impacted by coronavirus. Another resource, Talking Points, offers translation support for educators, and IACT offers information on COVID-19 in eight languages.
As educators gather these resources, share them via phone calls, emails or texts to all students and families. An example can be to create a WhatsApp group or to launch mass calling campaigns to share key resources or messages. Ask students and families what resources they may need during this time. Some of the resources to highlight can include food access in your city, workers' rights and coping with mental health and anxiety.
Implement immigrant-friendly policies
Educators must create systems to lend and provide resources, such as food and technology, that are inclusive to undocumented families. Many undocumented families do not have government-issued identification, Social Security numbers or credit histories. When creating a system for lending out laptops or picking up lunch, school districts and schools should not require any form of identification in exchange for receiving those services — including a city ID, library card or passport from one's home country.
As districts grapple with the reality of inequitable access to Wi-Fi and technology, many have begun to create partnerships with internet providers to bring connectivity directly to families at home. When coordinating this Wi-Fi access, it must be clear whether a Social Security number or credit card will be required for families to receive internet services in their homes. These types of requirements often prevent many undocumented families from accessing supports. In communicating with families, educators should be clear on requirements and seek out partnerships and opportunities that are open to all, regardless of immigration status.
Inform families about their health care rights
Many immigrant families question their ability to access health care services as a result of the Public Charge rule, which reduces the number of people who are eligible for green cards and other visas, by redefining what makes them dependent on government benefits — or "likely" to be in the future. Therefore, it is critical that educators proactively share with families that testing and treatment for COVID-19 virus will not count as a part of the updated Public Charge rule. Families should seek medical assistance and be tested for the virus regardless of immigration status. Depending on your state or city, immigrant families may be able to receive financial assistance to cover their testing as well as treatment of COVID-19.
Lastly, immigrant families must know their rights if they fear seeking medical attention due to the fear of deportation. According to the Department of Homeland Security's Sensitive Locations Memo, Immigration Custom Enforcement (ICE) is not to carry out enforcement in sensitive locations, which include schools and hospitals. Health care workers should not inquire about a family's immigration status, and families have every right to keep their status confidential.
Advocate and support
Educators can sign petitions and donate to support organizations that are advocating for greater resources for undocumented immigrants and those in detention centers around the country. As educators, you have power; your experience working with our undocumented community and supporting them is key to advocacy efforts in pursuing a more just immigration system.
Recognize their resilience and power
Our immigrant community is filled with resilience and power. Undocumented families have endured so much in a country that often dehumanizes and criminalizes their existence. Yet they continue to seek out resources and support despite systemwide failures. Their bravery and strength must always be recognized and admired as schools and educators create safe and inclusive practices to support them.
Viridiana Carrizales, ImmSchools co-founder and CEO, and Lorena Tule-Romain, ImmSchools co-founder and chief strategy officer, contributed to this piece.
Vanessa Luna is a co-founder and the chief program officer of ImmSchools. She is a former DACAmented teacher who taught middle school social studies in Los Angeles and New York City. Vanessa, Viridiana and Lorena co-lead ImmSchools as formerly undocumented immigrants working toward immigrant justice and educational equity.
Support The 74's year-end campaign. Make a tax-exempt donation now.