As Congress Weighs John King's Nomination, Acting Secretary Urges Action on Career and Tech Education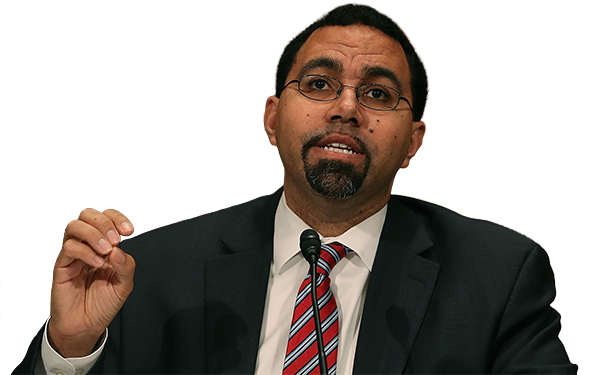 Acting Education Secretary John King Wednesday pushed Congress to reauthorize and improve career and technical education as the very members responsible for doing so were considering — and in some cases voting on — whether he'd get a permanent appointment to his job.
King visited Baltimore's Digital Harbor Foundation, a community tech learning space that beginning in third grade provides science and technology enrichment programs for children, to unveil a new career and technical education grant program and prod Congress to reauthorize the Carl D. Perkins Act, the federal law governing career and technical education.
Mere hours before the Baltimore event, the Senate education committee voted 16-6 to advance King's nomination to the Senate floor, where all members will vote on the nomination in the coming weeks.
Although King's nomination advanced by a relatively wide margin and he got support from senators from both parties, there wasn't universal love for the nominee.
Sen. Elizabeth Warren, Democrat of Massachusetts, said she'd support King's nomination in committee but not on the Senate floor until she is satisfied with how he'll change how the department deals with student loans.
Warren has long been an Obama administration critic on the issue. She didn't question King's qualifications, but criticized the department as a whole Wednesday for failing to shut down fraudulent colleges and provide debt relief for students who attended.
She also said the department hadn't taken sufficiently punitive actions against Navient (formerly known as Sallie Mae) for charging active duty military members illegally high interest rates on their student loans. The Justice Department in 2014 reached a $60 million settlement with the company over the issue.
"It is painfully obvious that the trillion dollar student loan bank inside the department does not put students first," she said.
Sen. Michael Enzi, Republican of Wyoming, along with five of his Republican colleagues, voted against advancing King's nomination.
"I didn't see him solving problems in the department. I know it's important to have somebody at the head of the department that's in charge rather than acting, but I wasn't convinced he was the right person," Enzi said.
The criticism perhaps wasn't a surprise, given the tough questions King received during a confirmation hearing last month from committee Republicans regarding the federal role in pushing the Common Core, and from Warren on college loans.
It's also worth noting that the Capitol is not a very hospitable environment for Obama administration nominees at the moment as the parties intensify their fight over filling the Supreme Court vacancy created by the death of Justice Antonin Scalia in the shadow of a heated presidential election.
The committee's leaders, though, rushed to back King.
Sen. Patty Murray, the panel's top-ranking Democrat, emphasized that King has her "strong support" and "has really demonstrated a longstanding commitment to fighting for kids."
Committee Chairman Lamar Alexander said it's vital to have someone accountable to the Senate in leadership of a federal department, particularly as the department begins work implementing the new Every Student Succeeds Act.
King was initially appointed to the position in an acting capacity following the resignation of longtime secretary Arne Duncan.
"I don't agree with all of Dr. King's views," Alexander said. "But the president did what I urged him to do [and formally nominated King to the position.] I promised that we would have a prompt and a fair consideration, we've done that."
King also met with Majority Leader Mitch McConnell, who will set the schedule for a final vote on King's nomination. McConnell's office said in a release the two discussed implementation of the Every Student Succeeds Act, and that a vote had not yet been scheduled.
Perkins Priorities
The Perkins Act, the federal law providing grants for career and technical education in grades 7-12 and at the postsecondary level, was last reauthorized in 2006.
"Today's CTE is about the future you can't prepare for with just a textbook…One thing is clear—it's not your grandfather's shop class," King said Wednesday in Baltimore, according to prepared remarks released by the department.
He reiterated the Obama administration's priorities for the reauthorization, first released in 2012, when the law originally expired:
Alignment with the current labor market.
Better collaboration among high schools, postsecondary institutions and business interests.
"Meaningful accountability" to improve career and academic outcomes for CTE students.
Local and state innovation in career and technical education.
The programs under the bill received about $1.1 billion in each of the last two years, the vast majority of which goes in grants to states. Funding reached a peak in 2007 at $1.3 billion, according to National Association of State Directors of Career Technical Education Consortium.
Just as Congress acted in 2015 to reauthorize No Child Left Behind for a new era, "we need a new law for a new era in CTE," King said. "It's been a bipartisan priority, and I am confident we can accomplish it in a bipartisan spirit."
King also announced the CTE Makeover program, a grant competition that will divide $200,000 among 10 schools to remodel unused space into technology learning spaces like Baltimore's Digital Harbor Foundation.
Get stories like these delivered straight to your inbox. Sign up for The 74 Newsletter