As a Navy Vet and Teacher, I Know Failure Is Not an Option. My Students Know That Too — and It's Helped Them Grow, Persevere & Succeed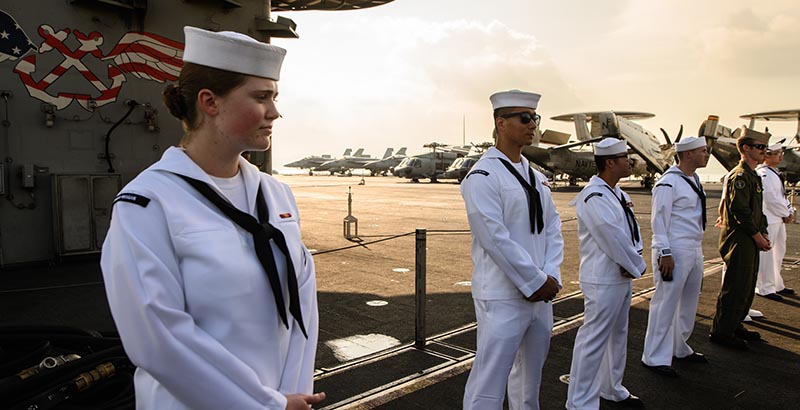 When most of us think of middle school, we likely think about chaos in the classroom. We certainly don't picture sixth-grade students in the driver's seat, setting their own goals, mentoring peers, and prioritizing how they're going to work that day. But that's what happens every day in my classroom at Aspen Valley Prep.
When I was in the Navy, I traveled to countries all around the world, where I witnessed many methods and approaches toward teaching. Later, as a Navy wife, I was privileged to be stationed with my family in Naples, Italy. My daughters attended a local school, La Scuola DeSantis, in Pozzuoli. A common practice was to place students at the grade level they were capable of operating at, so they were grouped by ability. This enabled students to operate at their own level and challenged them to improve.
After leaving the Navy, our family settled down in Fresno, California, and I became a long-term English substitute teacher at Selma High School. I quickly realized that the root cause of student failure in high school English was directly correlated with the failure to master middle school standards. How was it possible that 11th-graders didn't know the basic parts of speech and couldn't identify the parts of a sentence?
Imagine my excitement, then, when I switched to Aspen Valley Prep and learned that the school was going to implement the Summit Learning Program, a curriculum that could prevent this very problem!
I was so excited to teach in an environment that would see students learn and explore in ways I had seen abroad. I was going to focus on not only teaching students what they need to know but empowering them to figure out how they learn best. This personalized learning method allowed me to meet my students where they were academically and then challenge them with work that would help them excel.
At Aspen Valley, our classrooms center on three core components: 1:1 mentoring for all students, a focus on learning through real-world projects, and a certain level of self-direction, where we give students more choice in how they learn.
My students aren't allowed to move on if they don't show mastery of the standards for their grade level. Instead, they have to pass each topic — even if it means doing more hard work, reviewing the content, and retaking the test. This teaches an important real-world lesson about not accepting failure, which is a common concept in the adult world.
As you can imagine, this at first caused the students a large amount of stress. The "one and done" method was no more — they would have to face their failure rather than run from it. They had to reflect on what they had done and determine what went wrong, what they could do to improve, and how they could master the assessment.
Perseverance and resilience were the result, and since children are not passive learners, they became more creative in how they learned as they started discovering what works for them. For example, many of my middle schoolers did not know how to take notes at the start of the year. Working together, we learned that notes come in many forms, such as mind mapping, bullet points, Cornell notes, songs and raps, and doodling notes, and slowly they began to take more effective notes. They also realized they could ask me for additional readings or resources to help them get context about what we were learning in class. They began to identify gaps in their own learning, and I was able to provide the proper content to fill them in. Not accepting failure fostered an environment that helped students persevere so they could find success.
At the beginning, the students were very "me" oriented. They were focused only on how they could succeed. But with this new approach, they soon began to collaborate with one another on a regular basis. Now, when a student masters a content assessment, he or she is now the expert who can volunteer to help a classmate. Students who had known nothing but failure in their academic lives now feel success. The confidence that results is immeasurable.
As a teacher, I know that the best way to reinforce a lesson is to teach it to someone. I love that my students have taken the initiative to reach out to one another. Personalized learning has helped my students find their voice, volunteer to help others, work together as a team, and, most importantly, feel confident enough to take ownership of their education. Watching students who once struggled academically because of academic gaps feel success and then use that newfound knowledge to help their classmates is awe-inspiring.
Perseverance, resilience, and constructive collaboration are real-world life skills. Fostering an environment where they can be nurtured not only improves the students' academic experience but also lays the groundwork for their success as adult leaders in their community. The impact is infinite.
Melani Harley, a Navy veteran, is a middle school English teacher at Aspen Valley Prep in Fresno, California.
Support The 74's year-end campaign. Make a tax-exempt donation now.