Arne Duncan Says Don't Believe the Hype on SIG Failure; Obama Program Has Lessons for DeVos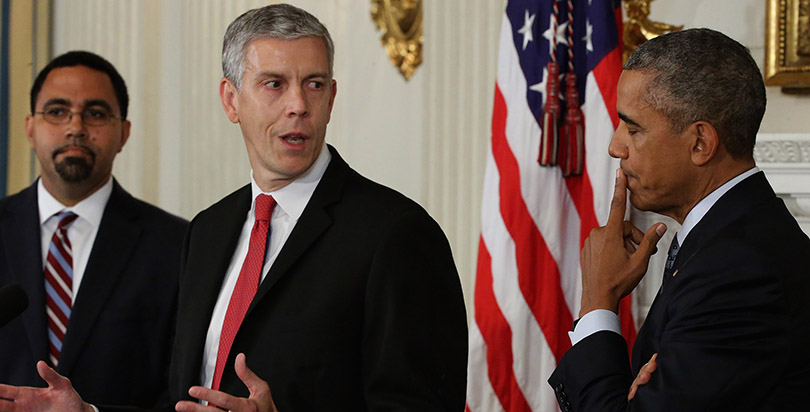 The headlines read like an obituary. President Barack Obama's Education Department spent billions to fix failing schools, "and it didn't work." The federal grant program to improve low-performing schools was just "another letdown." The grants were "destined to fail."
Not so fast, says Arne Duncan, Obama's education secretary from 2009 to 2015.
During an interview with The 74 on Tuesday, Duncan defended the $7 billion School Improvement Grant (SIG) program, which was slammed in
a report
released in January by the department he once ran.
"There are other stories to tell there, there are other innings to play," he said of the grants, one of the Obama administration's signature programs to improve America's most distressed schools.
As proof of the program's success, Duncan cited rising graduation rates, other reports that found positive outcomes, and a decline in "failure factories" — and suggested that Education Secretary Betsy DeVos look to the program for guidance as she works to improve America's education system.
Duncan spoke to The 74 during
a 20th-anniversary celebration
for the America's Promise Alliance, a nonprofit focusing on at-risk children founded by Colin Powell, the retired four-star general and former secretary of state under President George W. Bush. The group's GradNation campaign is its largest K-12 school initiative, aiming to help 90 percent of American youth graduate from high school by 2020. It is an ambitious agenda that Duncan embraced during his tenure at the Education Department.
"The School Improvement Grants contributed to that movement," he said. "I think turning around schools is some of the hardest work in America, it's some of the most controversial, but it's some of the most important work, and was it a huge success everywhere? Of course not."
The study, released during the last week of the Obama administration, found that the SIG program
failed to produce measurable gains
in math or reading scores, high school graduation rates, or college enrollment. But that report was limited in scope, Duncan said, because the analysis didn't include the program's full duration. He offered the rise in graduation rates as proof that the program has benefited some students.
Following the report's release, DeVos criticized the program and promised sharp policy shifts away from Obama-era priorities. "At what point do we accept the fact that throwing money at the problem isn't the solution?" she said
during an event
at the Brookings Institution in Washington. Her sentiment echoed those of conservative think tanks that argue that rising education spending
hasn't been matched
by similar increases in student performance.
A
recent report
by the National Bureau of Economic Research, however, reached a sharply different conclusion. Relying on national testing data, researchers found a statistically significant jump in student performance after low-income districts received better funding.
"We in education are systemically having kids leave and choose the streets rather than our schools. That's not acceptable. That's not acceptable educationally; that's not acceptable morally," Duncan said. "To challenge that in whatever form or fashion, we can talk about different strategies and have lots of honest and good debate about that, but we can't sit back and rest."
During
an interview with The 74
in February, former education secretary John King, who replaced Duncan in 2015, said insufficient attention has been paid to some SIG initiatives that produced positive outcomes. He pointed to a California
study
that demonstrated stronger positive results than the overall national report.
King also pointed to the growth of charter schools in New York City and Boston, which he said have succeeded because of strong authorizing laws and the Obama administration's focus "on improving outcomes in the lowest-performing schools."
"I think the record on School Improvement Grants is mixed partly because you had a great variety of approaches," King said. "One really has to look more carefully at some of the individual initiatives that were taken in different communities around the country because of the School Improvement Grants program."
Looking to the future, both Duncan and King noted that the number of schools considered "dropout factories," where fewer than 60 percent of freshmen remain enrolled for four years, fell significantly in recent years — progress they said was the result of interventions launched with federal dollars. During the Obama administration, Duncan said, the number of schools qualifying for that dubious distinction fell from roughly 2,000 to 800.
"The goal of the next four or five years should be to eliminate dropout factories," he said. "That would be my strong advice to any next administration is, 'Let's hold ourselves accountable, and let's take that number down as fast as we can to zero.' No kid wants to go to a dropout factory. No kid deserves to go to a dropout factory."
Get stories like these delivered straight to your inbox. Sign up for The 74 Newsletter