In naming John King to Replace Arne Duncan, Obama Doubles Down on Push to Renew No Child Left Behind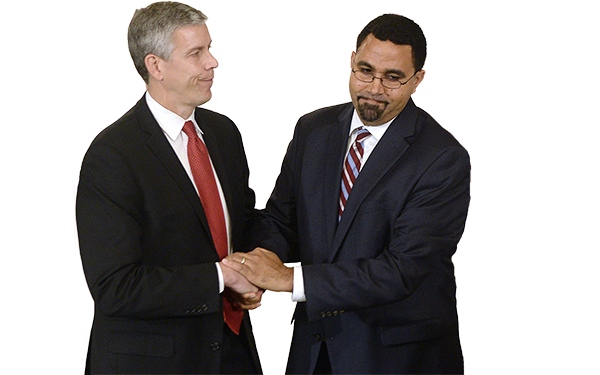 Education Secretary Arne Duncan will step down from his post in December, leaving a K-12 legacy of turning around low-performing schools, raising standards, and revamping teacher evaluation systems.
John King, currently an advisor for K-12 programs at the Education Department, was appointed acting secretary through the end of the Obama administration but will not be nominated as secretary, the Associated Press reported. Before joining the Education Department at the start of 2015, King served as New York state education commissioner.
The decision to appoint King, rather than Undersecretary Ted Mitchell, who focuses on higher education issues, signals the administration's continued push for a rewrite of No Child Left Behind. Appointing King in an acting capacity, rather than nominating him to the position in a permanent capacity and setting of a contentious nomination process with the Republican-controlled Senate, also saves some political capital for the administration's education priorities.
---
---
Earlier this week Duncan said he had put odds at finishing a No Child Left Behind reauthorization at 50-50 before the retirement of House Speaker John Boehner, but that those odds had now sunk lower. Boehner helped craft the original law and prioritized education bills, and whoever succeeds him as speaker will likely have less leeway to cut bipartisan deals.
(
Check out these three recent Arne Duncan posts from the Seventy Four:
Cynthia Tucker encourages the Education Secretary to tie accountability to his school-to-prison reforms; Carolyn Phenicie breaks down the specifics of Duncan's push to reform prisons and inject $15 billion into U.S. classrooms; and Matt Barnum surveys Duncan's legacy of aggressive reforms, and how he may have inadvertently fueled the opt-out backlash
)
The news of Duncan's retirement came as a surprise – particularly since just 48 hours earlier he had dismissed a question at the National Press Club about whether he would stick around for the remaining 15 months of the Obama administration.
"We're proud of the progress we've made, but there is so much work we need to do, not just for the next 14 months, but for the next 14 years as a nation. I think it's incumbent on all of us to continue to work really, really hard and try and give our kids a chance," he said Wednesday.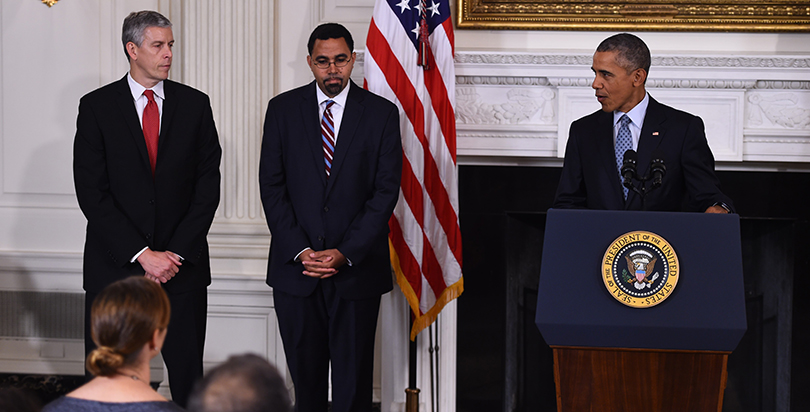 Duncan, who was head of Chicago schools and knew the president from their time there, was confirmed to the secretary's post at the very beginning of the Obama administration in January 2009. The president said Friday afternoon that he pushed Duncan to stay in his role, and is immensely proud of what Duncan has accomplished.
"Arne has done more to bring our education system, sometimes kicking and screaming, into the 21st century, than anyone else…It's a record that I truly believe no other education secretary can match. Arne bleeds this stuff. He cares so much about our kids, and he has been so passionate about this work," Obama said.
At the K-12 level, Duncan oversaw a massive education stimulus program, including the School Improvement Grant program and Race to the Top initiative. He has
backed charter schools
, advocated for the Common Core, and offered states waivers of No Child Left Behind's most onerous requirements, in exchange for adopting administration-favored policies, including
teacher evaluations tied to student test scores
.
Duncan, with former Attorney General Eric Holder, also worked to reform school discipline procedures that often affected boys of color more harshly and end the school-to-prison pipeline. Earlier this week he gave a
landmark speech
calling on states to reform prison sentences for nonviolent offenders and funnel that money into the country's poorest schools.
For the country's youngest learners – Duncan was fond of calling them "our babies" – he saw the president push for a new federal preschool program in several State of the Union addresses and crafted preschool development grants to help states create or expand preschool programs for four-year-olds.
And in higher education, Duncan's administration worked with Congress to get private lenders out of federal student loans, crafted regulations to crack down on for-profit colleges, and moved to hold colleges more accountable for sexual assaults on campus.
Those moves didn't win him universal praise.
Congressional Republicans took issue with the No Child Left Behind waivers and some of the department's higher education regulations, saying they were outside of the department's scope of authority. Republican governors also challenged Duncan's advocacy for the Common Core State Standards, with Louisiana Gov. Bobby Jindal going so far as to
sue Duncan
over the department's role in the creation and dissemination of the standards.
Duncan was widely considered one of the most likeable among federal officials, though. Hill Republicans were quick to say that when they clashed, it was because of inherent policy differences.
Senate education committee chairman Lamar Alexander in a statement said Duncan "was one of the president's best appointments" and cares deeply about children. When the two disagreed, Alexander said, it was because they differed on whether more power should be vested in Washington or local officials.
House education committee chairman John Kline, who is also retiring from public office, said in a statement he never doubted Duncan's commitment to America's students. "While some of his decisions have been controversial, he has challenged us to make education reform a national priority," Kline said.
He's also clashed with both teachers' unions. The American Federation of Teachers a few years ago called for him to be placed on an "improvement plan," while the National Education Association called for his resignation.
NEA President Lily Eskelsen Garcia and AFT President Randi Weingarten released statements wishing Duncan the best and celebrating shared accomplishments.
They weren't entirely celebratory, though.
There's no question the department's "fixation on charters and high-stakes testing has not worked," Weingarten said in a statement.
The group was "disappointed" to hear King will be appointed to fill Duncan's shoes, arguing his work in New York, particularly a focus on testing, created deep polarization there.
"We can only hope King has learned a thing or two since his tenure in New York," Weingarten said.
Support The 74's year-end campaign. Make a tax-exempt donation now.